Andreia Stanciu, ACCA: Now is an unmissable opportunity for business and society to reset priorities
Posted On January 19, 2021
---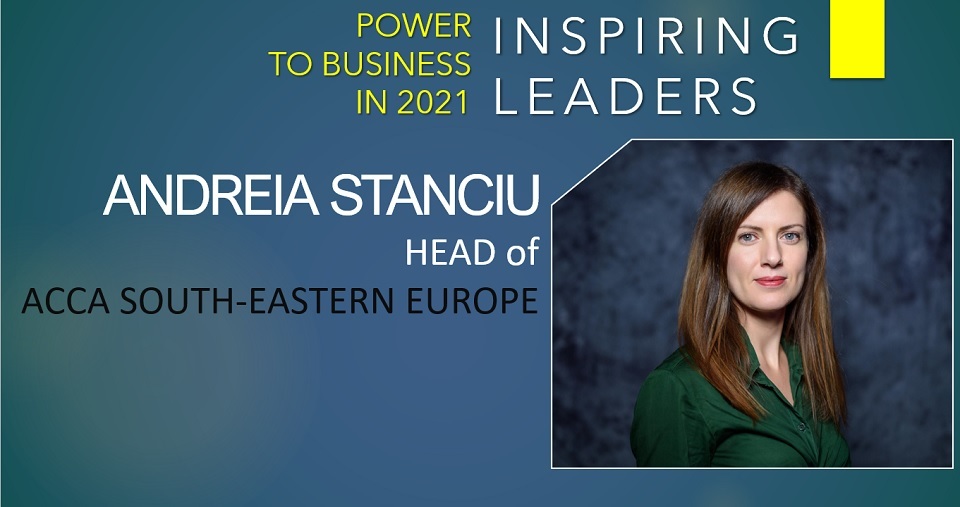 Business as usual or the resetting of the entire business structure? Making the best of the lessons learned in 2020 and turning it into the business growth's drivers in 2021? Envisioning a company structure built for people? Enablement of wellbeing, safety initiatives and multi-leveled and hierarchy-flexible communication conduct?
Andreia Stanciu, Head of ACCA – South-Eastern Europe answered to the Outsourcing Today's interview and addressed the plans, the core values and the actual enablers for business growth that mark the beginning of 2021.
Our power words are our three values: Inclusion, Integrity and Innovation. These three values take the unique reasons why ACCA was created in the first place, and the difference we've brought to the global profession, and expresses them in a way that reflects our world today.
Our strategy to 2025 is based on a clear vision to be #1 in developing the accountancy profession the world needs and how we will achieve this is detailed in our most recent annual report.
Here, we explain how we will lead, create and deliver our strategy in the short, medium and long term. It also explains the capabilities we will need as an organisation to do this. For 2020 / 21 our plan focuses on:
exam delivery and innovation: we want to ensure our exam delivery that continues to evolve as the conditions become right for students to sit exams. That includes continuing to roll out computer-based exams at the Strategic Professional level, bringing the market with us as we do so. And to ensure that our students can continue to progress, we are accelerating our exploration of remote exam supervision.
member and future member support and retention: our members and future members are at the heart of ACCA, and supporting them through the Covid-19 pandemic and its economic consequences is an absolute priority. In these challenging times, we must be primed and ready to truly demonstrate the ongoing value of membership. If we truly understand and support our community, we will be able to retain them, create ACCA advocates for the future, and also deliver the trusted professional accountancy community the world needs.
And financial sustainability: in these challenging circumstances, we will have a clear focus on costs and plan for a range of scenarios with associated mitigations.
While none of us could have envisaged the scale and impact of the Covid-19 pandemic, the resilience we've built in ACCA's operations over the course of our strategy to 2020 has been instrumental in helping us respond to this global crisis and the restrictions it has imposed.
The Great Reset-oriented strategy in business or returning to business-as-usual?
ACCA and our members have an important part to play in this 'great reset'.
Indeed, we've been looking in this matter in our recent professional insights research. Our new report Leading Inclusion asserts that now is the chance for business and society to reset priorities. It is a time to look ahead and consider what comes next for the profession, society and the economy, to rethink our values and approaches – especially in the light of the pandemic. And professional accountants have a massive part to play here.
This sentiment is also echoed in an ACCA report from October 2020 called Mainstreaming Impact: scaling a sustainable recovery, a global survey of 829 accountants and finance professionals who reveal their deep concerns about social and environmental issues. Ninety per cent of respondents said they want organisations to increase efforts to become more environmentally sustainable and make a more positive impact on society after the pandemic. This report also reveals the desire of accountants to spearhead this change, with 95 per cent agreeing finance teams have a role to play in building a more socially inclusive and environmentally sustainable future.
We consider that this change can be guided by the United Nations' Sustainable Development Goals, which can act as a common language roadmap to follow out of the current crisis. ACCA has recently made its own commitment to these SDGs, listing 11 commitments to nine of the SDGS that are relevant to ACCA's strategy.
Find more here: https://www.accaglobal.com/gb/en/news/2020/december/ACCA-UNSDGs-Commitments-Dec2020.html?from=XX
Now is an unmissable opportunity to press the reset button and to think about how we can do better.
The flag-ship project of 2020
In 2020 we organized over 15 online events for our community, technical webinars, recruitment events and even a virtual summer party. The flag-ship project of 2020 was, without doubt, the Regional Central Eastern Europe Virtual Careers Fair.
As a result of the success of our virtual career fair for Romania and Moldova which was hosted in March 2020, we have taken the key learning, and exactly 8 months later we decided to go regional: on 26 November 2020 teams from Romania, Czech Republic, Poland and Western Europe launched (with the participation of Luxembourg employers) the 1st Regional CEE Virtual Careers Fair.
In 2 months of promotion, we managed to attract 74 employers from 11 countries, 525 available jobs and over 4200 people registered to participate in the fair. The platform we used allowed each employer to benefit from a dedicated section, which gathered information about the company, all available positions (uploaded on our career site, accacareers) and the opportunity to enter live chat with participants. For 8 hours, the fair brought together many resources for each audience; all participants in the event were able to access the special networking area, where they could meet and discuss with other participants and ACCA members. The first guests connected as early as 8 o'clock, when the platform opened, and by 10.30, we had already had over 450 online visitors, who had visited almost 3300 sections. On average, one participant spent 66 minutes in the fair.
Through this event, ACCA offered visitors the opportunity to improve their own employment skills, with free tips and seminars on the roles of the future in the financial profession, how to build a successful career in finance and how to have the most attractive resume.
This regional event provided participating countries network opportunities, at a time when face-to-face events are not possible; thanks to technology, we have attracted employers and visitors from all 18 countries in the region and beyond; in addition, it was the first time that participants were able to apply for positions in a country other than their country of residence. In 2021, we will organize a new edition of the Virtual Career Fair and we plan to expand both the number of participating countries and the functionalities available for visitors and employers.
Workspace culture & values is to be consolidated in your company in 2021
Our workplace culture and values are based on our strategic values which are:
1) Inclusion – We'll create opportunity for all. We remove artificial barriers, create connections and embrace diversity
2) Integrity – We're ethical, honest and accountable and encourage the same from others. We act in the public interest and focus on long-term value.
3) Innovation – We think ahead. We explore new ideas, creating solutions that ensure our community and the wider profession is ready for today and tomorrow.
These values are applicable to our culture both as an employer and as a professional body. They make us an organisation which is supportive and continuously learning, with an agile, innovative and motivated workforce which works flexibly and collaboratively, listening to our stakeholders and understanding their needs.
Our strategy to 2025 explains (see page 8 of our annual report) how our employees are part of a global dynamic organisation that makes a difference to societies around the world. A core strategic operational capability is defined as high performing people, who are motivated to deliver this strategy. And to do this we have a talent strategy that builds ACCA as a value driven organisation (see page 12 of annual report).
We run an extensive programme of internal engagement and support including skills and culture training, wellbeing support and other development. We have developed a range of services and support for our global employee community including a social intranet, digital collaboration tools and more formal forms of sharing, such as an annual global virtual conference, town halls twice a year with the chief executive and executive directors, and a monthly briefing from the chief executive.
And during the pandemic we have made our employee wellbeing a priority. We recently made 11 – 15 January Wellbeing Week at ACCA, the first ever. This looked at how we can work together as an organisation, creating a 'wellbeing first' ethos, both to cope with current challenges and prepare for our evolved future.
The manager's role and skills in order to maintain and enhance a team's cohesion
In a team, no matter its size, the role of the manager is crucial for the cohesion, the proper functioning of the group and the harmony of the group. We know that an unfit manager might be the reason of the misfunction of a team or even the leaving reason for a team member.
Studies on team cohesion have shown that cohesiveness leads to increase productivity. But how can a company manager or small business owner encourage team cohesion among his employees?
Value and empower all members team – team have success by sharing their own expertise: while some make good technical experts, others are creative or skilled in administrative functions. For the team to reach its potential, every member should be actively involved an it's the manager's responsibility to engage them, to encourage them to collaborate, to share their thoughts, to give them the ownership of the projects and to value the contribution of each one. In our local office all members collaborate with each other, carrying out joint projects and taking the lead in different initiatives. I have set up weekly 1:1 meeting with each team member and the entire team meets every Friday.
Time – the more team members spend time together (at work and outside business hours) the stronger the bond between them. By interacting more often, the team members learn about each other not only from the professional perspective (what are their know-how, their skills etc), but also personally (hobbies, interests). Also, the respect of each team members time is very important: in this speed century when everybody is struggling to accomplish many personal and professional tasks, keeping a high-quality standard, time became one of the most important assets one can have. Meeting and calls well organized, with a clear agenda, outcomes and next steps are crucial for the proper functioning of the team. At ACCA we are conscious of time, we don't exceed the allocated time for meetings and in 2020 we organized some of our team meetings outside, in the park, following the social distancing rules – this variant allowed us to meet and after each meeting the team spirit was lifted up.
Sharing feedback and celebrate success – always communicate and share feedback, improvement points and congratulate team members (whenever is the case). When a team accomplishes a specific project, all members share this success and it is important for the manager to celebrate, together with the team, even the small activities – these will increase the cohesion of the team members. We always share feedback and celebrate success – mails, internal awards – this was for example the case of the Regional Central Eastern Europe Virtual Careers Fair.
Skills and capabilities that need to be improved in 2021
Our strategy is full of ambition, one in which our employees play a vital role to help ACCA achieve its strategic aims and ambitions. We want to connect, inspire and empower our talent, nurturing people and teams that embrace new thinking and deliver great things.
So training and development for ACCA's people is part of our annual performance review process – we see performance and development as being part of how our people work every day.
We place a high premium on development and encourage our teams to discuss their training needs with their line managers. It's the manager's role to to help build their line report's skills, capabilities and motivation.
The growth in digital engagement has accelerated and will endure. We'll be working to ensure our workforce embraces technology and continues to think ahead as we meet the areas of critical strategic focus we've set out and delivery of the strategy to 2025. Also, partnerships remain crucially important and we will continue to build our capability in this area.
As a very practical example of this, with COVID-19, we have run in house training on how to use Microsoft Teams, which we switched to last year as a means of collaborating online while many of us work from home.
We offer mentoring, free online LinkedIn training and we have also prioritised wellbeing guidance and internal networking to share ideas and tips as we all juggle home and work.
---
Trending Now
You may also like