Matthieu Pasquier, CEO of SG GSC: The business environment will look more into sustainable development, rebalancing investment, harnessing science and technology
Posted On January 18, 2021
---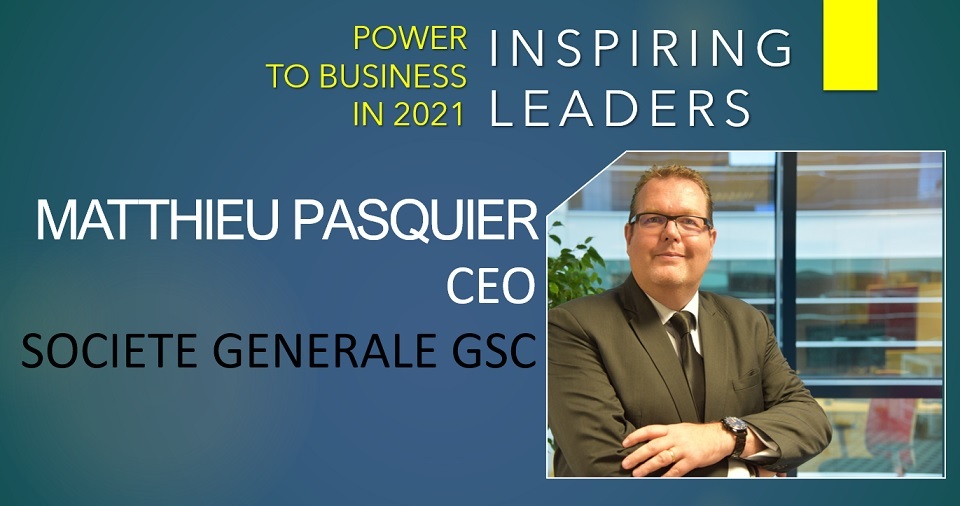 Business as usual or the resetting of the entire business structure? Making the best of the lessons learned in 2020 and turning it into the business growth's drivers in 2021? Envisioning a company structure built for people? Enablement of wellbeing, safety initiatives and multi-leveled and hierarchy-flexible communication conduct?
Matthieu Pasquier, CEO of Societe Generale GSC in Romania answered to the Outsourcing Today's interview and addressed the plans, the core values and the actual enablers for business growth that mark the beginning of 2021.
The 3 power words in 2021 are: PEOPLE | FLEXIBILITY | GLOBAL
We need to assess our current capabilities in accordance with the goals we are setting.
By listening to our employees and understanding the challenges they face, and by adapting our working environment based on their needs, we are creating a trustful connection with one another. A connection that we all need in order to work together and collaborate in the best possible way.
Our company is celebrating this year its 10th anniversary since its establishment in Bucharest. This important milestone in our journey has taken us one step closer towards our goals. We have matured and transformed – from 'European' to 'Global'. Through the past years we have moved from transactional shared service model to a value-added center of expertise and being global is one step forward. We are now a global solution centre and a partner of choice. All of this has happened by leveraging on our employees' skills and expertise and setting up strategic priorities, embracing opportunities and challenges alike.
This year we are even more focused on positioning ourselves as a key player for the digital transformation of our Group – supporting its ambitions and overall strategy. This is the kind of growth (or rather progress) that we expect to happen in 2021. Of course, it is important to build a coherent action plan, one that will help achieve increased resilience and sustainable growth, and to cascade it to the employees in such a manner that will make them relate to these plans.
In the given context, returning to a certain 'normal' that we knew a while back it's not possible. The 'new normal' is very different and so is the business environment.
We all understood this year that things are continuously changing, and it is important to adapt and evolve in order to keep ourselves on top of the game. This does not apply only for business environment, but also for us, as individuals. A shift in our perspective has already happened, we embraced these changes, adapted our strategy and we continued to deliver at the highest standard.
Leaders found themselves at a historic crossroad, managing short-term pressure against medium and long-term uncertainties, but they continued to evolve and adapt, by focusing on their targets and goals.
The business environment will for certain look more into sustainable development, rebalancing investment, harnessing science and technology, and advancing the transition to net zero – fundamental elements in building the future we need – to change our economy, to combat the climate emergency.
As 2020 made us adapt fast to a very challenging environment, we understood that we are already a workplace that drives people towards working together and consolidating the 'one big team' picture
In Societe Generale Global Solution Centre we have an inclusive & diverse environment, we value trust, respect, loyalty and commitment. We strive for our colleagues' professional development, while always considering the work-life balance we all require. We invest in their skills, improving capabilities and we aim to have an open-trust relationship between management and employees, so that everyone's contribution can be clearly seen and valued at its most.
In 2021 we will focus on continuing to enforce these values and our company's culture which is based on team spirit, commitment, innovation and responsibility. A perfect example and a major initiative for this year is moving our teams to a new headquarters and further expanding our ways of working. CAMPUS 6.3 is a friendly, agile, and sustainable space that offers more opportunities for collaboration & better proximity and lowers the negative impact on the environment. It is generally a great place to work
In this changing environment, managers should increase their communication skills, meaning to be able to drive meetings differently and be an effective moderator, to keep their teams engaged and united throughout any challenge.
I do believe that flexibility has been a must this year, even though flexibility is not necessarily a skill, but more a necessity in order to activate new onesIt is important to be a leader for your team and to actively listen to their needs, to clearly express and explain the expectations, but also to motivate them throughout their professional journey. The situation is also similar in relation with the onshore partners, even if you can't meet them in person anymore, you need to find new ways to share with them the vision & strategy of the company and assuring them that the entire team is there to offer support for whatever the future holds.
As this year has shown us, we all need to further invest in creative, disrupting and innovative solutions, in order to maintain our position as a trusted partner.
We will continue to actively support our colleagues in developing even more their current skills and capabilities, because they are the main driver of the company. With the help of their knowledge and commitment we can evolve and improve our services. Also, we always need a good communication between us, to make sure we are all aligned, and we have a common vision for the future.
---
Trending Now