Daniel Metz, CEO NTT DATA Romania: Resilience and unambiguous sincerity are essential in these times
Posted On November 13, 2020
---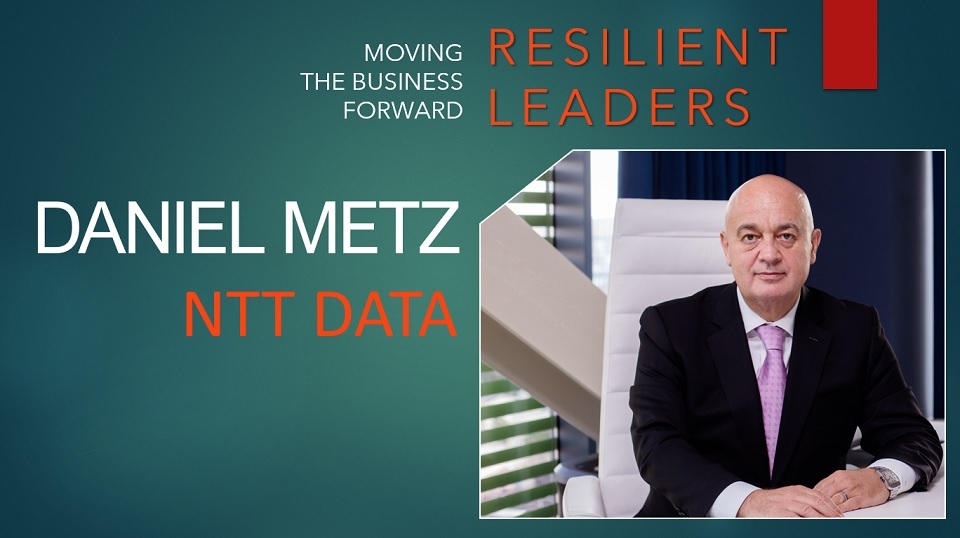 The role of leadership in the current environment becomes paramount to inspire and motivate teams and companies to move forward. How are the CEOs and managers of large companies addressing aspects related to leadership and busines resilience within their industries and with the aim of reaching the business objectives for 2020 and 2021?
 We recently talked to Daniel Metz, CEO of NTT DATA Romania to find out the answers to actual aspects of business life today.
Business, as usual, is anything but regular, and that has already been stated before. And things are never going to be the same again
We can conclude the investment in this hope. Much has been written lately about empathy, clarity, authenticity, agility. However, we need to stay connected with the teams we coordinate more than ever even when we are not in the same room. Our employees' well-being, which was already a priority, is becoming a critical issue for the managerial act in these times. Resilience and unambiguous sincerity are essential in these times. In a work environment imbued with fear and cynicism, the best antidote is, to be honest. People respond much better to something they know, even if it's not great, than to the unknown or half misleading truths or to irresponsible optimism that can kill long-term trust. This crisis is indeed unprecedented, but it is equally true that greater ones will follow. That is why we need to strengthen our values, courage, and ability to think with reason and clarity to be prepared for post-pandemic recovery and reconstruction and future disruptive events, with confidence and realism at the same time. We need sustained energy and determination. Nothing happens overnight, and yet many structural changes have already taken place. Many haven't even started eventually. It is not easy to maintain this level of energy for a very long time. But now we are on the battlefield. The important thing is to make sure that our teams hear and listen to us as we lead them through these times.
The most significant differentiator of a successful company is the scale. A large company with available capital is more likely to respond quickly to the crisis created by COVID-19
Beyond that, even if this context challenges us to be humble, we must keep our winning attitude and the ability to see in perspective. The trends present before the pandemic has accelerated COVID-19. So we need to make correct and informed decisions under enormous time pressure, where the stakes are certainly higher. Beyond the enormous losses and challenges that this crisis brings, it also creates opportunities for vision, introspection, and opportunity. Unfortunately, we, humans, are inclined to avoid responsibility, to put the blame "on others or something else." But all people make mistakes. Making a mistake is an inherent component of the human condition. It is a normal part of the journey of life and involves a complementary effect, the accumulation of experience. Let's look at responsibility as the opposite of guilt and blame. We will find that 2020 and the whole context created by COVID-19 practically force us to look at ourselves, take responsibility for what we are and what we feel, and what we do, the way we act. We can no longer blame others. It is essential to maintain our physical and mental balance. Sensitive, responsible, and happy people can face such situations much better than those who panic. Panic paralyzes us. What matters is being of sound mind with full understanding, so the mind and body can respond to what is needed. This is what matters.
Now is the time to lead. We went through many crises and challenging situations, and those were the situations that required leadership
When the situation is uncertain, as is the case now, we need to act urgently, honestly, admitting that mistakes are inevitable. By correcting the course, not by finding the culprits, we can work then when errors occur. The way we convey the message matters. Honestly and with understanding and compassion. We recognize the daily sacrifices and inspiration for what is yet to come. To say that everything is fine is a crime these days. Therefore, we act quickly because we have no time to waste. We communicate transparently, we respond productively to errors and problems that occur, and we adjust our course while moving forward. It is easy to steer a ship through calm waters. Now is the time to lead. We went through many crises and challenging situations, and those were the situations that required leadership. There are more to come. But again, sailing through the storm is not about statements but manifestation. A sense of control can arise from talking about what is yet to come, future directions, and keeping the focus on purpose, beyond the immediate storm… The road to resilience is long and complicated, but if we manage to keep our eyes on the compass, we have a better chance on purpose. Beyond that, the resilience to draw the rational, heavy line that will protect the company's financial performance is vital.
We need speed, beyond the elegance with which things are done, a perspective view, anticipating the new business models that may appear, and bringing the innovations that will define tomorrow
More than ever, we need to understand the challenges our customers face and how they manage to cope with everything they face. From what we find in the dialogue with our customers, we can adapt our approach to helping them add value to their businesses. At the moment, we are still providing services that fit the context known so far. We need to check if and how the services need to be adjusted to the new reality. An important aspect is that it is time to think in the direction of sustainability, understanding our respect for nature and the human being. And respect for the human being refers to the limits we experience in the context of the current crisis, namely a multilayered crisis, which impacts the human being's depths, putting under dilemma our own being. This crisis is growing stronger. From the political to the spiritual level, we see a diversified crisis translated at the macro level by this political war between America and China. There are too many unknowns, so to help our clients solve their problems, we need to see and better understand what they are doing, how they relate to the context, to the internal issues in their companies, to the situations they face. This conglomerate of crises has many facets. It is much more versatile and complex than everything we have seen and experienced so far. And the examples are countless: The automotive industry's transition from piston engines to hybrid ones, from internal combustion to electric vehicles, soon reaching the use of hydrogen. Pandemic with COVID-19. The accelerated virtualization.
The current pressures on the educational system and on families. 
An abundance of crisis phenomena, this is all about. In this context, I must know the clients and see how they relate to this multilayered crisis to understand better how we can help them.
Following the initial response to the crisis comes the recovery phase -. This is the concern of how we will rebuild our businesses in the new "normal."
The prosperity of companies is the hope. In 2021 it may be illusory to hope that we will see prosperity again. But are worth worrying about the reconstruction, the recovery, and the creation of the transition business models. We are in a minefield with national and international interests. We will need to move quickly and quite aggressively, showing courage, curiosity, and a global perspective. The primary concern in this upcoming time must be towards our partners and our colleagues. We will be judged by the way we treat our employees, our customers, and the community. The priority is to support the physical safety and the emotional well-being of our employees, contractors, customers, partners. At the same time, protecting the organization's longevity means a very rapid recovery. For some, it will involve resizing the workforce for a future strategy and a new business model.
Interventions at the level of processes, systems, and those that break the chain of organizational co-dependence, especially in the context of staff turnover due to general financial instability, all these interventions are already in place and will be for a long time to come.
Our most essential measures consisted in constant employee communication on health & safety measures through all channels. I personally delivered constant CEO-to-entire live communications on strategic changes & new tactics.
From the Group, we had cross-EMEA vast communication campaign, aligning business efforts across OpCos towards the same goals, resulting in a COVID-19 Whitepaper. We initiated ScreenCom deploy to all EMEA OpCos: the app for internal communication through lock-screens. Our team has also created & implemented the Innovation DNA as part of the internal innovation strategy and of the internal product development cycle: a procedural framework for product creation from idea-to-market and idea management, with a dual scope (internal optimization, market-oriented products). We have initiated the switch toward a sustainable product-based revenue stream by introducing first product development standards and internal collaboration (concept, process, tools). We organized cross-BL business-to-tech meetings, where technology meets business uses, and have started the Technology Spotlights Series to keep Sales & management up to date on the products of own IP in our portfolio offering (both internally and group IP).
Related to the response to our client's challenges, we have created comprehensive, centralized lists of portfolio solutions, services, assets, and partnerships to align sales & management on potential competences, have developed Customer Success: A sales-accelerating platform which centralizes all commercial information of a company's projects, clients and parameters, updating them automatically in real-time.
We improved the internal Discounts app: where employees now see & manage their company benefits easier and more centralized. Piloting the Technology Radar initiative to assess new technologies against the client's needs. To benefit from open innovation, we created partnerships with more than 15 start-ups and co-founded the Smart Factory Romania non-profit organization. Inclusive collaboration with academia expanded towards the Faculty of Theater and Film and Faculty of Political Sciences, Administration, and Communication. Defining and leading a consortium for an EU-funded project related to Smart Manufacturing has also been a great initiative for us.
---
Trending Now
You may also like