The employees of Edenred Romania and Edenred Digital Center donate 70 days of volunteering within the global Idealday event
Posted On October 21, 2020
---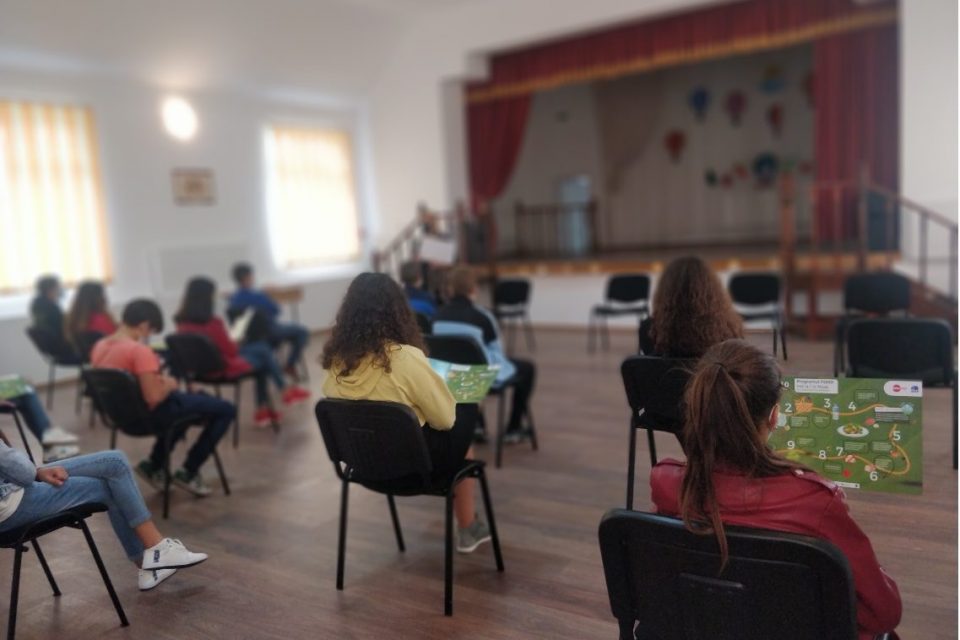 70 days were donated by the employees of Edenred companies from Romania during the 4th edition of the Idealday marathon event, held on October 16.
Idealday is a one-day event dedicated to solidarity actions within the local communities in which the Edenred group is present. In Romania, Edenred and Edenred Digital Center employees have been involved in actions to support online education, nutrition education and the promotion of a healthy lifestyle and environmental protection.
"Solidarity is the key word in Edenred, and for Idealday, we have chosen to get involved in the causes we believe in, causes that unite us and give us hope for a better future, which will allow and encourage progress. In an atypical and difficult year for everyone, Edenred employees in Romania donated time and got involved in a marathon of good deeds that targeted, first and foremost, children from disadvantaged backgrounds ", says Dana Sîntejudean, Managing Director Edenred Romania.
Edenred and Edenred Digital Center support online education
In a difficult time for the education system, Edenred and Edenred Digital Center, in partnership with the Code Kids association, which participates in the training of digital skills for children in rural and urban areas, donate tablets and internet subscriptions for one year to children in the commune Raciu, Dâmboviţa County.
Supporting children in Raciu is one of the central projects of this year's volunteer actions carried out by Edenred companies. Thus, during the action, they also received school supplies and sanitary materials, such as disinfecting gels and protective masks.
Because Idealday coincided with World Healthy Eating Day as part of the "FOOD – Come to 1 Meal" program, Edenred also provided a healthy lunch for children attending Code Kids community programming classes.
Healthy eating and lifestyle for employees
Continuing the actions of the FOOD nutrition program, implemented by Edenred in Romania and designed to connect employees during the working hours with local food units that offer healthy food alternatives, Edenred offered 80 healthy lunches to employees of two companies partners – Alba Mare footwear factory and Top Wash ecological laundry.
The healthy and active lifestyle is also promoted within the organization, where, this year, Edenred employees receive, on birthdays, fitness bracelets and smart scales, to help them stay healthy.
Also, the environment is an increasingly important topic, and its conservation has become a desideratum for Edenred employees, who, within Idealday, participated in a large sanitation action of the Văcărești Delta in the Capital.
Online security courses for vulnerable children, in partnership with SOS Children's Villages Romania
The series of volunteer actions within Idealday continued with seminars given by 16 employees of the international IT hub Edenred Digital Center, in partnership with SOS Children's Villages Romania. Vulnerable children from disadvantaged backgrounds participated in training sessions on online safety and professional counseling. Edenred Digital Center employees help them make the right decisions in their school and career, showing them how to find out what skills they have, to make it easier for them to decide which schools and courses they are able to attend.
"We have been responsibly involved, together with Edenred Romania, in actions to support children from disadvantaged backgrounds, who have the greatest need for guidance. As always, my colleagues mobilized on the occasion of Idealday and expressed their desire to continue, in the long term, the partnership with SOS Children's Villages Romania ", says Răzvan Popescu, HR Director & Site Leader Edenred Digital Center.
In the same direction, the developers of Edenred Digital Center held introductory workshops in JAVA, RPA and XML for children attending Code Kids in Dobrogea.
The Edenred Group carries out social responsibility actions in accordance with the three directions assumed worldwide: Ideal People, which aims to improve the quality of life, Ideal Planet, dedicated to environmental conservation, and Ideal Progress, designed to add value in a responsible way, in an ethical manner to our entire value chain.
Every year, Edenred Romania volunteers donate time and get involved in social responsibility actions, planting trees, supporting social projects for communities affected by natural disasters, disadvantaged families or children affected by incurable diseases.
In Romania, the Edenred group is represented by three companies, Edenred Romania, the Edenred Digital Center IT hub and the BenefitOnline.ro flexible benefits platform.
---
Trending Now
You may also like