WORKPLACE OF THE FUTURE IS HERE AND NOW – Online conference dedicated to the new workplace culture on September, 3rd
---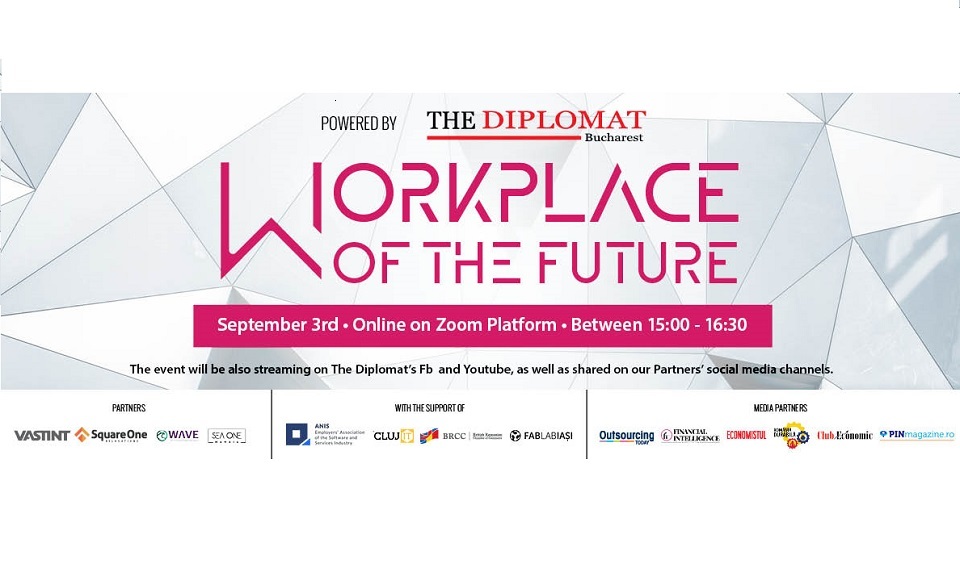 The Diplomat-Bucharest organized the 4th edition of web conference Workplace of the Future on September 3rd, 2020. The event will be held in English language and will be streamed online on zoom platform between 15:00- 16:30
The modern workplace is an undergoing process, constantly evolving to meet the expectations of the most valuable asset of a company: its people. The effects of a positive workplace – welcoming, efficient and safe mirrors in greater profitability, higher productivity and higher customer ratings.
THE PLATFORM ECONOMY IS THE GLOBAL COMMON WORKPLACE
The modern workplace becomes a dynamic and living platform, sometimes, shapeless and abstract. The remote work and the more and more flexible work structures give the workplace a different definition, beyond the traditional paradigm. Today, the workplace needs to address all the changes in the economy: the cultural exchange, the green energy-focus, the healthy, safety and privacy issues all converging to meeting the business objectives.
The workplace transformation is a powerful vehicle for inspiring further innovation and ideas incubation.
The workplace of today's times refers to people, the current most valuable asset of the business world. In the future, the workplace will have to address the necessities of the common place when people and robots will work together. The healthy work environment can be a game-changer in countless ways, with direct effects in changing the people's perspective on their lifestyle.
EVENT KEY HOURS
09.00 – 10:00 Registration & Welcome Coffee
10:00 – 10:15 Partner Presentation
10:15 – 11:45 PANEL DISCUSSIONS
TOPICS:
THE NEW FUNCTIONALITIES AND TECHNOLOGIES OF MODERN WORKPLACE to drive higher productivity, profitability and employee well-being and work-life balance
THE NEW REIGN: EMPLOYEE EXPERIENCE, tool for retention
BUILDING THE SENSE OF MEANING & PURPOSE: Emerging trends in creating the workplace aligned with companies' values and employees' expectations
THE GLOBAL COMMON WORKPLACE OF THE NEW PLATFORM ECONOMY: Fluid design of organizations
WELLBEING – Mental health, burnout syndrome, etc
11:45 – 12:30 Q&A
17:30 – 19:30 Networking lunch
KEY BENEFITS OF ATTENDING
Enable cross-functional collaboration: position developers, tenders, administrators and consultants at the executive leadership table
Talk Numbers: analyze the ROI of operational practices & convey a data story to your business leaders
Upgrade your KPIs: the workforce metrics you need to use to meet your workplace KPIs
Elevate the Customer Experience: the mission critical priority to drive enhanced business results
Career Development: establish and advance a data-driven and people-centric organizations
WHO ARE THE ATTENDEES?
Heads of Workforce Planning and Recruitment, Organizational Development & Capability
Leaders of the real estate industry
HR solutions & technology providers
Workplace professionals
Facility managers
---
Trending Now
You may also like