---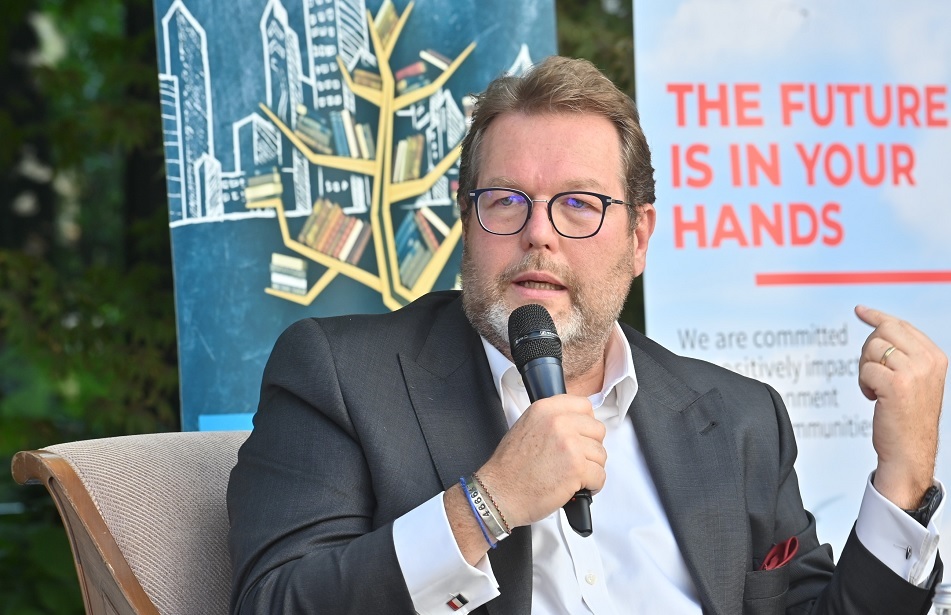 "Our primary goal is the health of our employees. At the beginning of the crisis it was decided that we want, at any price, to send our people very quickly back home. In the first months, 1,400 out of 2,600 people in our company were working from home. The others weren't able to connect because they had no proper devices or because applications were not white-listed by our internal risk assesment," Matthieu Pasquier, CEO of Société Générale  European Business Services said during the CEO debate at the Business Services Forum & Awards 2020, organized by Outsourcing Today and The Diplomat-Bucharest.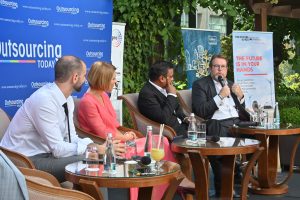 "We had to adjust very quickly to the culture of work from home, accepting that, in these 3 months, we estimated a total loss of over 37,000 days of productivity because people could not work. Then we moved into buying, distributing laptops, white-listing applications and within a month, everybody could work from home 100 percent.That was for us the most important thing to do. Most of the companies in this industry will keep people at home until September – December this year," he added.
"We chose also to open our offices, and even offer our people to come one day per week at the office. We are thinking what would be the new normal and in which environment our people will feel good to work in and what is the real impact on our organization. The first impact that was see is on real estate. I am eager to understand what the thoughts are around what will happen next.  There will be some changes, but what will not change is the role of the analyst, the operator, people working in softeare programming. Their core role will not change. Managers are now adjusting to remote management. Putting trust first, people feel more valued in doing their job so they are ready and willing to hear  what the leaders have to say."
The statement has been uttered within ROMANIAN BUSINESS SERVICES FORUM & Awards 2020  held on July 15, 2020 at Athénée Palace Hilton Hotel in Bucharest.  
 The event benefited from the support of DIAMOND PARTNER Wipro, GOLD PARTNERS PwC, ADP, Colliers International, Société Generale European Business Services, PARTNERS  SCC, Endava, Sea One, Wave, Accace, Valoris, Majorel, with the support of ANIS, ClujIT, BRCC and MEDIA PARTNERS Financial Intelligence, Economistul,  Romania Durabila, Club Economic, Fab Lab Iasi, Pin Magazine.
Our acknowledgment goes to all PANELISTS of CEO LEADERS DEBATE for the valuable share of information:  VIVEK BAKSHI, General Manager, WIPRO  Technologies, DENISA PANAITE CASU, PwC's Academy Leader,  MATTHIEU PASQUIER, CEO, Societe Generale European Business Services, GEORGE DIDOIU, Director Tenant Services |, Office agency, Colliers International Romania, COLIN C. LOVERING, Vice-President, BRCC, PANEL Moderator.
The Gala Awards Ceremony has been enabled by a proficient and complex Jury Board commitment, sustained by: FRANCESCA POSTOLACHE, Partner at PwC Romania; ANDRADA ILIESCU, Advisory Director at KPMG;  GABRIELA MECHEA, Executive Director ANIS Romania; ANDREI ROMANESCU, Managing Director at Veeam Software; ANDREI CRACIUN, head of Digital Transformation & Data Analysis, West University of Timisoara; ALEXANDRU TULAI, Vicepresident, Cluj IT Cluster; DAN ZAHARIA, Senior Leasing Consultant, EXTIND Management; CARMEN ADAMESCU, Partner E&Y; MIHAELA ROSU, Director, Deloitte Audit; MIHAELA ROBU, Business Development Manager at ACCA South – Eastern Europe.
The event photos are uploaded on Outsourcing-Today's Fb page and  The Diplomat-Bucharest's Fb page .
Also, you can find the full recording on The Diplomat's Youtube channel  at the following links: CEO LEADERS' DEBATE & THE AWARDS GALA CEREMONY
---
Trending Now
You may also like