Sustainability in business: Claudiu Constantinescu, Regional Manager Endava, CE1 Region: Leaders shape the growth, define the culture and drive the delivery of promises
---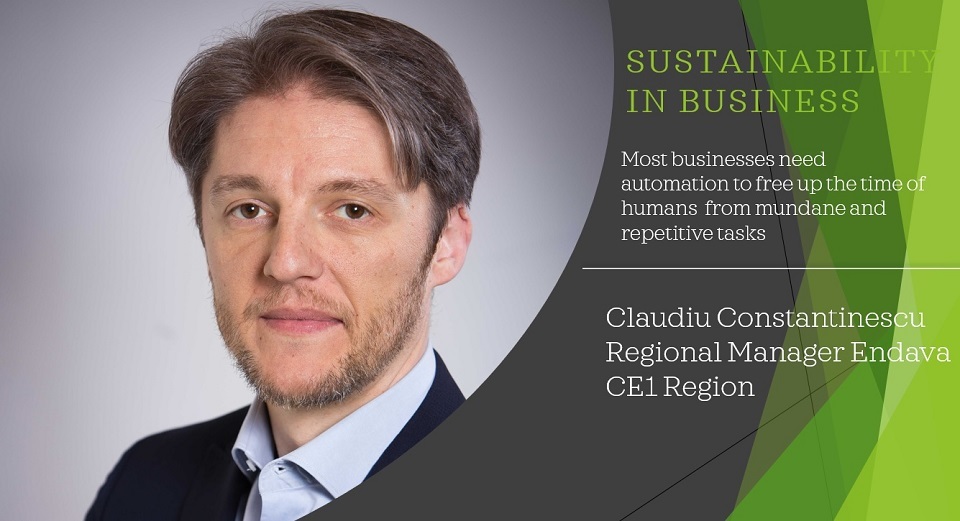 Software and technology services solutions provider Endava recently celebrated 20 years on the market, as it has been operating in Romania since 2006. During this period, the company focused on growth both through greenfield development by opening new delivery units, or through acquisitions (Blue Space, ISDC).
In 2019, the company reported a headcount of 5,754  people compared to a headcount of 4,819 of people in 2018, with a large part of the global team is located in the delivery centers in Romania at Brașov, Bucharest, Cluj, Iași, Pitești, Târgu Mureș and Timișoara. In 2019, the company continued the growth of their business in terms of both revenue and headcount in Romania on two dimensions: opening new delivery units in new cities and consolidating our presence on the markets where we already operate, according to the statement of Claudiu Constantinescu, Regional Manager Endava, for CE1 Region (the south-western region of CEE) 
The company's delivery centers in Central and Eastern Europe are mainly focused on clients in UK, Western Europe, and the Nordics, while the ones in Latin America are concentrated on delivering projects in North America, particularly in the US. Given the size of the companies and the project complexity level, most of the companies in our portfolio are from these geographies, according to company data. As Claudiu Constantinescu states, Romania is a key part of the CE operations. "Here, we focus on ensuring consistent quality delivery and high value-added services. Also, locally, we've been focusing on a multi-year partnership with Banca Transilvania where we delivered the first electronic wallet application in Romania, and we're also very active in the PCIDSS consultancy space, leveraging our experience in delivering complex financial systems around the world," the managers states.
GET IN SHAPE: AGILE IN DIGITAL
Endava's main market offer covers transformational services at the organizational level focused on agile and digital. These are aimed at making the client organization able to respond faster to their business environment and adapt quicker to context change. The company uses automation inside the agile processes: testing, continuous integration, continuous deployment, etc. as well as automating business processes, starting with RPA (Robotic Process Automation) and up to BPM (Business Process Management). According to the company's representative, the main challenges in this area are not the technical components, but the functional part of process modelling, the orchestration, integration, and security elements.
"Most businesses need automation to speed up their time to market and to free up the time of humans from mundane and repetitive tasks. Simple automation solves these challenges only to a certain degree, but today's business environments evolve very fast, so we look to embed Artificial Intelligence and Machine Learning to create adaptive systems. We believe AI, ML, and leveraging the Data are the directions where technology will have the highest impact for most businesses," says Claudiu Constantinescu. According to manager, people are in the middle of many flows of information and need to interact with many systems on a variety of platforms (PCs, mobile phones, web sites, etc.). The interfacing can also be automated to a higher degree with today's technology and this comes again to AI and ML on top of which we add Augmented & Virtual reality, and chatbots. "All these devices plus several additional "Things" will start to be more connected and looking to communicate and coordinate to one another – so, machine to machine communication (IoT) will evolve and expand," Claudiu Constantinescu adds.
LEADERS SHAPE THE GROWTH, DEFINE THE CULTURE AND DRIVE THE DELIVERY OF PROMISES
For managers and upper vertical and horizontal levels, Endava has in place a comprehensive learning program – Management Development Academy, which focuses on management and leadership capabilities and is split by levels of seniority. The program draws on blended learning, as it mixes online and offline learning with external and internal delivery of sessions.
As growing areas, the company sees potential in Business analysis, Architecture, Data, CRM, Artificial Intelligence, Machine Learning, Blockchain and RPA. Apart from this major learning program described so far, our HR strategy relies on 3 important pillars, namely People Development, Recruitment and Communication & Employer Branding. "A very important part of the company's core purpose is to enable our people to be the best that they can be. Our Leaders are key to this, they define culture, shape the growth of each member of their teams and drive the way we deliver on our promises to customers and our common objectives. A well-balanced team structure is key for delivering qualitative projects while still offering people the possibility to develop themselves. It gives juniors the possibility of learning from those with higher seniority and enables seniors to mentor and share their knowledge," Claudiu Constantinescu adds.
INNOVATION AT THE CORE OF THE BUSINESS
According to Endava's manager, innovation is at the core of their technical excellence culture. "We have several directions we are pursuing to foster and enable technology innovation as pure R&D and, in the projects, and services that we develop with our partners and customers," Claudiu Constantinescu says.
The company has in place several internal programmes such as the "Innovation Lab" which is an internal recurrent competition at global level that challenges the company's people to create innovative products that can be implemented within the company. "This is how a project of chat-bot automation was implemented to help our colleagues from the service-desk area focus on complex tasks rather than solving repetitive activities. Other projects from areas such as machine-learning, (more) automation, data, or robotics came to life through this channel," Claudiu Constantinescu explains. Another such program  is  the "Marketplace" which is essentially a continuous "fair of ideas", dedicated to all people but with a special focus on those who are not yet allocated on a certain project. People present ideas that they'd like to implement and "sell" them to the audience. Teams are formed ad-hoc and self-organize to work on the project. The purpose is to support cooperation even outside a commercial project, enable innovative ideas to come true, encouraging lean and agile self-organizing teams.
A second direction is on how we enable innovation together with our clients. For this one, we have developed yearly hackathons in partnership with our customers and are focusing on finding solutions to real life business issues. We work together to identify innovative ways of solving problems and create efficiencies.
HUMAN CAPITAL, TALENT AND RECRUITMENT
From Endava's perspective, the recruitment market in Romania "is both very competitive and very rewarding, it has excellent potential in terms of skills on the functional side, technical side, but also on the leadership/management side". On the functional side, the company searches consultants that specialize in complex business lines. This is a skill set that the company generally finds on the big markets, especially in Bucharest, but also in Cluj and Iasi. On the technical side, Endava has developed office locations with good public and private universities and the engineering background coming from elementary school and high schools; "But also, here we partner up with informal IT education and create our own training. Finally, on the leadership and management side, we combine internal programs with the experience and expertise that we find on the market,"Claudiu Constantinescu says.
In manager's opinion, Bucharest still holds the largest and effervescent market and has some competitive advantages both in Romania and in the region. Among these, the data area is here very well represented on the market. The business analysis which is very important for Endava finds here its needed senior people to be able to understand the domain and to find out from the business perspective, "in order to recommend solutions for business challenges, not to offer them simply Java development services after they are defining the platforms by themselves."
The company is deploying strategies that are focused on their newest locations – each one has its specificity. However, the company sees great potential in Brasov and they have already a consolidated delivery centre in Pitesti.
When talking about new offices, 2019 and 2020 are very active for Endava. In 2019, the company opened offices in Timisoara and Brasov and expanded their footprint in Cluj and Iasi.  The expansion in Timișoara and Brașov is part of the development strategy of the company, as Endava is already operating a regional IT hub here. The software engineering skills, the quality of the technical universties and the growth potential of the area have convinced them to choose Timișoara and Brașov for the newest Endava delivery centers in Romania.
In Bucharest, the company is planning to move to a new office in June – October 2021. This building will answer the company's needs of consolidating operations in one building after several years of fast-growing teams and the projects Endava is managing. 
How is Endava choosing its locations? Claudiu Constantinescu explains: "When looking for a new space we had in mind several criteria. The first was the location and accessibility, as we want our employees to reach the office in a timely manner and to spend less time in traffic. Then we looked at the quality of the building and the facilities available (restaurants, retail spaces, parking). Last but not least, we wanted to have an option that offers us flexibility and room for expansion.  We were convinced by U Center ((WELL and LEEDS certified), a project developed near Sincai high school by Forte Partners. The development is located two minutes walking distance from Tineretului Subway Station and about 10 minutes from Timpuri Noi and is between two important parks from Bucharest – Tineretului and Carol." So Endava decided to sign a deal with Forte Partners, the developer of the project. The move is estimated to take place in October 2021 and will give the company the possibility of choosing some of the available facilities and even upgrade the features that they have in the current building (AFI).
THE LEARNING APPROACH: Believing in self-leadership
The learning approach at Endava has various streams in focus, as told to Outsourcing Today. "Firstly, there is technical training stream on which we put a lot of emphasis because it helps our colleagues develop in very hands-on ways and it immediately contributes to the way we deliver to customers. We are proud to have several very technically skilled colleagues who invest time and effort in this area and ensure that we have a solid training curriculum within the company," says Claudiu Constantinescu.
Also, the company focuses on Career Coaching. This means that, as a career coach at Endava, a specialized professional defines and determine a career path, helping them attain their objectives by offering guidance and by challenging them. Career Coaches have had significant impact on the career growth and development of those they work with, shaping our organisation since it was launched a few years ago. "In Endava we believe in self-leadership, with every employee driving their own career, but in the absence of a proper support system this would be difficult to achieve. Therefore, the Career Coach role was created organically, and it is now an essential part of life at Endava," Claudiu Constantinescu explains.
Additionally, the company offers a comprehensive learning program called Management Development Academy, which focuses on management and leadership capabilities and is split by levels of seniority. The program draws on blended learning, as it mixes online and offline learning with external and internal delivery of sessions. They developed a strong partnership with technical faculties in all cities we are present in and we are in close contact with students' associations and informal IT schools. Also, Endava has developed several dedicated programs such as  "Endava Graduates Program" – designed for students in terminal years who want to develop a career in IT. They are benefiting for up to two months of intensive training programs aimed at developing their technical and soft skills, and have a buddy assigned that is guiding and coaching them through the starting period in Endava. "School for Automation Testing/ School for Java" a program that accelerates knowledge on technical topics. The training hours are scheduled for a period of 4 weeks after work. This training program developed by Endava to support the local IT community through free technical classes. After the program is successfully completed, the best graduates have the possibility of full-time employment within Endava.
Another such program is "Dedicated Bootcamps", targeting people who are already working in the field but want to sharpen their knowledge in a certain field. This is an 8-week after work training program developed by Endava to support the local IT community through free technical classes.
Claudiu Constantinescu, Regional Manager Endava, CE1 Region "In Endava, we believe in self-leadership, with every employee driving their own career, but in the absence of a proper support system this would be difficult to achieve"
BEING SOCIALLY RESPONSIBLE
In the CSR area, the company is focusing on three strategic directions: the first is related to education and social inclusion, the second builds on health initiatives and the third has at its core the environment. The CSR strategy of the company states that each delivery center to have its own projects, closely related to the needs of the local community they function in.
For instance, in the summer of 2019, in Iasi, Endava's Delivery Center had consistent cooperation along with the AMA Association, to help renovate a few rooms in the Pediatric Hospital 'St. Mary'. They acquired a very expensive and performant cancer diagnostic piece of equipment for the Oncology section and, with our colleagues' contribution, they organized the Oncology ward children's June 1st party. Also in Iasi, in their most recent campaign for the community, this winter, Endava rolled out, along with World Vision Romania, a Christmas campaign for children in 3 rural communities in Vaslui: Padureni, Cioatele, Valea Mare. Children wrote letters to Santa, and our colleagues bought them the presents, organized an internal fair to raise funds for the Padureni school library and an event for the entire community: Pass It On Marathon, during which Endava donated money for each participant. Funds were directed towards the Padureni library and children's Christmas party.
In Cluj, one of their most well-known partnerships is with Tasuleasa Social Association, participating in renovating more than 50km of mountain trails, part of Via Transilvanica project. Also, in Cluj, Endava supports several social and cultural events such as Jazz in the Park.
In Bucharest, the company involved in several initiatives such as with Concordia association where they partnered pro-bono to help them build a feature-rich, yet accessible and easy-to-use cloud-based platform: the Concordia Student Development Tool.  The goal was to create a holistic application that could support and streamline the contributions from the entire team which includes tutors, trainers, teachers, job coaches, social assistants, social pedagogues, case managers and psychologists, while also considering data protection, ease of use, multi-device accessibility and low development costs.
---
Trending Now
You may also like