---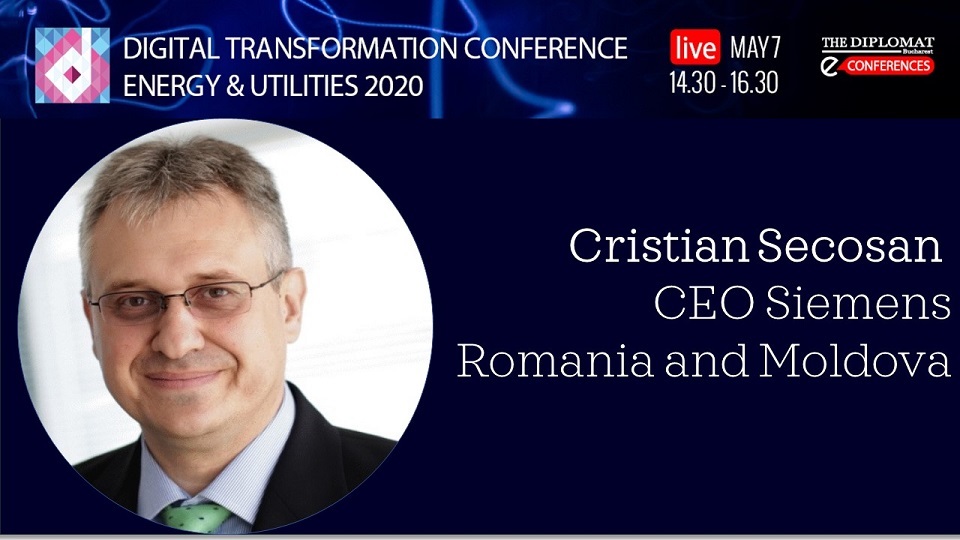 The most important achievement for Siemens in Romania is its employees, according to Cristian Secosan, the CEO of Siemens Romania, in a recent interview for The Diplomat-Bucharest.
Cristian Secosan, the CEO of Siemens Romania will be present in the panel of the upcoming e-conference DIGITAL TRANSFORMATION CONFERENCE in ENERGY & UTILITIES to take place tomorrow,  May 7 (Thursday), between 14.30-16.30 (Romania's hours).
For registering at tomorrow's event, fill in the registration form here: https://us04web.zoom.us/webinar/register/WN_fLxkoef8R7qw9CFxZROcFA
"We are a community of over 2,200 people that contribute daily to improve the quality of life and create value for society. Only with their help, our company managed to successfully complete important projects for Romania that transformed us in one of the main drivers in modernizing the country," Cristian Secosan said.
For example, in the energy field, Siemens modernized around 100 power stations, both in the electricity transmission and in the distribution sector. "Our equipment protects against fire lives and assets of invaluable places in Bucharest such as Coltea Hospital, the National Theater and Intercontinental Hotel. About one million Romanians benefit from drinking water with the help of Siemens automation and monitoring technologies. Many hospitals have been equipped with imaging state-of-the-art technology and many Romanians travel daily by trams or "Blue Arrow" trains"
Cristian Secosan says that the company marked important projects in all areas of activity in 2019, from electrification and industrial automation to technologies for buildings, including: the delivery and commissioning of 7 mobile switchgears required for the modernization and rehabilitation of the electricity transport infrastructure, the implementation of automation and digitalization solutions within the most modern grain terminal in Constanta Port and the delivery of HVAC, fire protection and building management systems for one of the most important office buildings in Bucharest.
Read the full interview here: https://www.thediplomat.ro/2019/11/25/siemens-romania-actively-listen-to-people-and-build-relationships/
---
Trending Now
You may also like