---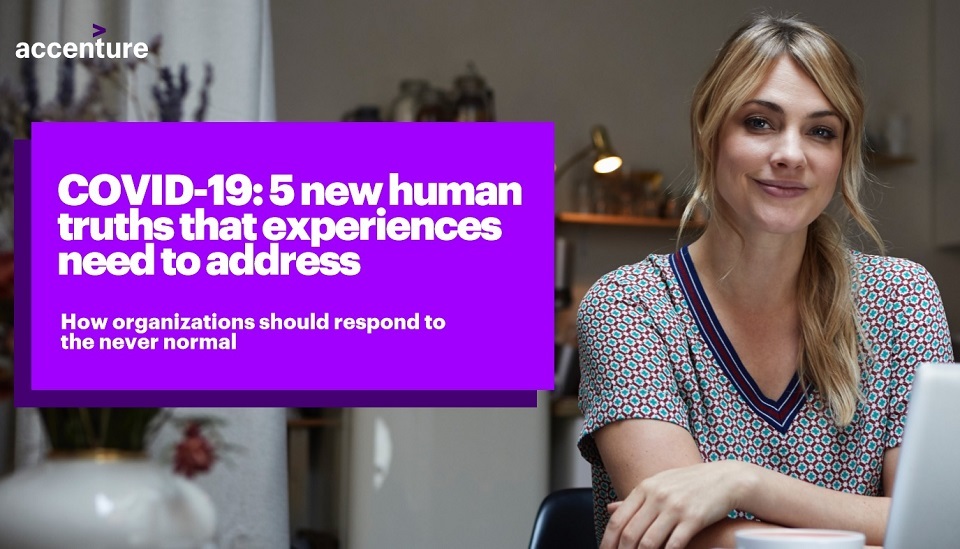 The latest global Accenture's report on the new human truths that experiences need to address, identified 5 new human truths that experiences need to address in the present and the near future. According to the report, each has deep experience implications for all organizations, not just businesses.
Here they are: the cost of confidence, the virtual century (with broadband and 5G life-essential for most after its utility was tested), Every business is a health business, Cocooning and The reinvention of authority.
The cost of confidence: The erosion of confidence will make trust way more important than ever before. This will necessitate a "trust multiplier"—action that, to be effective, rebuilds trust quickly and credibly. Focus will be on confidence-building through every channel. Justifiable optimism will sell well. All of this may change the nature of what we regard as premium products and services.
The virtual century: The enforced shift during the worst of the pandemic to virtual working, consuming and socializing will fuel a massive and further shift to virtual activity for anything. Anything that can be done virtually will be. Winners will be those who test and explore all of the associated creative possibilities.
Broadband and 5G will be life-essential for most after its utility was tested, hard, at the height of the pandemic when the world started to quarantine enmasse. On just one day in mid-March, internet use in locked down Italy surged by 30 percent.7 Disney's decision to stream Frozen 2 three months early and Universal putting its film releases onto Sky TV underlines the central role of entertainment, and it will now carry higher market value. In China, usage of digital gaming, short video apps and live stream fitness classes rose sharply in February.8
Companies in many sectors will seek to use entertainment ideas, norms and expertise to transform virtual experiences. Virtual startups or products may catapult into the public consciousness and unlock new business opportunities. Companies that are able to adapt to and utilize new virtual tools and models will achieve competitive advantages, both short and long term.In China ZTE and China Telecoms designed a 5G-powered system enabling remote consultations and diagnoses of COVID-19.9
Some will embrace being more virtual for reasons other than work—to stay in contact with family, for example, or for healthcare and education. Italy's Instituto Europeodi Design (IED), Austria's University of Innsbruck and dozens of US institutions including Harvard University are among the many to suspend in-person lessons and switch to digital learning.10
One paradox is that while we're self-isolating and studying/working remotely, many of us are rediscovering social ties—sometimes with more people than before. People are participating in virtual gigs, drinks and dinner parties, more calls to friends and family, and sharing more personal stories at the beginning of each work video call.11 Could "social distancing" lead to a different more regular "social intimacy"? People will naturally turn to existing social platforms to satisfy this most basic of human needs.
A craving for "real" will also build, however —fueled by an explosion of culture and activity when greater freedom and opportunities for fun return as restrictions are finally lifted. Conversely, the value and notion of "real" may shift or change dramatically. Might "virtual" content or experiences –virtual arts, for example, or virtual commerce—increase in value over physical? Could virtual "routines"— exercising virtually, for example—develop supplementing physical routines, such as gym visits? At the peak of the epidemic in Italy, yoga classes have gone online and Google and Facebook moved fast to enable mass demand for this mode of virtual interaction at scale.
Every business is a health business: The concerns about health amplified during the crisis will not ebb after it is over. Rather, health will dominate. A health economy will emerge with opportunities for all to plug into. Every business will need to understand how it can be part of a new health ecosystem that will dominate citizen thinking.
Cocooning: Desire for cocooning, along with opportunities for those with creative strategies to enable it, will move centerstage for the same reason. Winners will be those who zero their sights on the home. At the height of the crisis, many—workers, especially— are spending more time at home. After, this pattern will endure with meaningfulness and comfort carrying a price premium.
The reinvention of authority: A reinvention of authority is likely after the effect of travel limitations, self-isolation and lockdown officially mandated by many governments. This is likely to be the trickiest of the five human implications as its impact could go one of two ways. If governments get their handling of the crisis broadly right, expect top-down control to be back in fashion; if not, the reverse. This is likely to vary by geography. What role will companies play?
The full report, here: https://www.accenture.com/_acnmedia/Thought-Leadership-Assets/PDF-2/Accenture-COVID-19-New-Human-Truths-That-Experiences-Need-To-Address.pdf
---
Trending Now
You may also like