---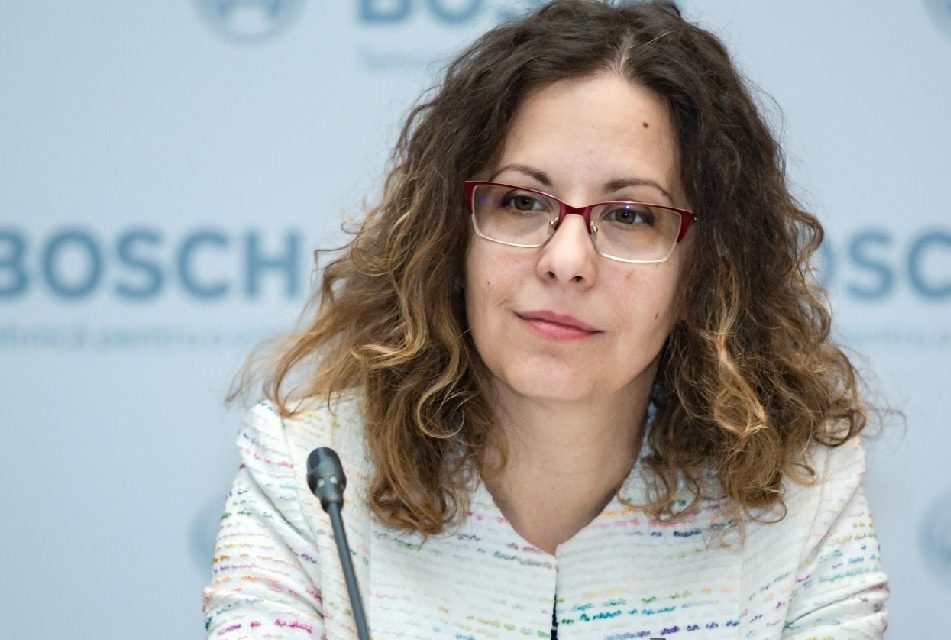 Bosch Service Solutions in Timisoara, which provides Business Process Outsourcing services in 18 languages, registered a double-digit growth in 2019, thus being the main location in Europe which provides outsourcing services for the Bosch Group. The company delivers tailored software solutions that respond to its customers' needs, taking the time to understand the pain-points and problems they face in their daily jobs, afterwards offering solutions based on process mapping and optimization. The main growth drivers of the Romanian location are represented by a customer centric approach, high complexity of projects and the linguistic diversity, which allows it to provide services in fields like: technical help desk and IT consultancy, customer relationship management, financial and accounting services, order management and purchasing services for customers in different areas of activity. 
Bosch is aiming for further growth in 2020, despite the difficult economic climate. The goal is to achieve further increases and/or improvements in sales and profitability. In 2020, Bosch Service Solutions is continuing to focus on projects for worldwide customers and to improve the collaboration with them either, in the field of business operations and support solutions, or in the technical sector. This gives the location competitive advantage and allows it to gain more benefits from its associates' skills to create new partnerships with its customers.
Bosch Service Solutions Timisoara is an important player for the outsourcing market in Europe and, in order to maintain its position as a key stakeholder, it constantly monitors and analyses all business opportunities in the outsourcing field.
"Due to the nature of our business and our international collaborations, our competitiveness comes from the mix of skills we offer, both technical and language skills. Timisoara is a multicultural city with over 400.000 inhabitants, offering a great range of professionals with a high level of expertise in diverse fields," Bosch representatives told Outsourcing Today. "Our location in the West of Romania with the openness towards the Western Europe, together with our high-quality education (high schools, Universities) and the mind-set of the citizens makes Timisoara one of the primary choices for business in Romania."
Automation – the ideal combination of human resources and technology
The plans of Bosch Service Solutions in Timisoara for the next period would be the development on current trends (connected services, IoT, increase in number of employees, automation of processes) with focus on investing in process transformation skills of our associates: "The goal of automation processes is to create an ideal combination of human resources and technology. The aim is to enhance the customer experience, increase employee satisfaction and help foster new business models."
As an innovation leader, Bosch focuses on driving forward existing business, as well as on exploring new areas that will allow it to obtain a leading technology position: "Currently, our location in Timisoara concentrates on collaborating with the western market in order to support the Bosch Group. We are looking to be part of projects and initiatives that involve the Industry 4.0, Automation and Robotics Process Automation (RPA)."
"With most of our customers we started discussions about what is now, in the current context, added value. The bottom line that we as a service organization understand very well, value is what is value to your customer. We are openly discussing with the customers what is nice to have, because even some of the old-fashioned KPI-s are nice to have. RPA is not the answer to everything, but it is one of the lanes through which we innovate", says Raluca Romanu, General Manager of Bosch Service Solutions Timisoara.
Educational projects for Bosch Service Solutions
The company has created its own internal academy in Timisoara – an educational hub that offers trainings to Bosch associates and potential associates. The Bosch Academy ensures all necessary skills to meet business objectives such as achieving operational excellence, driving customer satisfaction, developing the service portfolio or investing in employees' motivation.
"Under the Bosch Academy umbrella, we designed a series of programmes dedicated to both junior professionals and managers. Hence, these programmes and initiatives play an important role within our organization and our recruitment strategy; we would like to make a brief presentation for the most complex ones."
Junior Accounting Program (JAP) combines theoretical concepts and practical exercises in the classroom, as well as a job-shadowing component and on-the-job practice under a mentor's close guidance. The programme encompasses a package of Technical, Soft-skills and Accounting topics meant to fulfil the basic professional requirements of a new joiner, which is to perform accounting operations in Bosch. Up to the present moment, more than 70 students graduated the JAP in Timisoara.
To better cover managerial requirements, Bosch Service Solutions has developed the Essential Managerial Toolkit (EMT), which is a dedicated program to support first-time managers during their first three months of the Bosch journey. The EMT is about local business acumen, short leadership training and transition workshops within their new team. Since 2018, 86 team leaders and coordinators had the opportunity to experience new challenges.
The Development Program for Middle Management (DVP) has its epicentre within a joint venture between managers, HR Business Partners, internal and external experts. More specifically, managers and team leaders explore a two-year programme that will lead them to acquire leadership and managerial skills, as well as develop a constructive leadership approach. Until now, 96 leaders took part in this learning journey.
What benefits does the company offer?
"When taking into consideration the mix of financial and non-financial benefits, Bosch positions itself among the most desired employers in our field of activity. For us to remain competitive and relevant to the local market, we put our associates welfare in the foreground, and thus, our associates  benefit from a modern working environment adapted to the business requirements, access to cutting-edge technology and high quality learning programs, which give them extensive development opportunities, encouraging career growth," the company says.
According to Bosch Service Solutions, "all of our associates enjoy the perks of flexible benefits, which can be used for reimbursement of transportation expenses, medical services, sports and other services, as well as meal tickets and exclusive discounts to several local services. To help our colleagues stay healthy, we offer them a medical subscription through a local network, with a wide range of medical services, paid by the company. Furthermore, Bosch Service Solutions offers flexible working hours and the possibility to work from home a few days a month to its associates."
Core values for Bosch Service Solutions
"Diversity is one of our core values, therefore we provide all potential candidates with an equal chance. Experienced people, fresh graduates or students showing potential and interest towards outsourcing services and processes are, or can become, part of the team. Currently, Bosch Service Solutions division in Timisoara offers several openings based on different levels of expertise, starting with juniors and fresh graduates to senior/expert positions and up to leadership and managerial roles," according to Bosch Service Solutions representatives.
"For instance, we are looking for order management analysts with different languages, economists specialized in accounts payable, accounts receivables, general ledger accounting and specialists in customer master data. In addition, we are now expanding our teams of controllers, purchasing analysts and IT tech support specialists. We find ourselves under a continuous development process, thus team leaders and operational management jobs are part of our vacancies list. They are being promoted both internally – through our successful referral program and externally – through our social media channels, specialized recruiting platforms and portals."
The Bosch Group encourages an open organizational culture based on collaboration and creativity and, to better support this vision, the company has brought to life the "Inspiring Working Conditions" concept by implementing it within all its locations in Romania. In Timisoara, the company has been concentrating its efforts into strengthening its position on the local market and, in July 2018, Bosch decided to relocate all its associates under the same roof, in one of the most modern office buildings in Timisoara. The new office building, ISHO, follows an investment of 1,5 million Euro and offers associates a total surface of 10,000 square meters laid over four floors.
CSR initiatives
Bosch collaborates with different local and national charitable organizations involved in educational and environmental projects. For instance, in 2019 Bosch was part of the biggest accelerated construction project in Europe, Big Build, initiated by Habitat for Humanity Romania. Volunteers from all Bosch locations in Romania have built, in just five days, one of the ten houses that were given to use to disadvantaged families living in Vaideeni, Valcea county. "In this particular case, we have observed a growing interest towards CSR activities among the colleagues that were part of last year's Big Build edition. Bosch Service Solutions Timisoara selected six volunteers to go to Vaideeni in 2019, double than in 2018 (for the same event)."
Alongside its involvement and genuine interest in education, Bosch has been supporting non-governmental organizations by creating several events where its associates can contribute to various social causes. Just in the last year, Bosch employees have donated over 2,500 Euro during internal donation fairs such as Spring Fair or Homemade Christmas Fair. Fully stocked backpacks, school supplies, books for school libraries and IT equipment have been donated throughout the year.
"The heart of our business and one of the core messages that drives our colleagues closer to our organizational culture is the concept of paying it forward. Therefore, we strongly believe that constantly investing in society will positively influence everyone's wellbeing. This is a concept that works both ways: it gives us the opportunity to better ourselves and our environment, while offering a helping hand to those in need. In 2020, as in the previous years, we will continue to invest in education. We have achieved some great results with our past actions in this area. We plan to continue walking this path, keeping ourselves busy while making the world a better place."
Bosch Service Solutions is an important partner of the West University of Timisoara, where it conducts extra-curricular activities and training sessions dedicated exclusively to students. Over 150 students have participated in 2019 in the activities organized by Bosch. Concurrently, during the past year, Bosch offered seven scholarships totalling 7.000 Euro to seven students from the Faculty of Economics and Business Administration. We plan to continue carrying out workshops and offer internships that will help students develop a professional network.
Over the last three years, Bosch Service Solutions Timisoara has been part of Youth Elite, a project dedicated to the support of high-school students with great results in Olympiads. Initiated by the West University of Timisoara, the project is meant to offer students counselling, career guidance, and the possibility to get involved in activities with social impact.
---
Trending Now
You may also like