Globalworth opens Tower 3 of Globalworth Campus office complex in Bucharest
Posted On February 3, 2020
---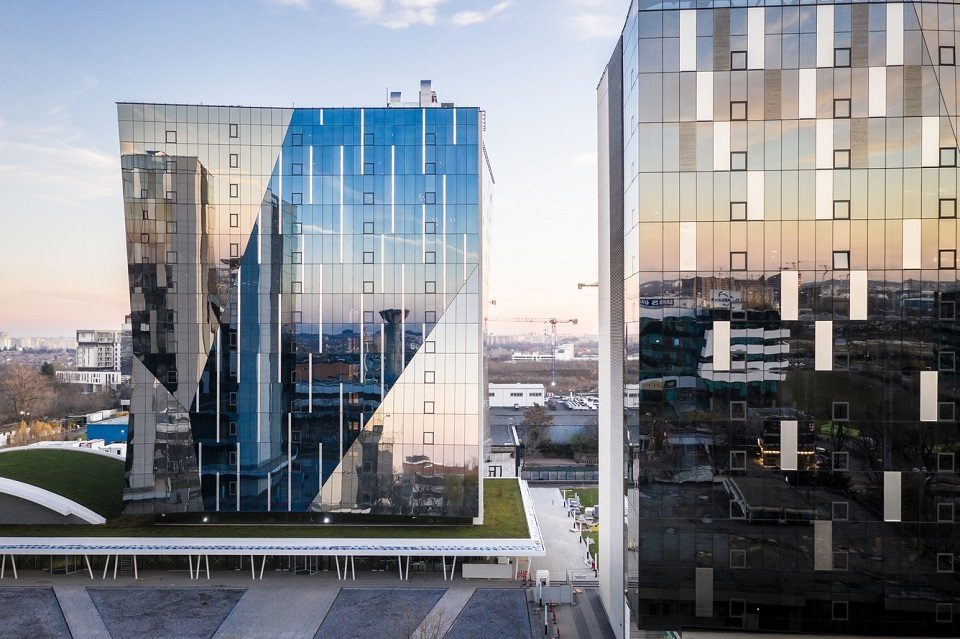 Globalworth, the developer of office buildings located in Romania and Poland, announced it completed the construction of the third tower of the Globalworth Campus complex, the largest office park in Romania.
The third tower built on Dimitrie Pompeiu Boulevard will house the Unicredit Services offices and an important part of the Allianz headquarters. Specifically, two companies of the German insurance group will relocate their activities from Bucharest to the new building within the office project, after having rented together 9,200 sqm: Allianz Services, a division of Allianz Technology SE and Allianz Partners, the B2B2C entity of the group.
"Globalworth Campus was from the beginning a very ambitious project, designed to provide a complex ecosystem in the largest office park developed in Romania. Tower 3, the last completed tower, fully respects the concept and perfectly aligns in design and functionality with the other two buildings in the complex, effectively integrating nature elements into the workspace. Caring for those we host in our buildings is the basis of our business model, which is why we will do our best to accommodate our new tenants in premium spaces where both the offices inside and the green spaces outside are a land. conducive to innovation and progress, "said Dimitris Pergamalis, Head of Construction & Development, Globalworth.
After the completion of the first Globalworth Campus building in 2017 and of the second building in April 2018, Tower 3, a 14-story high tower with two underground levels, offers no less than 33,000 sqm of office space to rent, but and 24,000 sqm of space below ground level. The complex will also include an impressive 1,800 sqm conference room, which will be completed later this year.
Construction of the new Globalworth brand building began in June 2018, and the project was completed in January 2020, and was fully developed over a 19-month period. The office park offers tenants, besides premium offices, a promenade space with artesian fountains and green spaces.
A comprehensive project from the Globalworth portfolio, the Globalworth Campus complex offers tenants spaces that rely on sustainability and avant-garde design, which encourage innovation, relaxation and creativity. The project is in line with the highest standards in energy efficiency: Tower 1 and Tower 2 are currently accredited by BREEAM Excellent, and the new building, Tower 3, is being certified with the same rating.
The Globalworth Campus project includes three Class A buildings, with office space, retail and various other facilities, which cover a total rentable area of ​​over 92,000 square meters. The complex was built as an area designed to provide a complex work experience and was chosen as an office solution by companies such as Amazon, Mindspace, Honeywell, Dell, Ademco, Stefanini, P4Cards, Mazars, Chain IQ, Delphi or Stradale, and now Unicredit and Allianz.
Globalworth is a real estate company active in Central and Eastern Europe, listed on the London Stock Exchange, in the AIM segment, active in Romania and Poland, in both countries becoming the main investor in the office real estate market. Globalworth develops and manages office buildings directly and in the logistics / light industry, in premium locations, which generates revenue from renting out space to top companies around the world. Managed by nearly 200 professionals in Romania and Poland, the company's portfolio has a total value of approximately 2.85 billion euros, as of June 30, 2019. Over 95% of it is represented by income producing assets, rented to approximately 685 companies. national and multinational. In Romania, Globalworth is present in Bucharest, Timisoara, Constanta and Pitesti, while in Poland its properties are found in Warsaw, Wroclaw, Lodz, Krakow, Gdansk and Katowice.
---
Trending Now
You may also like