SAS opens registrations for the 2023 edition of the company's global hackathon
Posted On November 22, 2022
---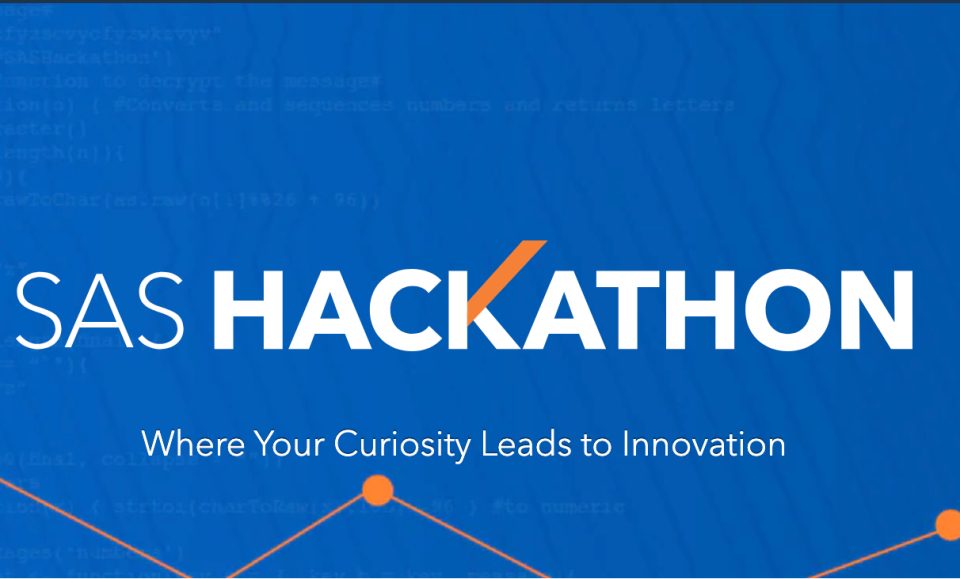 SAS, the global leader in analytics, announces the opening of registrations for the 2023 edition of the SAS Hackathon. The newest iteration of this competition for innovation-driven developers comes after a year in which the winning projects provided solutions to protect small farmers from the impacts of climate change or to support people with disabilities who have to fill out forms on the Internet, among others. This year's participants, people determined to contribute to change, collaborated to apply in real life the solutions proposed by artificial intelligence and advanced analytics systems.

The SAS Hackathon 2023 is open for registration, and developers interested in taking part in this new edition can register by visiting this link.
SAS appeals to all people with great ideas, big data experts and novices alike, developers, students, start-ups, but also customers and partners of SAS, to create solutions that can be introduced to the market or that can be integrated into their own organizations. The 2022 Hackathon brought together over 1,300 people from 75 countries; 70 teams representing 135 organizations qualified, and more than 50 teams presented relevant business case studies.

"Data scientists, developers and other enthusiasts: we invite you to analyze the big challenges you find in the industry in which you work, or even in the city where you live", conveys Einar Halvorsen, Senior Principal Manager at SAS. "How can you use SAS technologies, open source applications and data to create a solution that improves the world you live in?"
"Let's meet online and be prepared for what comes next, your curiosity and desire to innovate will be of great help," says Peter Lundqvist, Principal Program Manager at SAS. "We will offer each team a SAS mentor, free access to the entire industry-leading software suite, and a month at your disposal to translate your vision into reality. We can't wait to discover what amazing projects you have in store in 2023."

Participants in the SAS 2023 hackathon will also get access to other resources, including virtual learning labs, training courses and more.
The SAS Hackathon, a source of innovation for participants, regardless of age and skills

Only 21% of 16- to 24-year-olds are digitally literate, according to Dataversity statistics; in parallel, only 24% of the workforce globally consider themselves to be fully competent in the digital sphere. Many people are still struggling to understand what benefits the analytics universe can bring in the real world – the SAS hackathon offers inspiration and first-hand experiences for beginners in the ITC segment, but also for those who want to improve their skills.

"The whole world looks to the SAS hackathon to discover the most innovative real-life applications of analytics, data and AI systems," says Ali Dixon, Senior Associate Product Marketing Manager for SAS. "We hope that enthusiasts in the field, regardless of age or career level, will be inspired to participate in this new edition. Discover free SAS training courses available online, ask questions and debate ideas in company forums. Analytics is a field open to anyone, and today's newcomers are tomorrow's SAS innovators."

The SAS Hackathon: where data is put to good use
Participants from previous editions used the SAS Viya platform, recently also available in the Microsoft Azure store, but also machine learning, advanced modeling systems, the Python language, and other resources to realize projects such as the following:
The LangTech team: A team of data scientists in Cameroon has documented four dialects of the country's indigenous populations in order to preserve their cultural heritage, but also to provide improved local services and a better representation of native speakers nationally.
War on Cancer Team: During the last SAS hackathon, analysts surveyed users of a resource app for those fighting cancer to better understand the emotional and psychological journey of patients. The end result is a vast collection of information that supports healthcare providers as well as chatbots that guide patients to mental health resources.

JAKSTAT Team: The 2022 SAS hackathon grand prize winners have created a platform to optimize the relief funds provided during the Covid-19 pandemic to the small businesses that make up the majority of the Indonesian economy, increasing the resilience of entrepreneurs in the capital region, but also in the rest of the country .
Registrations here: Register Hackathon | SAS
---
Trending Now
You may also like