Mihaela Surugiu, HR Director, Euromaster Tyre & Services Romania: Each improvement in employee experience means consolidating a great work climate and a super organizational culture
Posted On August 16, 2021
---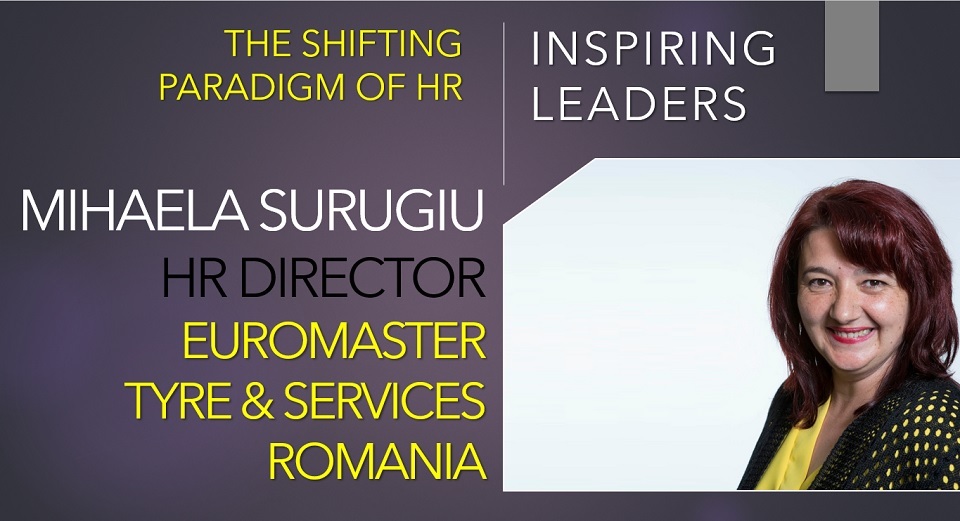 In the latest years, the HR and everything related to employees and employer branding have been of utmost importance for the companies' overall business development strategy. We talked to Mihaela Surugiu, HR Director, Euromaster Tyre & Services Romania to find more on the company's insights on HR and L&D programs and strategies, workplace culture and business-wise evolutions.
PRIORITIES IN HR
The main priorities of our HR department were to continue to support the employees in these difficult times, as well as to ensure the evaluation and implementation of the projects that were put on hold in 2020. Together with the heads of departments, our constant focus is the wellbeing and the safety of our people. We focus on keeping people together, business and people growth and offer business and career opportunities to employees while ensuring a friendly working climate in a hybrid mode – teleworking and working from the office.
For HR (and not only): optimization and digitization of HR processes to enable HR to be focused more on business rather than spending time in administrative zones. There are projects for administrative efficiency in this regard at Group level, not only in Romania. The Romanian business plays an active role in generating this change. Digitalization and change management programs to be put in place, as well as transformation programs including cultural approaches and leadership behaviors in all employees.
In terms of business evolution, business is growing and people as well. Efficiency and lean programs are in place as well as digitalisation of the company along with people growth and development – skills and new opportunities, Robotic Process Automations, innovations as challenges.
ADJUSTING TO FLEXIBLE WORK ENVIRONMENT
In the shared services centre of Euromaster Group – Euromaster Business Services (EBS), we have been working entirely remote since the beginning of the pandemic and we continue this way for the moment. In EBS we were having a flexi office policy prior to the pandemic period and our colleagues could work from home 2 days/week, so for sure working from home will be part of our way of working in the future as well. Offices are open for all employees who need or want to come to the office for team meetings. Utilities are at full capacity as well as the protective measures for Covid-19. People are free to come and also free to work from home. The approach is very flexible and with support for employees' wellbeing and comfort.
HIRING NEVER STOPS
Nevertheless, the attrition rate decreased and we brought new business as opportunities for people growth. In 2020 there was a break for about 6 months because of the lockdown and economic context in Europe, but 2021 is a normal year from this point of view. The number of hirings in 2021 is at the same level as for a similar period in 2019, even a little increased and the tendency is to increase the number during the second half of the year, as the business continues to develop.
RESHAPING THE OVERALL EMPLOYEE EXPERIENCE
We have been working on that, each improvement is aimed to do it by consolidating a great climate and a super culture – employees being engaged about. Focus on people and business growth is a must and all efforts are around it, on keeping people and business together. Transparency and honesty are at the heart of the organization.
Career development on a real growing and sustainable strategy of the Group, with maximum visibility and transparency to everyone by the right communication channels and needs.
An Employee Assistance Program is in place to really help people keep the work-life balance in the pandemic period.
We believe that we made a big progress this year in terms of employer branding, both for engaging our employees and for offering valuable information to the new candidates to the roles within our company. We have created an online presence and content telling our history, our values, our successes and how it is to work in Euromaster Business Services. This is an ongoing process and we thank all our enthusiastic colleagues for getting involved in it.
EVOLUTION OF L&D: LEARNING & DEVELOPMENT IS A KEY COMPONENT FOR OUR ORGANIZATION'S SUCCESS
Learning & development is a key component for our organization's success. We aim to create a learning culture in our shared services centre. Offering to our colleagues the possibility to continuously improve their competence and skills is part of our strategy. In this pandemic context we have updated the training process so that it can be performed efficiently in the online format, we have launched e-learning training platforms and we are preparing the launch of other tools that would help us to achieve our training objectives. Of course, some skills cannot be successfully delivered online, so we also have in-class trainings if participants also feel comfortable in attending them. For instance this year we have implemented a complex training program for our management team on leadership and organizational culture.
---
Trending Now