Future Makers: 50 start-ups, 11 countries and 20,000 euro in prizes
---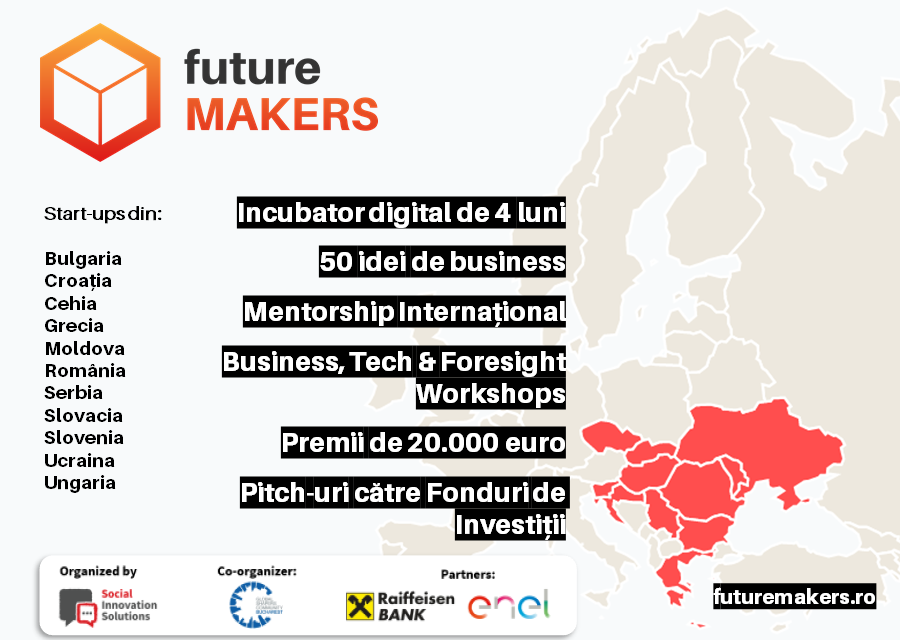 The 4th edition of the Future Makers educational program offers prizes worth 20,000 euros, incubation, international mentoring and connection with investment funds for young people between 18 and 30 years old from 11 Central and Eastern European countries (Bulgaria, Croatia, Czech Republic, Greece, Hungary , Moldova, Romania, Serbia, Slovakia, Slovenia and Ukraine) .
Participants are mentored by experts and entrepreneurs from 20 countries, over 30 hours of entrepreneurship, technology and foresight workshops, access to industry experts, a global education and networking platform, pitches in front of funding European investment and business angels and membership in the international Futures Space community. Also, the 50 participating teams will have the opportunity to present their ideas to the Future Makers jury on November 18 for prizes of 20,000 euros, in the Future Summit, an international event dedicated to future trends that will take place on November 15-21 . Registrations are made until June 13 at: http://bit.ly/FM_application
Applications received by May 16 receive a 60% discount.
"Future Makers started 4 years ago from the need to bring to Romania the global conversation about the fourth industrial revolution and the changes generated by it. We believe that young people are in a position to be part of the future as entrepreneurs. We have supported together with our partners with know-how, access to global networks and over 75,000 euros for ideas at the beginning of the road and from 2021 we move to the next level with 50 start-ups from 11 countries in Central and Eastern Europe " , says Ciprian Stănescu, President of Social Innovation Solutions.
Future Makers winners from past years include Polymore (AI plastic waste selection algorithm), ACT (flexible cutlery set for people with arthritis), ART Link (augmented reality solution for artists), Tzitzi-Poc Adventures (theater and AR for children), Synovius (prototypes for medical recovery), CardioMedive (medical device that analyzes essential vital parameters), EcoTree (waste management platform), I'm Fine (application for connecting patients with psychotherapists) or Veltra (bicycles from bamboo). Future Makers is organized by Social Innovation Solutions, with the support of Raiffeisen Bank and ENEL Romania, and co-organized by Global Shapers Bucharest Hub.
More details here: https://futuremakers.ro/
Social Innovation Solutions is an organization that provides social impact consulting, innovation and foresight for NGOs and corporations, educational programs and business competitions such as Social Impact Award, Future Makers, Impact Accelerator or Future Summit, Future Talks and Future conversation platforms. Magazine.
---
Trending Now