---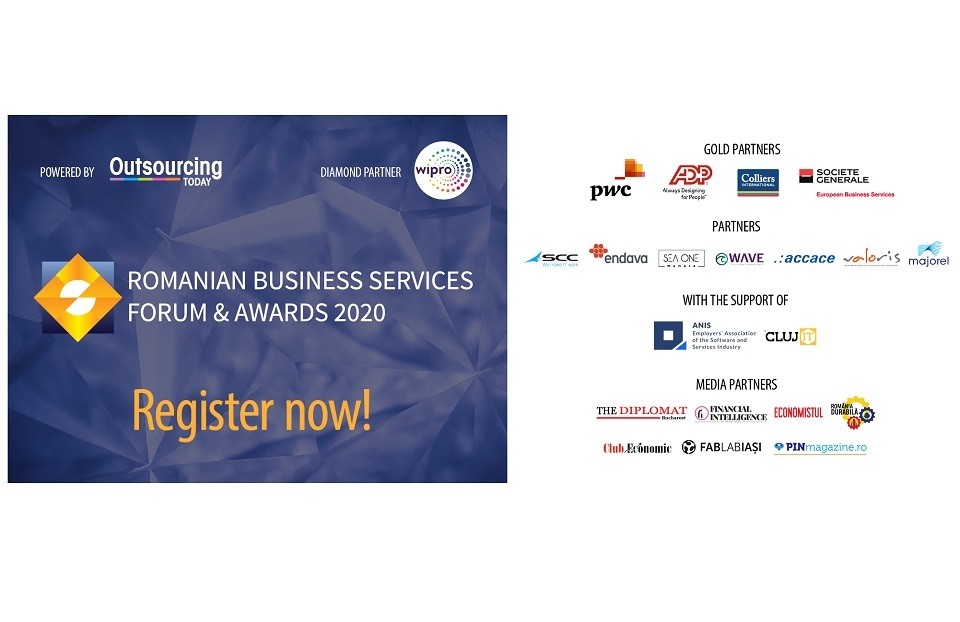 THE DIPLOMAT BUCHAREST & OUTSOURCING TODAY organizes the sixth edition of the ROMANIAN BUSINESS SERVICES FORUM & Awards 2020 on July15 at Athenee palace Hilton Bucharest (Roberto's terrace).
 The event is held in English language and it is organized between 15:00 – 19:30 pm.
 The event benefits from the support of DIAMOND PARTNER Wipro, GOLD PARTNERS PwC, ADP, Colliers International,  Societe Generale European Business Services, PARTNERS SCC, Endava, Sea One, Wave, Accace, Valoris, with the support of ANIS, ClujIT and MEDIA PARTNERS Financial Intelligence, Economistul,  Romania Durabila, Club Economic, Fab Lab Iasi, Pin Magazine.
 It is the high time for business shared services in Romania to go beyond the paradigm of doing business as usual. 2020 forced all business sectors as well as outsourcing and business shared services to develop into new areas, rethink the daily operations and create a new future for the entire industry. This future is about keeping the core activities and operations but also evolve into more specific areas such as: strategy, differentiation, health&safety and more complex and profound aspects of businesses.
 THE FORUM  brings together the most prominent companies acting in the Business Shared Services– BPO, ITO, SSC and connected services and tech solutions providers' industry in Romania in a half-day event with engaging keynote sessions sustained by C-level industry leaders within an interactive CEO LEADER DEBATE  and multiple and engaging networking opportunities. The event aims at becoming an arena where key players in the field can discuss the current challenges and opportunities that the business services providers deal with.
THE AWARDS GALA continues to recognize, reward and celebrate the success of the most prominent companies acting in the Outsourcing – BPO, ITO and SSC industry in Romania.
 The Jury Board is formed by:
FRANCESCA POSTOLACHE, Partner at PwC Romania
ANDRADA ILIESCU, Advisory Director at KPMG
GABRIELA MECHEA, Executive Director ANIS Romania
ANDREI ROMANESCU, Managing Director at Veeam Software
ANDREI CRACIUN, head of Digital Transformation & Data Analysis, West University of Timisoara
ALEXANDRU TULAI, Vicepresident, Cluj IT Cluster
DAN ZAHARIA, Senior Leasing Consultant, EXTIND Management
CARMEN ADAMESCU, Partner E&Y
MIHAELA ROSU, Director, Deloitte Audit
MIHAELA ROBU, Business Development Manager at ACCA South – Eastern Europ
EVENT AGENDA                                
15:00 – 15:45

WELCOME GUESTS & OFFICIAL OPENING

ROMANIAN BUSINESS SHARED SERVICES FORUM & AWARDS is the ideal stage for knowledge sharing, voice expression and objective recognition of the performance proved by professionals and projects, while celebrating and raising the profile of their achievements.

The Romanian Business Shared Services Forum & Awards recognizes the personal contribution and commitment of the most experimented individuals and the added-value projects in this industry in Romania.

15:45 – 17:30 

BUSINESS SHARED SERVICES | CEO LEADERS DEBATE     

At Athenee Palace Hilton, in Bucharest (Roberto's terrace) on July 15, we will once again bring together the C-level business leaders in the industry. The Forum will offer the stage to key opinion leaders, experts and the most knowns specialists in the field, to discuss some of the most pressing aspects of the industry today.
17:30 – 18:00  NETWORKING COCKTAIL & GALA DINNER
18:00 – 19:30 

AWARDS GALA – 6th EDITION   

The Awards Gala, now in its sixth edition, is an elite event and a platform to recognize, reward and celebrate the success of the most prominent companies, projects and individuals acting in the business shared services field in Romania. Based on rigorously researched information and a Judging Panel formed of prominent names in business, the Gala  Awards established itself as a must-attend in your Romanian Gala Awards event calendar.
CEO LEADERS DEBATE- The Leadership perspective in the changing business world
 PANELISTS
VIVEK BAKSHI, General Manager, WIPRO Technologies
FRANCESCA POSTOLACHE, Partner, PwC Romania
MATTHIEU PASQUIER, CEO, Societe Generale European Business Services
GEORGE DIDOIU, Director Tenant Services |, Office agency, Colliers International Romania
COLIN C. LOVERING, Vice-President, BRCC, PANEL Moderator
TOPICS
WORK – A MATTER OF TRUST   |   OVERCOMING THE BARRIERS IN ACHIEVING THE BUSINESS GOALS AND BUILD A STRONG FEELING OF SCOPE OF WORK
Organizational strategy in adapting workplaces and protecting workers
Rethinking or introducing new job models at work
Expanded employer role as social safety net
Separation of critical skills and roles
 LEADERSHIP – INSPIRNG, ENGAGING, EMPOWERING   |   HOW TO MANAGE THROUGH
THE POWER OF EXAMPLE AND BUILD COMMITMENT ALTHOUGH THE COMPANY LEVELS
Taking tough decisions and work through tough choices faster
Conveying the Leaders' vision and epowerement all through organizational structures
Switching from plan-driven to purpose-driven
How do leaders and organizations are navigating into the new business and life reality
 BUILDING  BRIDGES   |    ENVISIONING NEW SYNERGIES AND CREATING EFFECTIVE PARTNERSHIPS ON VERTICALS AND HORIZONTALS OF BUSINESS COMMUNITY TO REACH THE NEEDED BUSINESS GOALS
The general feeling within the organizations: Coping with anxiety, enabling and pushing further industry syneriges through dialogue and cooperation
Virtualization of daily work: organizational platforms, innovative ideas to en
Leveraging teams and engaging managers and teams in strategy planning to ensure alignment on priorities, and contingencies
FAST LEARNING    |    DESIGNING NEW ROLES WITHIN THE COMPANIES. EVERY CRISIS REVEALS A NEED
What are the revelations over the pandemic crisis and what is their effective reflection in the company's operations
Virtual Coaching & Online Leadership Development
Virtualization of work and of organizational communication: Challenges and solutions
 REACHING EFFECTIVE RESILIENCE    |    BUILDING EFFECTIVE BUSINESS RESILIENCE, BEST PRACTICES AND SHARING KNOWLEDGE 
Leaders feel the pressure too: How do you cope and make the best from the available resourses
Adaptive Leadership and coveying a clear message within organization: What would this message be?
Corporate Ingenuity in challenging times: How Top Leaders are making a difference
---
Trending Now