The long story short of young entrepreneurship in tech – From Bucharest to San Francisco
---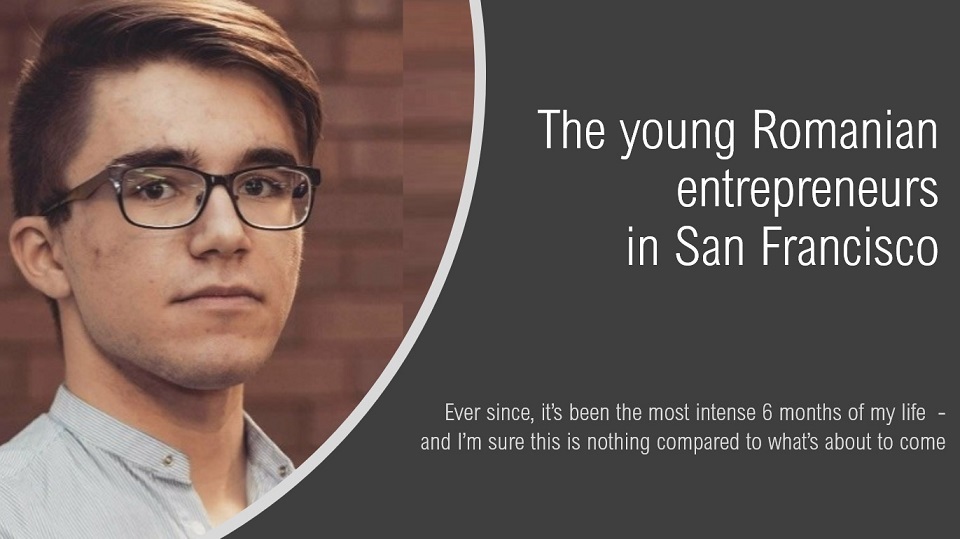 San Francisco is homeland to some young Romanian entrepreneurs who are searching their ways to global success amid the tech environment in the US city and the southern area of the city, better known as Silicon Valley.
Such young entrepreneur is Ion-Alexandru Secara, now the Co-Founder of PostureHealth, an ergonomics performance software, a business that received an investment from Alchemist Accelerator, making the value of the company raising to more than 1 million US dollars.
According to the provided description of PostureHealth, it basically uses a built-in or attached camera to give people real-time posture coaching, personalized stretching programs and advanced posture insights.
How did it all start? Alexandru, a graduate of the Bucharest-based computer-science college Tudor Vianu, developed his very first mobile app meant to help people with Alzheimer's disease at the age of 14. At 19, he got his first investment offer. At 20, Alexandru graduated from University of St. Andrews, UK, having completed 3 engineering internships at Iron Sheep Tech, Adobe and Intuit respectively, and being offered full time jobs at each one of them. At 21, he moved to San Francisco, working as a frontend developer at LoopUp, as a member of SVIP.
Coming to date, on January 9th, 2020, Alexandru incorporated PostureHealth (PH). The business is run in partnership with other two young professionals, Daniel and Jack, linked through a profound friendship and business relationship. Daniel, a graduate of Yale University and American football player runs the sales, while Jack is a posture expert with over 15 years of experience, a certified athletic trainer and a certified strength and conditioning coach.
As Alexandru says, "this is his 6th attempt at starting a successful startup"
Basically, what's special about PostureHealth? According to description of the product, PostureHealth's real-time posture training, personalized workday movement programs, and ergonomic health tips help you take better care of your employees. More productivity, less musculoskeletal disorders. We are a privacy-first ergonomics performance software. Since incorporating, the developers have been running a private beta with 100+ registered users and, according to Alexandru, "the most exciting part is that we're launching a corporate pilot in the upcoming weeks. Indirectly, work on PH started a year and a half ago, in London, when I joined an open-source project that was training Machine Learning models to detect human poses. I thought this would have a lot of applications in real life so why not learn about it."
Two months later, Alexandru started his final year at University of St. Andrews, and, "because of the heavy workload for my dissertation and a company that I founded, I couldn't be actively involved anymore but I did keep myself up to date with the space. Since I stopped playing (European) football and my workouts were very infrequent, I was constantly reminded throughout my final year, that my posture is suffering due to extended periods of time working in front of a computer. Since my parents became diplomats, the way we present ourselves became our #1 priority."
The road to the current developed product came to shape as soon as Alexandru handed in his final exam. "I went straight back to researching posture detection technologies. I spent the whole summer learning and refining my skills in the space. My mission was clear — I'm spending the summer learning and experimenting, and starting September, when I set foot in San Francisco, I will take my idea to the next level. Ever since, it's been the most intense 6 months of my life – and I'm sure this is nothing compared to what's about to come," Alexandru added.
---
Trending Now
You may also like