---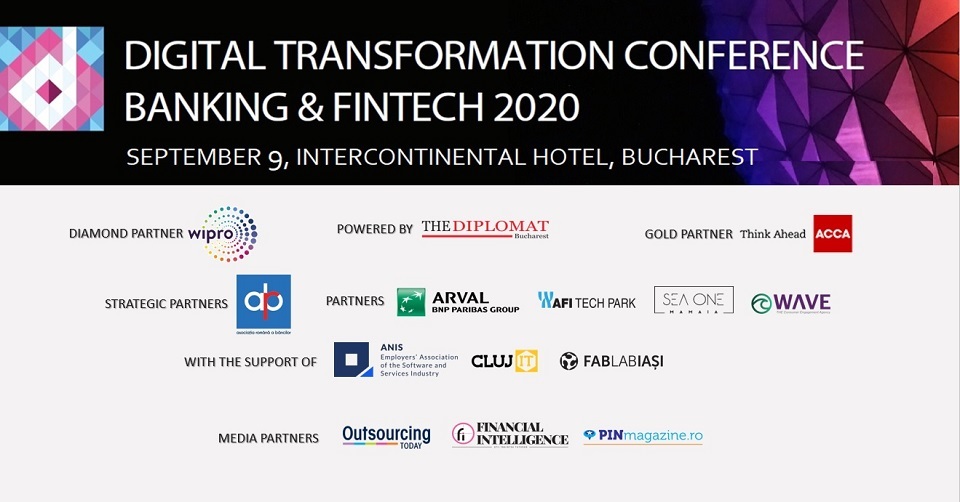 The Diplomat – Bucharest organizes Digital Transformation Conference – Fintech & Banking on September 9 in Bucharest, InterContinental Hotel, Rapsodia Hall, starting 8:30 AM.
 The event benefits from the support of Diamond Partner Wipro, Gold Partner ACCA, Strategic Partner ARB (Romanian Association of Banks), Partners Arval, AFI Tech Park, Sea One, Wave, with the support of ANIS, Cluj IT and FabLab Iasi.
 The conference is part of the Digital Transformation annual series, bringing together leaders spearheading digital initiatives in their organizations in to offer insights into their digital transformation journey's in three major sectors: fintech&banking, energy and telecommunications.
 Banking and fintech are transformed by the digital revolution that gives this industry a chance to rethink its models, to better address the new consumer's demands and needs, to better communicate and anticipate its behavior. However, the transformation of organizations is an undergoing process and the fintech companies play a major role in pushing the process forward. The use of emerging technologies – Analytical, Big data, cloud, Internet of Things, Blockchain, omnichanneling are not anymore new concepts but daily working tools in banking and fintech companies.
The daily word in banking and fintech is customer-centric operations and digitized 24/7 communication within a global platform economy.
SMART BANKING| +150 SPECIALISTS | C-LEVEL EXPERTISE | IDEAS INCUBATOR | LEADERSHIP | FINTECH
 EVENTS KEY HOURS
8:30 –  9:00       Registration
9:00 – 10:00   CEO TALKS
FINTECH INPUT INTO THEN ORGANIZATIONS | RISKS AND LIABILITIES | LEADING THE WAY
10:00 – 10:15    Coffee Break
10:15 – 10:30    PRESENTATION
10:30 – 12:30   Digital Transformation in FINTECH & Banking (Moderator: Gabriela Folcut, Executive Director, Romanian Association of Banks)
Regulatory & Authorities | fintech disruptive SOLUTIONS | collaborative business models | SHARED ECONOMY | conversational fintech | customer experience   
12:00 – 13:00  Networking lunch 
Digital Transformation Conference in Fintech & Banking welcomes and enables the knowledge exchange and insight swapping of specialists from: BANKING, FINTECH, ACCOUNTANCY,
CONSUMER-FINANCE COMPANIES, STOCK BROKERAGES, INVESTMENT FUNDS, ASSET MANAGERS, LENDERS, INSURERS
---
Trending Now
You may also like