The office market at a glance: The round for tenants is on

Data provided by CBRE show that the office spaces segment will continue to grow rapidly in 2019, and 15 new projects covering 304.000 sqm will be delivered. According to the real estate consultancy agency, currently, 50 per cent of the total area to be completed in 2019 is already pre-leased, which is a clear indicator of the market's need for more office spaces, due to the fact that the number of demands exceeds the offer.

The main regional cities in what concerns the new office developments are Timișoara, Cluj-Napoca, and Iași. In 2019 we expect a growth in demand, especially as new companies turn their attention to entering the Romanian market.

15 NEW OFFICE PROJECTS COVERING 304.000 SQM WILL BE DELIVERED IN 2019

Romania maintains its competitive advantage regarding the rent prices, and according to CBRE data, Bucharest is among the European capitals with the cheapest rents, so many companies choose to open offices here, instead of other more expensive cities. Hence, the rent is a major indicator for the Romanian companies, but currently the market is increasingly focused on improving the working environment through wellness and technological components. "As far as how the first two months of 2019 presented themselves and taken into consideration CBRE's analysis, in 2019 we will observe a similar structure of the leasing activity. In 2018, out of the 325,000 sqm that represented the total demand in Bucharest, 40 per cent were pre-leases, 26 per cent renegotiations, 15 per cent relocations, 13 per cent were new leases, and 6 per cent were extensions. Thereby, we expect that these percentages to suffer only small adjustments in 2019," Mihai Păduroiu, Head of Advisory & Transaction Services of CBRE Romania states.

COST IS AN IMPORTANT FACTOR, AND IT ALWAYS WILL BE, BUT IT JUST MIGHT NOT BE THE MOST IMPORTANT ONE

The office segment tremendously transformed in the past two decades and those the professionals of +40, remember the old offices from 2000' in which the air conditioning was maybe the ultimate wellness feature. Now, the office segment thinks in terms of HoReCa and hospitality industry. following the major global trends focused on wellness and everything regarding the improvement of the user's experience, flexibility and the technological component that is more present than ever.

"In the past 20 years, we have witnessed a major shift in the relationship between landlords and tenants. For example, ten years ago the market already recognized the client's status as a partner that had specific requirements concerning an office project, so we were talking about an owner – partner report. In 2018, we observed the solid increase of a tendency that will dominate the office market in the next years: the tenant is in the process of becoming a guest, so an increasing number of office buildings will prioritize health, comfort, and general well-being of the employees. The blend of the office and HoReCa components is another important market direction, meant to better respond to the younger generation needs," the CBRE manager adds. According to him, the wellbeing and technological factors greatly influence the office segment. In the wellness department, the developers directed their efforts into creating healthy, pleasant, and creative working environments which are paramount in attracting new employees and increasing the productivity of the existing ones.

"The new office projects are designed on higher wellness standards, with a wide variety of updates such as: brighter and larger office spaces, more plants distributed in the working and eating areas, air purification systems, access to gym and relaxation spaces, sound masking systems etc.," Paduroiu utters.

THE RETAIL SPACE WITHIN AN OFFICE PROJECT HAS GROWN ON AVERAGE FROM 5 PER CENT, TO APPROXIMATELY 15 – 20 PER CENT AT PRESENT

A good public transportation, great services both in and near the building have become the norm. The office buildings are now being used more and more as a destination for art events, "urban happenings", sometimes concerts and co-working spaces. The opinion is shared by Paduroiu from CBRE: The client became more aware about the international tendencies regarding more flexible working spaces and a healthier office environment. Some years ago, the real estate mantra was "location, location, location" which was the key factor for both the developers and tenants. The green certificates were considered an important feature, instead of something normal as it is currently. The project's location is still paramount, but nowadays we have a significant number of other major factors to take into consideration: the amenities offered in an office building, the stores, restaurants, pharmacies, banks etc. that are situated nearby the building, the retail and residential mix in the area, wellness component and so on."

DELIVERIES STAND (AS ANNOUNCED) AT 360,000 SQM MORE THAN DOUBLE THAN 2018. CENTER-WEST DISTRICT WILL STILL BE THE STAR (CLOSE TO 100,000 SQM IN DELIVERIES

Get familiar with the FLEX-WELL-TECH concept

The concept has been mentioned by CBRE and encompasses the pillars of the office segment nowadays: flexibility, wellness and technology. "When it comes to technology, it is impossible to have a successful business in 2019 and not invest financial and human capital in digitalization, automatization and robotics, or Artificial Intelligence. We are lucky to be part of an extensive network of over 450 offices spread all around the world, so our local teams can benefit from the know-how of our colleagues in more mature markets than Romania. With their help we have created different technological tools meant to help our clients in the process of office design and space optimization. Property Management is another business line that benefits from our tech tools, helping both landlords and tenants to optimize their costs, workplaces and processes but to also enrich the life standard of the occupiers," Paduroiu, CBRE says.


What's the use of investing so much energy and resources in building workspaces? In few words, to gain the employees' engagement. Space owners and providers actively seek ways to better engage - focusing on creating trust, not just on transactions; and building relationships, rather than just collecting rent. Buildings are staffed with hospitality in mind - community managers help to curate an experience which goes beyond the provision of space and more towards the curation of a loyal community. These workplaces are agile and attractive and they deliver on human experience. They are also knowledge clusters in their own right. All of which is positive for the people that work there and the organizations they work for. The recognition of value in providing space-as-a-service has caused landlords to re-evaluate their strategies too. Those who had once been disparaging about the modern coworking providers, citing that they were no more than better looking serviced office solutions for freelancers, contractors and startups, have had to reconsider their offer. "To the space-as-a-service provider, tenants/members are customers. Space owners/providers actively seek ways to better engage - focusing on creating trust, not just on transactions; and building relationships, rather than just collecting rent," the Knight Frank study shows.

During 2018, real estate consultancy company CBRE conducted the first study dedicated to work environment in office buildings in Bucharest. The respondents have been structured in four age segments, with Z generation: 18-24 years, Y generation: 25-34 years, X generation with 35-49 years and senior generation of 50-64 years' old representatives.

The study focused on satisfaction indicators and on criteria relevant to people of distinct age groups who work in different areas of the city and in extremely diverse areas of activity. Contrary to popular perceptions in the business world that post-millenarians consider themselves to be a generation with difficulty in integrating into work, one of the key findings of the study is that the most satisfied employees belong exactly to the very young generation (18-24 years).

The study showed that 82 per cent of respondents of Z generation (18-24 years), also called the generation post-millennials, were satisfied and very pleased with the location and the conditions offered in the office buildings they are working in - 55 per cent said they were relatively satisfied and 27 per cent were very satisfied. The generation of seniors (50-64 years old) is satisfied in a proportion of 73 per cent, of which 35 per cent are quite satisfied and 38 per cent are extremely satisfied. The category of people aged 35 to 49 (generation X) ranked third, with 63 per cent of people who are satisfied with the conditions at work. Of these, 39 per cent are relatively satisfied and 24 per cent very satisfied.


SPACE WILL BECOME MORE TAILORED TO THE CUSTOMER AND CUSTOMER SEGMENTATION WILL BE INCREASINGLY CONSIDERED IN ORDER TO PROVIDE MORE TARGETED PRODUCTS AND SERVICES


The research sought employees' perception of both easy access to the car or public transport and other factors such as shops, restaurants, pharmacies or ATMs in and around the building, as well as available parking spaces, access to a gym or the possibility of cycling at work. Other criteria for the selection of the job analyzed in the study were: the existence of showers, locker rooms and spaces for relaxation and meditation, the quality of office amneties or material, such as furniture, etc.

Among the findings revealed by CBRE research is that over 50 per cent of each age group spends between 30 and 60 minutes on their way to work. With regard to the type of workspace preferred, young generations opt for individual spaces: 43 per cent of young people aged 18-24 and 51 per cent of the category 25-34 years, while 56 per cent of the X generation respondents declared their preference for departmental divisions, as with seniors, with 50 per cent of options.

Among the complaints mentioned by the majority of respondents are: poor heating, ventilation and air conditioning (40 per cent), insufficient natural light (37 per cent) and too crowded space and too little parking space (both 36 per cent). The balance between personal life and time is valued differently, depending on the age category: the 68 per cent generation thinks that time for personal life is an extremely important criterion in choosing a job, followed by Y generation by 47 per cent, X generation by 51 per cent and seniors by 35 per cent.



---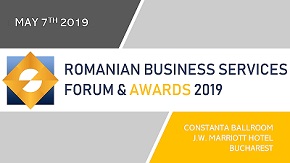 » Mircea-Catalin Roman, Noerr, guest spe...
» Oracle unveils suite of services to si...
» Genpact's COO: Staying ahead of the cu...
» Ascentis: The top ten HR trends for 20...
» Indian IT & services industry on track...
» Accounts Receivable Processing - Roman...
» CFOs are taking a better look at their...
» The Polish lesson: 470 Global BPO and ...
» EXCLUSIVE: ABSL Timisoara - BPO and SS...
» Wipro appoints new executives, creates...

Workplace of the Future conference to take place on November 20th at Bucharest

The Diplomat-Bucharest together with Outsourcing Today organize the 3rd Edition of WORKPLACE OF THE FUTURE, on 20th of November 2019, in Bucharest, at Capital Plaza Hotel.
Read Full article »
Strategic Talent Acquisition at People Empowering Business Forum on October 30 in Bucharest

Latest trends like demographic upheaval, globalization, digital technology, and changing social values and worker expectations, are disrupting business models and radically changing the workplace. These are req
Read Full article »
Informal IT School and UiPath launch an educational program for RPA development to start in October

Informal IT School announced a partnership with UiPath to launch an RPA development educational program of five months, 100 hours of courses, five days a week. The program will run in Cluj-Napoca.
Read Full article »
Impact Hub Bucharest joins 3house to manage three coworking spaces in the city

Impact Hub Bucharest, a coworking spaces manager and developer of accelerator programs and events merged with 3house, a new concept of workplace launched in 2018. By this, Impact Hub reaches 3 locations and 6.7
Read Full article »
JLL: Total office space in Bucharest to reach 3 million sqm

The second quarter of 2019 reconfirmed the increased interest for the office market in Romania. Over 115,000 square meters of office space were leased over this period at the national level, a value similar wit
Read Full article »