Breaking the walls: Real estate is waking up to the people

The business environment is changing at an unprecedented pace – space providers must adapt their workplace offer in order to meet the needs of the modern workforce and employee. Talking with the leading consultants and real estate solutions developers and providers on the market, it becomes clear that in the modern and demanding real estate market, the workplaces need to function as space-as-a-service and become shared knowledge

According to an opinion shared by George Didoiu, Colliers International Romania for this year's printed edition of Outsourcing Today, "on one hand, the market is unforgiving with the ones who fail to understand that we live in a "everything-at-your-fingertips" world and real estate is no exception. Since the IT&BPO/SSC sectors have accounted for up to 63 per cent of the office market in 2017 (and were not that far behind in 2018), the landlords are paying close attention to the demands of the newer generations. 90 per cent of CEOs now recognize that employee engagement is key for the future of the company (when in fact up to 88 per cent of employees are disengaged at work) and the office setting (from location to the buildings itself and finally the actual work environment) is a core element for the said engagement. Not the only one, but among the stars," Didoiu says.

According to the manager, the office location must create resonance between a company and its employees, especially since the lines between "home" and "work" are ever blurring in our always-connected society. So, the employers have to ensure that their team is both empowered and spoiled, engaged and relaxed, disciplined and enabled, all at the same time.

A good public transportation, great services both in and near the building have become the norm. The office buildings are now being used more and more as a destination for art events, "urban happenings", sometimes concerts and co-working spaces. The opinion is shared by Paduroiu from CBRE: The client became more aware about the international tendencies regarding more flexible working spaces and a healthier office environment. Some years ago, the real estate mantra was "location, location, location" which was the key factor for both the developers and tenants. The green certificates were considered an important feature, instead of something normal as it is currently. The project's location is still paramount, but nowadays we have a significant number of other major factors to take into consideration: the amenities offered in an office building, the stores, restaurants, pharmacies, banks etc. that are situated nearby the building, the retail and residential mix in the area, wellness component and so on."

DELIVERIES STAND (AS ANNOUNCED) AT 360,000 SQM MORE THAN DOUBLE THAN 2018. CENTER-WEST DISTRICT WILL STILL BE THE STAR (CLOSE TO 100,000 SQM IN DELIVERIES

"One factor that has definitely increased its presence is the co-working space, up to almost 10 per cent of the office market take up (just a few years back, it barely touched the 2 per cent threshold). This comes naturally as both companies and people require more flexibility," Didoiu adds. The new office developments are a lot more versatile, both in terms of floor size (anywhere from 1,000 sqm to even 4,000 sqm) and also total size (future expansion of tenants is always on the radar, so multiple-phased projects are very commonplace these days).
Adapt or go home: Customer centricity is the future of commercial real estate
The consultancy agency Knight Frank has been really blunt and published this year a study that underlines the need of putting the consumer first, especially in real estate, an industry in which the subjective opinion is foremost. Their study called "Adapt or go home: Customer centricity is the future of commercial real estate. "The study says from the very beginning that "looks matter" so, the workplaces that facilitate agility and that are fundamentally attractive places to be, will succeed.

In the increasingly competitive work environment and competition to win the best clients, hence, the most talented and loyal employees, niche skills are valued, but equally short lived as the business landscape continuously evolves. But new skills are quickly gained and new niches emerge, constantly. As moving more frequently becomes more commonplace, the workforce becomes choosier and competition among employers to attract the best talent intensifies. For organizations whose priority is to attract such talent, they must create environments where that talent would choose to congregate and that maximizes their productivity. "For the modern worker there is no longer such a thing as a 'career for life' – people have a portfolio of careers, connected by their individual learning and experiences and transferring these unique insights from one role to the next in quicker succession," the Knight Frank study shows.

90 PER CENT OF CEOS NOW RECOGNIZE THAT EMPLOYEE ENGAGEMENT IS KEY FOR THE FUTURE OF THE COMPANY

Computing power has been increasing by twofold every couple of years. This has created exponential leaps forward in the amount of data that can be processed. At the same time the Internet of Things (IoT) is digitally connecting the physical world in such a way as to enable almost anything anywhere to be measured and controlled, creating a multitude of big data opportunities. Artificial intelligence will increasingly mean that humans are not even required to give instructions to computers in order for them to discover the next patterns and correlations from the data they are processing, so our ability to derive insights will also accelerate. With these frequent new insights, businesses will need to adapt quickly, and constantly.

According to study, for the modern worker, there is no longer such a thing as a "career for life", as people have now a portfolio of careers, connected by their individual learning and experiences and transferring these unique insights from one role to the next in quicker succession. Businesses are therefore restructuring to be more agile - some proactively, to get ahead, others reactively, just to keep up. Digitally minded, creative, niche technical talent, which aligns to the new opportunities presented in this era of digital transformation, is in high demand and in increasingly short supply. For the modern worker there is no longer such a thing as a 'career for life' – people have a portfolio of careers, connected by their individual learning and experiences and transferring these unique insights from one role to the next in quicker succession.

50 PER CENT OF THE TOTAL AREA TO BE COMPLETED IN 2019 IS ALREADY PRE-LEASED

George Didoiu underlines the power of employees in the office segment equation. "The office tenants have, of course, evolved with the rest of the pack when it comes to their expectations (ever increasing). Since the employees become a heavyweight in the office location decision process, management does listen. And what do the Gen Y and Gen Z employees respond to? I already mentioned that great services, a great looking property and good location are to be desired, but not quite enough anymore. The social media campaigns done by some landlords, highlighting the "cool and nontraditional" features of their property are gaining traction. Therefore, if you are a developer or landlord and your property has a cool little something that would look nice on Instagram, by all means, make sure your marketing department takes care of it," The Colliers manager states and adds: "Special well-being features or unusual services may be just the ambassador you are looking for. Allow me to be very clear, however: the "classics" are still very much required. A great image for the property and the surroundings, efficient floors and top quality materials are still analyzed with scrutiny."

FOR THE MODERN WORKER, THERE IS NO LONGER SUCH A THING AS A "CAREER FOR LIFE", AS PEOPLE HAVE NOW A PORTFOLIO OF CAREERS

Offices evolve to space-as-a service and knowledge clusters

The main criteria of landlords and developers trying to attract the co-working companies is flexibility. "Flexibility (both in and out of the office) is cementing its place as the main criteria to look for - hence the landlords trying to attract co-working companies. Nowadays it's all about the employee experience, creating and maintaining it. Co-working spaces create the community feeling, allow employees to break through the norm of working in the same office setting every day and offer in most cases a different type of aesthetics inside the work place .We are already seeing the future making its way into our everyday reality, so my expectation is that whatever technology can improve (like a faster access into the buildings or parking areas, based on QR codes and/or AI-managed CCTV systems) it will do so, and sooner rather than later," George Didoiu from Colliers states. Creating communities around the office buildings will become more and more part of the landscape, as new generations of workers want to be more connected with their peers. "In a nutshell, I am expecting managers to realize that the easier they make it for their employees to access the full range of services everyone needs, the more engaged and loyal those employees will be. So, the office of the future will have to break the home/work barrier and provide the best of both worlds," Didoiu adds.



---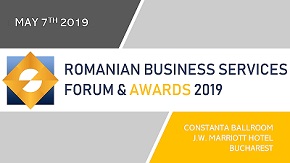 » Mircea-Catalin Roman, Noerr, guest spe...
» Oracle unveils suite of services to si...
» Genpact's COO: Staying ahead of the cu...
» Indian IT & services industry on track...
» Accounts Receivable Processing - Roman...
» CFOs are taking a better look at their...
» EXCLUSIVE: ABSL Timisoara - BPO and SS...
» SAP beats 2015 targets with cloud sale...
» Cluj: International Cambridge High Sch...
» ROMANIAN OUTSOURCING AWARDS FOR EXCELL...

Workplace of the Future conference to take place on November 20th at Bucharest

The Diplomat-Bucharest together with Outsourcing Today organize the 3rd Edition of WORKPLACE OF THE FUTURE, on 20th of November 2019, in Bucharest, at Capital Plaza Hotel.
Read Full article »
Strategic Talent Acquisition at People Empowering Business Forum on October 30 in Bucharest

Latest trends like demographic upheaval, globalization, digital technology, and changing social values and worker expectations, are disrupting business models and radically changing the workplace. These are req
Read Full article »
Informal IT School and UiPath launch an educational program for RPA development to start in October

Informal IT School announced a partnership with UiPath to launch an RPA development educational program of five months, 100 hours of courses, five days a week. The program will run in Cluj-Napoca.
Read Full article »
Impact Hub Bucharest joins 3house to manage three coworking spaces in the city

Impact Hub Bucharest, a coworking spaces manager and developer of accelerator programs and events merged with 3house, a new concept of workplace launched in 2018. By this, Impact Hub reaches 3 locations and 6.7
Read Full article »
JLL: Total office space in Bucharest to reach 3 million sqm

The second quarter of 2019 reconfirmed the increased interest for the office market in Romania. Over 115,000 square meters of office space were leased over this period at the national level, a value similar wit
Read Full article »