Romania slides 10 positions in A.T. Kearney Global Services Location Index

In recent years, the information technology outsourcing (ITO) and business process outsourcing (BPO) industry has faced significant disruption from digital transformation, and the strongest impact is from two adjacent forces—automation on the one hand and heightened cybersecurity concerns on the other. Digital resonance is the new factor impacting location attractiveness, the study shows.

2019 Location Assessment
A wide chapter of the report is dedicated to location assessment for business shared services and the ranking is topped by India, China, Malaysia, Indonesia and Vietnam, followed by US (up ten positions, from 16 to 6th, Thailand, UK, Brazil, Philippines, Mexico. The only European country that made into the twelve ranking is Estonia. Poland ranked on 24 twelve positions down) while Romania fell on 28th, ten positions down.

As the number of locations suitable for offshoring continues to proliferate, companies seeking to benefit from these opportunities must take care to design the optimal global footprint. Countries must also anticipate increasingly fierce competition for offshore jobs and dollars. To shed light on companies' complex and shifting choices regarding locations for offshore operations, we present the 2019 findings of the GSLI. This Index tracks the contours of the offshoring landscape in 50 countries across four major categories: financial attractiveness, people skills and availability, business environment, and the new digital resonance category explained in figure 1. It assesses countries' capacity to deliver BPO and ITO services based on 44 different metrics (see Appendix: About the Study).

The 2019 GSLI overall country rankings indicate that, at a regional level, Asia continues to dominate the Index (see figure 4). Asian economies represent six of the top seven spots, and India, China, and Malaysia hold the first three spots in the global services value chain again this year—despite the change in the Index methodology. In fact, while most locations have experienced movements in the rankings as competition has become more intense and as economies have developed, it is striking that the three countries at the top have held the same positions since we started measuring the attractiveness of locations for offshoring.

The United States breaks into the top 10 countries for the first time this year, moving up from 22nd place in 2017, and the United Kingdom and Germany also perform well, ranking 8th and 15th, respectively, in this year's Index. Latin America remains a strong contender, with Brazil, Mexico, and Colombia taking 9th, 11th, and 13th place, respectively. Central Eastern European countries, however, have shifted in their Index performance. While less established locations such as the Baltic States, Ukraine, and Russia are pulling ahead, the more prominent Czech Republic, Poland, and Hungary show large declines in the ranking due, in part, to rising costs. Canada, the United States, Lithuania, Estonia, and Singapore recorded the largest upward shifts overall.

In the two years since the 2017 report was published, this shift has begun. We have observed that low-cost countries are losing jobs due to increased automation in the sector and that new, more highly skilled jobs are being created in certain countries to manage the demands from automation. Countries are seeing their labor forces shifting rapidly and there is significant attention toward fast-growing automation start-ups that are driving this disruption.

As heightened automation disrupts labor patterns globally, it brings with it an equally disruptive threat of cyberattacks from malicious agents that feed on the vulnerabilities created from increased reliance on outsourcing and digitization. Companies are outsourcing vital functions and sharing sensitive information with their service providers, but they do not have enough awareness and visibility to the very same vendors who have access to their client-sensitive data. Furthermore, the range of cybersecurity systems in place among third parties, and the maturity of the host country's preparedness, response, and legislation also play a role in ensuring that data is protected.
As automation has increased the exposure of companies to these cyber threats, a greater understanding of the factors that influence this vulnerability is necessary.

The GSLI has informed companies' strategic decisions about offshore operations locations for the past 15 years. The Index comprehensively surveys the outsourcing landscape, identifying the countries with the strongest underlying fundamentals to potentially deliver ITO, BPO, and voice services. Historically, this measure has been based on metrics within three major categories: financial attractiveness, people skills and availability, and business environment. To address the rising impact of automation and cybersecurity, this year we have added a fourth category—digital resonance—which is defined in greater detail through the course of this paper.

Automation and Digital Resonance
Examples of the shift in needs from a future labor force as a result of the disruptive impact of automation can now be seen throughout the world. Telecommunications company Vodafone, for instance, has announced that it will be laying off 1,700 service center employees in Romania, India, and Egypt, affecting about 8 percent of that workforce as they implement new automation solutions. And in the Czech BPO segment, software robots are now doing the full-time work of an estimated 4,000 employees, representing 4 percent of the total BPO labor force. These lost jobs have been partially offset by the 1,200 new full-time Czech employees who work on programming and implementing automation systems. While the jobs lost tend to be simpler functions predominantly executed in low-cost countries, the new jobs building and maintaining the automation tools demand more familiarity with business requirements and a higher degree of creativity—and are predominantly located in higher-cost on- or near-shore countries, such as the Czech Republic.

This rapid development of new technologies disrupting the industry can also be seen in the attention—and significant amount of funding—given to automation start-ups by the venture capital sector. For instance, the Silicon Valley start-up Automation Anywhere, a pioneer for robotic process automation (RPA) that brings together cognitive automation and analytics, raised $250 million in 2018 in one of the largest Series A financing rounds, with a valuation of $1.8 billion. Similarly, the Romanian company UiPath, now domiciled in New York City, raised 568 million US dollars in its Series D investment round. The company's valuation at that time was $7 billion, and its revenue has increased from 8 million US dollars to more than 200 million US dollars since April 2017.

It is clear, then, that digital capabilities must also now be integral parts of decisions about offshoring operations locations. As the industry has been disrupted by automation, our Index, too, must change in order to accommodate the increasing importance of digital considerations in these choices and the need for fewer employees who specialize in repetitive tasks and more employees with the creative capacity and business knowledge necessary to manage automation. In an effort to capture the impact of this rapid evolution in new automation technology, A.T. Kearney is adding a fourth major category to the 2019 GSLI Index: digital resonance.

This new digital resonance category incorporates metrics in the following areas:
• Digital skills of the labor force
• Legal adaptability, meaning the extent to which the legal framework takes digital business models into account, including cybersecurity protections
• The amount of corporate activity, defined as the amount of capital invested in start-ups and the number of deals by VCs in 2018
• Digital outputs, including creative outputs, as well as knowledge and technology outputs

Read the full study here: https://www.atkearney.com/digital-transformation/gsli


---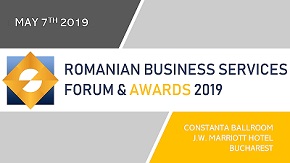 » ROMANIAN OUTSOURCING AWARDS FOR EXCELL...
» Meet the winners of ROMANIAN BUSINESS ...
» Pavel Campan appointed as the new Vice...
» CBRE: Office deliveries expected to br...
» Genpact's COO: Staying ahead of the cu...
» N-iX, EPAM, Luxoft, Ciklum, Intetics, ...
» Molson Coors started to grow its busin...
» Exclusive OT print issue: Genpact may ...
» The Outsourcing industry announces its...
» Capgemini to open new office at Suceav...

Workplace of the Future conference to take place on November 20th at Bucharest

The Diplomat-Bucharest together with Outsourcing Today organize the 3rd Edition of WORKPLACE OF THE FUTURE, on 20th of November 2019, in Bucharest, at Capital Plaza Hotel.
Read Full article »
Strategic Talent Acquisition at People Empowering Business Forum on October 30 in Bucharest

Latest trends like demographic upheaval, globalization, digital technology, and changing social values and worker expectations, are disrupting business models and radically changing the workplace. These are req
Read Full article »
Informal IT School and UiPath launch an educational program for RPA development to start in October

Informal IT School announced a partnership with UiPath to launch an RPA development educational program of five months, 100 hours of courses, five days a week. The program will run in Cluj-Napoca.
Read Full article »
Impact Hub Bucharest joins 3house to manage three coworking spaces in the city

Impact Hub Bucharest, a coworking spaces manager and developer of accelerator programs and events merged with 3house, a new concept of workplace launched in 2018. By this, Impact Hub reaches 3 locations and 6.7
Read Full article »
JLL: Total office space in Bucharest to reach 3 million sqm

The second quarter of 2019 reconfirmed the increased interest for the office market in Romania. Over 115,000 square meters of office space were leased over this period at the national level, a value similar wit
Read Full article »