Self-service tools in the new digitalized business ecosystem

IoT and advanced technologies, including robotics, are expected to replace all the conventional tools and systems at workplaces with their digitized versions by 2022 in all the top-ten economies of the world.

According to Marian V. Popa, GM of DB Global Technology, "Technology is a fact of today's life and – whether we want it or not – technology will be an ever-increasing part of our activity. The nice thing is that the tendency of technology is to develop in such a way that for humans it becomes less invasive, more friendly, more intuitive and absolutely moulded around everybody's needs. So I think that the users and technology will grow into a kind of symbiosis, allowing both sides to do what they do best: technology to do commodity and standard, repeated work and humans to create."

Hence, it became a practice for companies to look for and implement such self-service tools that lead to the active participation of employees even outside the workplace. They empower the employees with all the necessary data or information required to accomplish their tasks and job responsibilities. Organisations with offices in multiple locations can easily understand the importance of self-service tools and knowledge/data banks. These self-service tools keep employees informed about changes in work plans, schedules, etc. Hence, to maximize the productivity and efficiency of the employees, HR must equip them with the latest self-service tools.

According to a study conducted by McKinsey Global Institute this year, HR will not have the bandwidth, resources or credibility to achieve their goal unless it delivers smooth and continuous customer service. In order to do this, HR must employ technologies that are changing how consistent process execution and excellent customer care are delivered.

The biggest workplace disruptor is next-generation automation technologies. The McKinsey Global Institute estimates that nearly half of all work could be automated with current technologies. For HR, intelligent process automation - which includes artificial intelligence and related new technology advances - can help deliver consistent people processes, something that has eluded many HR operations teams given the dynamic nature of the requests they receive. Cost savings also materialize through deploying such technologies as robotic process automation, machine learning and cognitive agents. McKinsey's analysis suggests that 56 per cent of typical "hire-to-retire" tasks could be automated with current technologies and limited process changes.

Robotic process automation is the most mature technology. Its use of software with AI and machine learning capabilities to handle repeatable tasks that humans have traditionally performed is already changing the delivery of HR services. For example, a leading consumer packaged-goods manufacturer deploys bots in its hiring process, starting with onboarding new employees (by, for example, porting application tracking system data over to the HR information system). But, on their own, only the largest HR organizations would likely possess the transactional base to justify the robotic process automation learning curve. What's more, many automation technologies require a portion of people's time, so capturing the opportunity requires real transformation of process and organization.

AI to be used responsibly

Ninety-two per cent of AI leaders train their technologists in ethics; 74 per cent evaluate AI outcomes weekly, according to a joint report from SAS, Accenture Applied Intelligence, Intel, and Forbes Insights. The study conducted by the cited companies shows that business leaders are taking steps to ensure responsible use of artificial intelligence (AI) within their organizations. Most AI adopters – which now account for 72 per cent of organizations globally – conduct ethics training for their technologists (70 per cent) and have ethics committees in place to review the use of AI (63 per cent). The findings of the study are based on a global survey of 305 business leaders, more than half of which are chief information officers, chief technology offers, and chief analytics officers. The study, "AI Momentum, Maturity and Models for Success," was commissioned by SAS, Accenture Applied Intelligence and Intel, and conducted by Forbes Insights in July 2018.

Despite popular messages suggesting AI operates independently of human intervention, the research shows that AI leaders recognize that oversight is not optional for these technologies. Nearly three-quarters (74 per cent) of AI leaders reported careful oversight with at least weekly reviews or evaluations of outcomes (less successful AI adopters averaged 33 per cent). Additionally, 43 per cent of AI leaders shared that their organization has a process for augmenting or overriding results deemed questionable during review (compared to 28 per cent at less successful AI adopters).

Other key findings from the survey include:
• Overall, 72 per cent of organizations globally are now using AI in one or more business areas.
• More than half (51 per cent) of AI adopters indicated their deployment of AI has been a real success – citing more accurate forecasting and decision-making, higher success at acquiring customers, and increased organizational productivity as the primary benefits.
• Nearly half (46 per cent) of AI adopters overall said their organization has fully deployed AI, either in single or multiple use cases.
• Respondents outside of the C-suite were more likely to see the impact of AI positively: More than half (55 per cent) of non-C-level executives say their AI efforts have been "successful" or "very successful." Only 38 per cent of the C-suite reported the same.
• Many organizations see an advantage for their workforce by way of elevated roles. Sixty-four per cent strongly or completely agree they are already seeing the effects, as employees focus on more strategic tasks rather than operative ones, thanks to AI.
• However, nearly 20 per cent identify "resistance from employees due to concerns about job security" as a challenge to their AI efforts. Tellingly, 57 per cent agree or strongly agree with the statement, "We are concerned about the impact of AI on employee relations (e.g., employees might feel threatened or overstrained.)"
Source: "AI Momentum, Maturity and Models for Success" study

---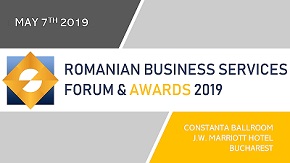 » Ericsson and Skanska trial IoT for Sma...
» CBRE: Office deliveries expected to br...
» DTZ: Office demand outside Bucharest t...
» ROMANIAN OUTSOURCING AWARDS FOR EXCELL...
» Meet the winners of ROMANIAN BUSINESS ...
» Why AFI Tech Park is the best value fo...
» Capgemini to open new office at Suceav...
» Genpact's COO: Staying ahead of the cu...
» Kaspersky's top 4 dangerous file attac...
» Exclusive OT print issue: Genpact may ...

Workplace of the Future conference to take place on November 20th at Bucharest

The Diplomat-Bucharest together with Outsourcing Today organize the 3rd Edition of WORKPLACE OF THE FUTURE, on 20th of November 2019, in Bucharest, at Capital Plaza Hotel.
Read Full article »
Strategic Talent Acquisition at People Empowering Business Forum on October 30 in Bucharest

Latest trends like demographic upheaval, globalization, digital technology, and changing social values and worker expectations, are disrupting business models and radically changing the workplace. These are req
Read Full article »
Informal IT School and UiPath launch an educational program for RPA development to start in October

Informal IT School announced a partnership with UiPath to launch an RPA development educational program of five months, 100 hours of courses, five days a week. The program will run in Cluj-Napoca.
Read Full article »
Impact Hub Bucharest joins 3house to manage three coworking spaces in the city

Impact Hub Bucharest, a coworking spaces manager and developer of accelerator programs and events merged with 3house, a new concept of workplace launched in 2018. By this, Impact Hub reaches 3 locations and 6.7
Read Full article »
JLL: Total office space in Bucharest to reach 3 million sqm

The second quarter of 2019 reconfirmed the increased interest for the office market in Romania. Over 115,000 square meters of office space were leased over this period at the national level, a value similar wit
Read Full article »