Technology, Mobility and Wellness make for the perfect workplace

The technology binge is pushing ahead the communities, businesses and all aspects related to work and workplaces in such a fast manner that we haven't noticed since the very booming of the office market. And as technology is created by people for people, the discussion around the workplaces is naturally and closely linked to people.

What are developers/owners providing to entice tenants to their portfolios? What is the latest in workplace design & construction? What does it take to make new projects stand out? Does it create a competitive advantage in the war for talent? These were some of the questions that found the answers during the second edition of Workplace of the future in IT and Outsourcing conference event that took place on 22nd of November, at the brand new location of Bucharest-based Biutiful, Timpuri Noi Square.

The conference event moderated by Colin C. Lovering, Senior Vice President - Avison Young Real Estate and Chairman of British Romanian Chamber of Commerce, benefited from the support of Diamond Partner Wipro, Platinum Partner Vastint, Gold Partners Kinnarps, CBRE, Partners: Sea One, Euro Vial and the supporting organizations ABSL, ANIS, ClujIT, Wave Divisiona and Nespresso.

Tech Incubators and co-working spaces are revolutionizing the way companies are doing business in the office and redefining the term office. Flexible working policies have become essential to attract the best talent and artificial intelligence becomes embedded in the workplace. One major trend though is that leaders encourage more human interaction. Some companies stopped their remote-working program, pushing thousands of employees from core groups that support their brands back to the office. Others' innovative new facilities are designed to promote worker relationships, idea sharing and collaboration, to encourage interactions between employees across departments and teams. It seems like companies have found that when employees bump into each other in physical environments, it sparks creativity and relationship building that leads to positive outcomes.

The gospel of "Location, Location, Location"

This main factor in building or choosing an office building or workplace never changed so far. The "Location, location, location" gospel as it has been inspiring named by Colin Lovering, became even the main factor to be taken into account by developers and designers of a workplace. The workplace design and office buildings started to follow the trends that we would rather meet in HR and human psychology: the human-centric design, biophilic designed philosophy, homestyle comfort design, all terms and concepts that never occurred in the office market presentations several years ago.

Colin has been living and working in Romania since 2009 when he arrived to offer consultancy and advice to organisations looking for growth and profitability and founded Achieve International. He is heavily involved and committed to supporting Disability in the Workplace in Romania and actively speaks on this important subject. His other activities include being Senior Tutor with the Institute of Sales Management and an Associate Lecturer at the University of Bucharest.

According to Costin Tudor, Founder and CEO of undelucram.ro platform, there is an increasing pressure on employers regarding the facilities they have to offer to employees, starting with the location of the office. "The space became more and more important and employers need to adjust to specific things," says Tudor. Part of these benefits is working from home. A short survey during the Workplace of the future in IT and Outsourcing conference event showed that young generation representative would like to work from home one or two days a week, one of the main reason being the time spent in traffic on their way to work. According to Tudor, there is an inverse trend in the matter of remote working. For instance, Tudor shows that companies in IT started to give up on the option of remote working, due to productivity decrease while the companies delivering BPO services started to encourage remote working time, due to the increase of workplace costs. We have to take into account that a company delivering BPO services, such as a call center requires a large number of employees, therefore, large offices that come at a price.

Costin Tudor is founder and CEO of Undelucram.ro, an online platform that allows the employees to rate the companies they work for. Costin Tudor has an experience of more than 13 years in IT & Customer satisfaction, and he graduated an MBA in entrepreneurship.Undelucram.ro, platform that is available now in five countries, is the product through which he manages to contribute to the development of healthy and sustainable relationships between employees and employers.


"The location of a workplace depends on the nature of business," says Daniel Florescu, Managing Director of Kinnarps Romania, a company with Swedish roots, delivering workplace solutions, currently one of Europe's largest provider of workspace interior solutions and sales operations in about 40 countries. The reachability factor in choosing to work in a certain office building or workplace location became one of the main factors, especially for the younger generations. As Daniel Florescu says, the young generations, starting Millennials, "consider the value of everything" and for them, much more than other generations, time is valuable an costly. "They count every beat of the time and they are more costs-related" says Florescu. An interesting and new perspective on the way the young generations are calculating the time takes into account that for the employers, the time spent at work spans from the moment an employee enters the door of the office and ends when the employee leaves the office. On the other hand, the employees are calculating their time spent "for work" the minute they leave their houses and until they reach back to their homes. In other words, the employees are including the time spent on their way to job as worktime. Therefore, the offices needs to address the burning matter of workplace reachability in order to attract and retain their workforce.

As Florescu says, the market sees dramatic changes in office design, since an office comprise several generations at once. "The biggest change for a company is to make all the elements work together, by putting people with the same values work in professional way and be comfortable with that and recognize the value of everyone." Within this diverse environment, each company may need a different solution, the manager added.

Daniel Florescu has been the managing director of Kinnarps Romania since 2006. The mother company has its roots in Kinnarp, Sweden and it was founded in 1942. In time, Kinnarps became the biggest office furniture supplier in Europe with more than 200 sales points distributed in more than 40 countries. In Romania, Kinnarps is an active player on the office furniture market, prodiving fit-out, architecture and furnishing services and turning them into workspace solutions.

Trending in office design in 2018
Source: SBFI, a NY-based office design solutions company

The generation mix within the Workplace
The Present times brings multiple generations working in the same workplace, as people retiring later and more Gen-Z employees starting their careers. Hence, the workplace is increasingly cross-generational. In the past years, the office design aimed at attracting the new generations and younger employees, therefore, focused on technology, certain office design features. Currently, in 2018, office designers say that there was be more understanding that different generations have plenty in common and that bringing these people together, each with their own experience and skills, is beneficial for organisations. Therefore, more focus is on the factors that appeal to all employees and provide settings for different work-styles no matter the generation.


Increasing Competition for Talent
A skills shortage has meant that companies have already been competing for the top talent for years. Yet, an increasing skills shortage and a workforce who are more willing to seek new opportunities will take competition up a level. 76% of full-time employees are currently looking at or open to new opportunities. Organisations will use their workspaces as a means to attract and retain employees.
There are many other factors that will also contribute to the changing workplace landscape in 2018 but these are the most significant. Here's how such changes will affect the approach to workplace design…


A Greater Focus on Team Performance
Communication and cloud services are making it easier for teams to work on projects without physically meeting. Workplaces are now focusing more on teams rather than individual performance. In response, businesses are keen to encourage employees to still come together regularly, hoping it will spur fresh ideas and innovation.

Workplace Design as an Investment
More companies are realising the real impact workplace design has on productivity and a company's bottom line. Research from Gensler, a global architect and design firm, reveals that poor workplace design costs U.S. businesses an estimated 330billion US dollars in lost productivity each year.

People want better

It's in the human nature to evolve and aim higher or further. But within the workplace's discussion, further is not better. In the vision of Antoniu Panait, Managing Director of Vastint Romania, part of Vastint Group, an international real estate organization with over 25 years of experience, the employers, the business builders and growers need to change and adjust their view on workplace in the same time with their employees and community trends. "Location means connection" and this also leads to the burning matter of traffic management and reachability potential of a workplace. A study conducted by Vastint Romania shows that 63 per cent of younger employee generation are looking for a job in the center of a city and more than 30 minutes; commuting time translates into reduced retention and diminished productivity.

The situation in Bucharest delivers a paradox, according to Vastint Romania's data, as 80 per cent of the city's office modern stock is located in Northern Bucharest while 75 per cent of the residents and employees have their homes in southern Bucharest. "We support employers in finding the various means of improving the work life for their employees. Our mission is to translate the wishes of new employees into the future. We build for the future. Location, accessibility and also the fact that employees put much value into their work and life balance, are directions that lead us in developing our projects," Panait says.

Managing Director for VASTINT Romania since 2009, Antoniu Panait has an executive experience of more than 10 years, mainly in real estate. With a strong foundation, built on legal studies, embracing diverse operational responsibilities including administrating complex portfolios and evaluating investment opportunities, at only 31 years old he took the challenge to build and grow the VASTINT team and projects in Romania. Antoniu Panait is now in charge of a portfolio of three major projects in Bucharest.

The latest study conducted in Bucharest by CBRE real estate consultancy company focused on the impact of workplace in the activity of employees. The study also underlined the manner a workplace answers to employees' needs and the quality of workplaces. The CBRE research was conducted for a period of nine months and included 500 employees working in offices in Bucharest. The participants were divided into four age categories for each generation: generation Z (18-24 years) with 9 per cent share in the study, generation Y (25-34 years) with 35 per cent share, generation X (35-49 years) with 49 per cent share and seniors or baby-boomers (50-64 years) with 7 per cent share within the total of answers. the 500 respondents work in all areas of Bucharest: 26 per cent Western Bucharest, 22 percent in Northern Bucharest, 22 per cent in Central Bucharest, 14 per cent in Pipera area, 11 per cent in Victoriei and Charles de Gaulle areas, 5 per cent in Eastern Bucharest and 3 per cent in Southern Bucharest. According to the study, most of respondents *43 per cent" work in IT and business shared services.


The CBRE study conclusions showed that:
-55 per cent of respondents spend during 30 and 60 minutes to travel from home to their offices, with the satisfaction time regarding work traveling increasing with the decrease of time
-the employees' satisfaction feeling is directly linked to the workplace location and easy acces to transportation (76 per cent)
-72 per cent of employees state the importance of using individual desks
-Generation Z (68 per cent) considers the after work time dedicated to personal life very important when choosing a certain workplace. The criteria is shared also by generation Y (47 per cent), generation X (51 per cent) and baby-boomers (35 per cent).
-By 2020, generation Y (25-34 years) will stand for 50 percent of the local workforce


"Working conditions have a major impact on the well-being of the employee and, implicitly, on his productivity. Improving wellness standards is a global trend that has become increasingly strong in the local market in recent years. We have been concerned about the quality of the work environment for a long time and fortunately we have noticed that most developers and big companies in Romania have understood the importance of delivering projects that best meet the expectations and needs of the employee. But, to be able to offer the best product, you need to know exactly what the user wants, so you have to know it. This is the most important goal of this study that CBRE has been working for about a year and which has been dedicated to our research team with our most experienced consultants, "said Mihai Păduroiu, Head of Advisory & Transaction Services, Investor Leasing and Office at CBRE Romania. "In any company and workplace, if the three factors of technology, mobility and wellness are met, the working from home or remote work option will become obsolete," Paduroiu stated during the Workplace of the future in IT and Outsourcing conference event.

Mihai is the Head of Advisory & Transaction Services | Investor Leasing | Office within CBRE Romania, with focus on both Landlord and Tenant Representation. Mihai has 12 years of experience within the real-estate business; among his key achievements, we can mention successful consultancy in large office projects involving important clients like Samsung, Ringier, Kruk, Fratelli, BAT, Henkel. He joined CBRE in 2015 and graduated The Academy of Economic Studies in Bucharest in 2007.


---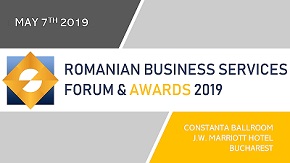 » Submit your nomination for ROMANIAN BU...
» Ciprian Dan, Wipro BPS: The industry n...
» Exclusive OT print issue: Genpact may ...
» Yonder: The first Dutch company in Clu...
» Next Generation Shared Services Roadsh...
» Exclusive OT: Federal-Mogul to expand ...
» Federal-Mogul inaugurates new manufact...
» Bosch continues double-digit expansion...
» GRS has one of the fastest growths and
» Luxoft expands Asia Pacific presence w...

Workplace of the Future conference to take place on November 20th at Bucharest

The Diplomat-Bucharest together with Outsourcing Today organize the 3rd Edition of WORKPLACE OF THE FUTURE, on 20th of November 2019, in Bucharest, at Capital Plaza Hotel.
Read Full article »
Strategic Talent Acquisition at People Empowering Business Forum on October 30 in Bucharest

Latest trends like demographic upheaval, globalization, digital technology, and changing social values and worker expectations, are disrupting business models and radically changing the workplace. These are req
Read Full article »
Informal IT School and UiPath launch an educational program for RPA development to start in October

Informal IT School announced a partnership with UiPath to launch an RPA development educational program of five months, 100 hours of courses, five days a week. The program will run in Cluj-Napoca.
Read Full article »
Impact Hub Bucharest joins 3house to manage three coworking spaces in the city

Impact Hub Bucharest, a coworking spaces manager and developer of accelerator programs and events merged with 3house, a new concept of workplace launched in 2018. By this, Impact Hub reaches 3 locations and 6.7
Read Full article »
JLL: Total office space in Bucharest to reach 3 million sqm

The second quarter of 2019 reconfirmed the increased interest for the office market in Romania. Over 115,000 square meters of office space were leased over this period at the national level, a value similar wit
Read Full article »