Human Capital Management

The current issue of Outsourcing Today magazine has been released, with its seventh edition's cover story focused on the Human Capital Management, centered on the interview with Tom Hobson, General Manager of ADP Romania.

Defined as leading the way in outlining the future of business solutions, ADP is a comprehensive global provider of cloud-based human capital management (HCM) solutions that unite HR, payroll, talent, time, tax and benefits administration, and a leader in business outsourcing services, analytics and compliance expertise.

Outsourcing Today learned from Tom Hobson, General Manager of ADP Romania about the company's values and its commitment to the development of the industry. How can a company create more value from the partnership of its stakeholders: employees, managers, leaders, clients and lead the way?


Creating an associative experience for employees and stakeholders. Growing commitment inside the company

ADP is unique in that it has proven success of offering solutions in both breath and depth. That's solutions to organizations of any size in any part of the world - with over 740,000 clients ranging from employers with just a single employee to the largest companies in the Fortune 100 and paying nearly 40 million people worldwide. And that's solutions across all areas of human capital management including time and attendance, payroll, benefits, talent management, HR advice and consulting and outsourcing, in four words: from hiring to retiring.

When it comes to the associate experience (ADP's employees are known as associates) then the link is clear. At all levels of the organization there is a focus on 9 goals, two of these goals focus on the associate experience by making day to day work simpler, easier and more interesting. We expect this focus on the associates to contribute to an overall program to transform the client (and client employee) experience alongside other strategic initiatives such as digital transformation.

Channeling HR related services towards the specific needs of employees

A company has to be equipped to handle the increasing complexity of the fiscal code and to maintain compliance during times of change. Due to this, the outsourcing of payroll plus HR and compliance solutions is a good fit for this market. I believe there will be a shift towards outsourcing more and more particularly in the non-multinational organizations but also in smaller fast growing companies, with small workforce dispatched in many countries looking for simple solutions to pay people and ensure a perfect compliance with local labor and tax legislations in all the geographies where their talents are located.

The Romania market is fairly well aligned from this perspective globally – it is foundational for an organizational to be in compliance no matter where you are located and we know in many countries there are significant changes in Government that are disrupting the status quo – it is important to be ready to manage these changes.

Looking more to the future and at key global macro trends, I would highlight the concepts of digital citizen and economy. More and more the employees of organizations will demand HR related services in channels that make sense to them, such as through mobile devices, therefore it will be important to be seen as a modern employer in this regard. Beyond this, I believe we will begin to see more people working for multiple employers concurrently or on shorter term assignments, perhaps not employees at all and rather more contractors. This will have knock on consequences to how payments are made, how records are kept, what real estate is required and so on.

In addition to talk to the "war for talent" as is often mentioned and is particularly relevant in areas of high employment such as Romania and specifically Bucharest, then this war is not only about attracting and hiring the right talent, but maybe more importantly keeping the talent that you have. Therefore, there is an important need to be taken care of in terms of your employee experience and what solutions you deploy to both allow them to do their day to day work and also to engage and develop them.

Delivering customized solutions addressing the specific needs of a client

We must keep in mind that even some of the characteristics of businesses of different sizes are changing. For example, even small businesses having at least one population of employees in another country is increasingly seen, therefore, it is important that ADP provides solutions no matter what geography you are hiring in to any size of company.

In small businesses, we typically see the need for simple, flexible and affordable solutions. Owners of these companies will be also owning HR in their organization as they will not yet have the scale to dedicate resources to this activity. Therefore, offering 24/7 solutions and access to support outside of office hours is important – who knows what time they might be running their payroll, for example. Another growing trend for small businesses would be to outsource all or part of their HR function, adding this expertise to your business whatever the scale.

Moving onto mid-sized businesses, we would be layering in more talent management and benefits solutions, plus, there would be an expectation that the solutions will save time, money and effort with more advanced and comprehensive time and attendance being key. We also see the introduction of HR intelligence offerings to help with decision making and benchmarking. Overall, the solution must be easy to use for employee, manager and administrator alike.

Finally, in the large business space, integrated solutions are a must with key focus on attracting, managing and activating talent alongside deep analytics for decision making including the identification of top performers, talent gaps, salary competitiveness and equity, diversity and predictive insights on employee turnover and productivity needs. Cross-border data privacy compliance and cyber security concerns also factor extremely highly as requirements with this size of business.


Addressing and make a good use of the convergence of HR technologies

In general, automation should not be seen as a threat, it is something to be encouraged. What is important is to sit up and take notice that it will happen and to make sure you are planning for it because there will be an impact to your business.

In a world with advanced data analytics and artificial intelligence capabilities, there should be the opportunity for organizations to breakdown silos and to have a full and accurate picture of all their data. The unification of all HR data – payroll and HCM – allows a more consistent view of the employees, both in-country and across borders, and significantly enhances an organization's agility to optimize their Human Capital. A clear view, with measurable data and insights, allows to HR managers to participate efficiently to the strategy of their organizations and to have a strengthened impact on the business.

Moving HR processes into digital channels is not new, think about making a vacation request. It would seem very strange now to be doing this now by taking a signed piece of paper to your manager who would then in turn sign it and take it to the HR office. The benefits of such a digital shift are clear to the requestor and the approver; mostly around ease of use, simplified tracking and real time balances. For the administrator as well, the annual leave or vacation plan virtually takes care of itself – so the admin burden is removed. I think you can use this example to understand the general impact of such digital automation initiatives.

There are perhaps forms of HR automation that are not as obvious as well, for example we can see the use of virtual reality tools to train and onboard employees in some of the more forward thinking companies. Also social media should be considered as part of this transformation as well, it can be used to build the employment brand of your organization, to have a platform to drive new talent pipelines and also as a very important engagement tool not only for employees, but for partners and clients as well.
Essentially the functions, such as HR, driving digital automation will simplify the experience of their customers whilst freeing up the administrative burden they once had which will enable them to focus on higher value activities, many of which will be either inter-personal in nature or will be driving further technological transformation.

In addition to this, there will need to be a shift in capabilities for some HR specialists towards the use and understanding of big data, expertise in the HR tools deployed into the organization and the ability to work with both internal and external IT providers on ongoing initiatives. With tools providing data driven insights in real time into talent strengths and weaknesses, salary competiveness and equity, diversity mix, market trends, attrition the managers of organizations will soon have much information to work with and most likely decisions suggested to them. There is a place for HR to develop the expertise to help managers work through this.

Developing and keeping the talent pool of employable resources to help fill the gap in skilled workforce

Increasingly, it is becoming difficult to both find the right talent in the market and keep hold of the talent that you have. It is wise therefore to focus on both areas to ensure the continuity and sustainability of your business. This is not only an issue in markets such as we have in Romania, but elsewhere in Europe as well the ability to attract talent is becoming increasingly problematic.

There are two obvious answers to the question in terms of who plays a role in developing this talent pool of employable resources to help fill this gap.

Firstly, the educational establishments; it is important that what is taught is kept relevant and meaningful to those organizations that will be hiring the eventual graduates, so partnerships between organizations such as multinational companies and universities makes a lot of sense. Allowing time for students to spend on placement is also important, there is little substitute for actual experience and it will help students realize where their passion might lie in order that they chose the right eventual employer.

Secondly, the employers themselves; skills learned at any point in time, particularly in areas such as technology, will not remain relevant for long. Therefore, continuous learning programs should be implemented to develop talent in your business throughout their career, improving the bench you have of both individual contributors and leadership. The continued learning is also important as tasks are taken away from people and placed in the hands of machines. As the workload increases and changes at fast pace, it will require other skills, so unless we are willing to adapt and embrace the change, the talent gaps could widen.

---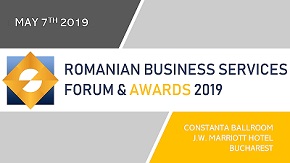 » US: IT outsourcing for healthcare sect...
» Meet the winners of ROMANIAN BUSINESS ...
» CBRE: Office deliveries expected to br...
» Workplace of the Future conference to ...
» Bombardier: from Bucharest subway to t...
» Genpact's COO: Staying ahead of the cu...
» From a Romanian business venture to a ...
» Omnichannel: 4 pillars of a purposeful...
» Elena Calin, CEO UP! Your Service Roma...
» Bosch Service Solutions to grow 20% Ti...

Workplace of the Future conference to take place on November 20th at Bucharest

The Diplomat-Bucharest together with Outsourcing Today organize the 3rd Edition of WORKPLACE OF THE FUTURE, on 20th of November 2019, in Bucharest, at Capital Plaza Hotel.
Read Full article »
Strategic Talent Acquisition at People Empowering Business Forum on October 30 in Bucharest

Latest trends like demographic upheaval, globalization, digital technology, and changing social values and worker expectations, are disrupting business models and radically changing the workplace. These are req
Read Full article »
Informal IT School and UiPath launch an educational program for RPA development to start in October

Informal IT School announced a partnership with UiPath to launch an RPA development educational program of five months, 100 hours of courses, five days a week. The program will run in Cluj-Napoca.
Read Full article »
Impact Hub Bucharest joins 3house to manage three coworking spaces in the city

Impact Hub Bucharest, a coworking spaces manager and developer of accelerator programs and events merged with 3house, a new concept of workplace launched in 2018. By this, Impact Hub reaches 3 locations and 6.7
Read Full article »
JLL: Total office space in Bucharest to reach 3 million sqm

The second quarter of 2019 reconfirmed the increased interest for the office market in Romania. Over 115,000 square meters of office space were leased over this period at the national level, a value similar wit
Read Full article »