From a Romanian business venture to a place called home

Vivek Bakshi, the General Manager of International Operations (Europe) at Wipro Technologies has spent more than a decade in Romania, heading the Wipro's International Locations/ Delivery Centers Europe from Bucharest.

Since 2007 and an office with only 20 employees, the manager is currently leading two countries, seven delivery locations and over 2000 employees for more than 30 clients in one of the prestigious areas in each location. We would not error to say that Wipro's Vivek Bakshi means business here in Romania and Europe. He is not only following the global business strategy, but also defining a company—he's aiming to shape the landscape it competes in and set a footprint of the company in this geo.

Back in early 2007, when Romania has just started to build its new modern EU road, Vivek came into Romania for an initial 2-year assignment. After this period, as he also said, couldn't help but falling in love with the country and decided to stay ever since. As he defines himself, Vivek is a man of various interests and has built his career accordingly, with a start in hospitality industry. "But I was always a bit of a geek, even though I worked in food & beverage service. I never had formal education in computer science but taught myself programming and used to write code as a hobby." What is the manager doing in his spare time? So back in the years, coding he said, with mostly in C++ & Python. "Not anymore though. These days I like working in my garden, reading and cooking. Technology still interests me, and I do have a couple of servers at home that I play around with on and off," Vivek confessed.

Doing Business and Leading People

Back to the business talk, Vivek thinks that the local market only showed so far the tip of the iceberg: "We're on the cusp of what could be a huge opportunity for Romania for the industry in general. There is an increasing amount of customer and investor interest in Romania. BREXIT along with the ongoing change in the political climate in Europe has also provided a window. The danger lies in wage inflation. While labor arbitrage is a thing of the past – excessive wage increases can cause businesses to reevaluate.

" At Wipro, the manager says that the company is focusing on the increasing the complexity of work that is delivered from our Romania locations. "When we started our business in the country, we leveraged the location more purely for its language capabilities. Consequently, the business processes that we were engaged in were language dependent. During time though we realized the huge potential of the country outside of just languages and we have gradually been targeting more complex delivery from the country, regardless of the language," the Wipro manager adds.

The country potential is also showing in its human resources, even if suitable talent is never an easy find. That is why, as Vivek told Outsourcing Today, the company is concentrating on growing talents, instead in struggling to find them from the very beginning. The Wipro manager identifies in his annual budget the most critical area being on the People Capability development. "There is no such thing as perfect profile. But in general, a good attitude, an open mind and willingness to learn will always ensure a success career. We try, by and large, to provide opportunities and a career path to existing employees so most of our recruitment today – over 50 per cent is done through referral schemes," Vivek says.

Strategic entrepreneurship, a means for staying ahead the curve

Each company and department manager and executive feels the real pressure of adjusting to today's fast-paced competitive environment, in which everybody faces the need to be increasingly nimble and adaptive. As Vivek states, while often able to establish a certain level of performance based upon existing technologies, organizations are equally as often to be left flat-footed in the face of emerging, novel technologies. "Strategic entrepreneurship can be a means through which firms can simultaneously exploit their current competitive advantages while exploring for future opportunities. Achieving a balance between exploration and exploitation consists of more than merely allocating resources evenly between the two processes," the Wipro manager says. According to Vivek, the managers, companies and a country at general level need to encourage entrepreneurship in general. "While there is no shortage of raw skill, I personally don't see a lot of entrepreneurs around us. We can facilitate this through intrapreneurship programs or other measures within organizations. I am aware of some efforts that concerned individuals are making but on the whole, I feel there is a need to encourage innovation and entrepreneurship," Vivek states.

Capitalizing on new market opportunities

In today's economy where information is readily available, changes and technological progress seems to happen overnight, and innovation is driving the business sector, companies that are unable to remain relevant are likely to fade away, as Vivek states, "Especially in saturated markets like ours (East Europe), finding an audience and converting them into customers requires more than just regular channels. We need to be creative, adaptable and most importantly, have a strategic plan in place. I'm not saying that a saturated marketplace isn't necessarily a bad thing and staying competitive in one isn't impossible. We just need to know how to find new opportunities and capitalize on them," the manager explains. How can we do this? The Wipro manager has several recommendations for the market stakeholders:

Differentiate
There are other countries that are larger, more developed and with more resources going after the same business needs as us in Romania, but that doesn't mean we are like the others. If we can differentiate our value proposition, we will thrive in today's marketplace. We need to define our strengths and what makes us different and leverage them to gain a competitive edge. Customers today want to ensure that they are getting their money's worth, so they're always on the lookout for the best and most cost-effective solutions.

Staying Ahead of Customer Trends
It doesn't matter how saturated the market is; consumer demands and needs are unlikely to remain the same. We need to always keep an eye open for market changes and opportunities that may allow us to outperform competitors. Customers appreciate businesses that anticipate their needs and provide them with surprising products or services that they weren't even aware they needed.

Variety
An old adage says that you shouldn't put all your eggs in the same basket. This stays true for our business, especially in today's scenario. The competition is already fierce, so we shouldn't put all our chips on just one product or service. Today, we're relying too heavily on our linguistic ability or the ability to speak various languages – this advantage I believe strongly is only temporary. Already tools exist that translate on the fly, voice or text. Anybody who saw the recent Google duplex demo with the assistant making a haircut appointment will understand. The day is not far when language or lack of it will not be a determining factor in where business needs to be located. By diversifying our focus, we will increase our chances of capturing every part of the market. We need to focus on the 'not so easy to reach fruit' or in other words, we need to create & deliver value by providing services that higher up in the value chain.

Listening to the young voices

The Wipro manager has always been one of the most enthusiastic on the local business environment and passionate when talking about innovation and creativity that, we like it or not, come easier with the fresh spirits of young generations. Vivek considers that the companies and managers should get more involved in what young folk are learning today. "I believe Romania has a solid education system that has traditionally focused on IT & accounting. As a recent report on outsourcing pointed out – this (the education system) provides a steady & inexpensive flow of skilled resources for the current needs of the BPO / SSC industry. Technologies & skills that will be required tomorrow and in near future are not being taught today. Romania has the raw talent / resources we (as the industry) need to be the catalyst to make the change happen, I am a firm believer of the huge unexploited potential in the country," Vivek completes.


---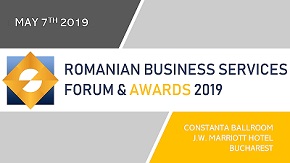 » US: IT outsourcing for healthcare sect...
» Meet the winners of ROMANIAN BUSINESS ...
» CBRE: Office deliveries expected to br...
» Workplace of the Future conference to ...
» Bombardier: from Bucharest subway to t...
» Genpact's COO: Staying ahead of the cu...
» From a Romanian business venture to a ...
» Elena Calin, CEO UP! Your Service Roma...
» Omnichannel: 4 pillars of a purposeful...
» Bosch Service Solutions to grow 20% Ti...

Workplace of the Future conference to take place on November 20th at Bucharest

The Diplomat-Bucharest together with Outsourcing Today organize the 3rd Edition of WORKPLACE OF THE FUTURE, on 20th of November 2019, in Bucharest, at Capital Plaza Hotel.
Read Full article »
Strategic Talent Acquisition at People Empowering Business Forum on October 30 in Bucharest

Latest trends like demographic upheaval, globalization, digital technology, and changing social values and worker expectations, are disrupting business models and radically changing the workplace. These are req
Read Full article »
Informal IT School and UiPath launch an educational program for RPA development to start in October

Informal IT School announced a partnership with UiPath to launch an RPA development educational program of five months, 100 hours of courses, five days a week. The program will run in Cluj-Napoca.
Read Full article »
Impact Hub Bucharest joins 3house to manage three coworking spaces in the city

Impact Hub Bucharest, a coworking spaces manager and developer of accelerator programs and events merged with 3house, a new concept of workplace launched in 2018. By this, Impact Hub reaches 3 locations and 6.7
Read Full article »
JLL: Total office space in Bucharest to reach 3 million sqm

The second quarter of 2019 reconfirmed the increased interest for the office market in Romania. Over 115,000 square meters of office space were leased over this period at the national level, a value similar wit
Read Full article »