Committed to growth

In the current swelling race of reaching the perfect algorithm for growth, companies operating various outsourcing services in Romania all relate to the main key drivers for business development in which people remain the main driver. Outsourcing Today talked to the managers of some of the most known outsourcing companies in Romania, searching for the first-hand answers to the questions related to HR's new place and role.

A global survey conducted this year by EY based on the answers of full-time workers in eight countries, finds that one-third say managing work-life has become more difficult, with younger generations and parents hit hardest. Karyn Twaronite EY Global Diversity & Inclusiveness Office said: "By 2025, 75 per cent of the global workforce will be comprised of millennials. What does this mean for global companies that need to attract millennials, retain them and help them maximize their performance at work?" EY team decided to conduct this research study to help specialists and the broader marketplace better understand the complexities facing today's workers with an eye to helping senior leaders develop a cross-cultural perspective on managing across generations. "By asking questions about management, work-life balance, career growth, financial opportunity, parenting and more, we've been able to develop insights into what motivates millennials to excel in what continues to be a challenging economic environment for many. We wanted to understand what impacts this generation — and the broader workforce — from the "outside in." We learned that millennials are highly committed to their careers.

Karyn Twaronite EY Global Diversity & Inclusiveness Office said: "By 2025, 75 per cent of the global workforce will be comprised of millennials."

Persistence of 2016 trends in terms of competing for skilled resources

For Stefanini, as stated by Andreea Stanescu, Vicepresident Service Delivery, EMEA region,
2017 was felt like a continuation of the trends from 2015-2016, with the same intense competition on skilled resources, be it skilled in certain IT areas, or languages, etc. "With a smaller pool of qualified candidates to choose from and more and more companies that have expanded their business in Romania, the competition was there. Following this trend, we saw HR having to accommodate it in the sense that more agility and a more personalized approach were required in both talent acquisition and talent retention & development. HR had to adapt their strategy by relying less and less on the "one size fits all" approach. Quite the contrary, they had to adapt and customize their efforts to appeal to particular segments of potential and future employees," Andreea Stanescu explaines. When it comes to improvements required, the companies need to continue their investment in people and become even more proactive. A reactive approach in dealing with staff turnover is no longer a viable strategy. Intelligence needs to be continuously gathered in anticipating turnover; we need to go to the roots of the issue and find solutions there, removing the cause rather than just treating the symptoms. We need to proactively manage this phenomenon, which may even mean adjustments of our acquisition strategies for the specific situations where turnover cannot be stopped. For Stefanini, as the company's manager explained, maintaining an agile approach to talent acquisition, develop a healthy mix of on-site and remote workers in order to be able to capture the available workforce across
country and flexible development programs for employees.

Andreea Stanescu, Vicepresident Service Delivery, EMEA region: "HR had to adapt their strategy by relying less and less on the one size fits all approach"

Language skills remain a main asset

"In our case, languages remain the key skills, but also IT and software development skills. They range from general to very specialized areas of expertise," Andreea Stanescu says and continues: "The big buzz is now around the way of motivating generation Z, as in outsourcing, at least in Romania, they represent the majority of workforce. These are the self-starters, the ones with entrepreneurial spirit and always looking to bargain, people who have a global perspective but are focused on their own individuality. When designing motivational strategies, any company needs to take these aspects into consideration, as this generation needs a lot of challenges and opportunities and is always looking to find the perfect work life balance. There is no magic recipe for that, as there is no validity in the statement that the Z's are different. In the end, people are people, and the combination between the basics of the way people should be treated and the specifics of this generation, which might also turn into the specific groups, will do the job."

No more room for "one size fits all"

According to Andreea Stanescu, Stefanini, managing the workforce requires a strategy that is in many ways similar to any marketing strategy for companies targeting different market segments with their products and services. "You have to reach out to each segment with what is relevant for them and allow them the flexibility to choose. One thing, though, that would be generally applicable, in my opinion, would be their need to invest in career development, irrespective of the chosen career - be it managerial, or a very specialized one," the manager explained. In terms of talent retention, mobility, assessment, "it is a question that is better addressed in relative terms rather than in absolute ones. The cost of retention, mobility, assessment per se is growing, yes, this is a fact. But what is the value of the lost opportunity if one chooses not to invest? There will always be a strong business case in favour of investing in talent retention and development versus acquiring new talent. It is a far safer investment, with a better pay back," Andreea Stanescu says. Stefanini runs 3 operations centers in Romania, and increased the number of employees to 1400 in 2016, from 1200 in 2015. The company's turnover in 2016' financial year in Romania was approx. 35 million Euro

Putting people first

In the strong competing environment of outsourcing, according to Crina Ilie, HR VP Europe & Africa la Genpact, talking about the company's strategy, the recently received "Employer of the Year in Outsourcing in 2017" title offered to Genpact, acknowledges the value of always putting people first. "With the BPO space dramatically changing and being disrupted by the artificial intelligence and the new ways of working attached to it, we are constantly striving to stay ahead of the curve and position ourselves as leader in the digital space. This has been materialized in a set of initiatives this year, from the rebranding of the company, the launch of Genpact Cora, our artificial intelligence based platform, the redesign of our organizational culture and of the organizational values that should better reflect the behaviors required to succeed in the new environment, the launch of various learning, coaching and mentoring programs that should support our business strategy, to the movement in a new office in Bucharest that is green and hi-tech in one. We are working together with our leadership to support our employees finding relevancy in this exciting, but also extremely volatile times, to stay curious, to experiment, to do new things for the first time, to reinvent themselves and to find pleasure in coming to work every day. It is a constant process of change so for sure there is plenty of room for improvement and for doing things differently," Crina Ilie states for The Outsourcing-Today.

Genpact, in addition to their traditional objectives, like supporting the growth of the company, building the workforce of the future and optimization of costs, this year innovation and digital were big topics on the company's agenda. "One of the important projects that derived out of it is the HR Transformation project that we are currently implementing in the organization and that is aiming to completely re-imagine the way we interact with our employees, improving their experience through technology and simplification of processes," Crina Ilie states. "As our new logo says, at Genpact transformation happens here. And I would also add now. As our focus shifts more and more on delivering value to our customers through intelligent operations and digital solutions, so do the capabilities and skills of our employees. For the last 10+ years, the ability to fluently speak a European language has made a huge difference, however this is slowly becoming a pre-requisite. In addition to this, we have started to search for an innovative and curious mindset, digital and analytical competencies, technology skillsets.

Crina Ilie, HR VP Europe & Africa la Genpact: "We are working together with our leadership to support our employees finding relevancy in this exciting, but also extremely volatile times, to stay curious, to experiment"

Consequently, we have also broadened our learning offer, financing for our employees not only prestigious domain certifications like ACCA, TARN, PMP, but also certifications and trainings in design thinking, digital strategies or robot process automation," the manager adds.

Taking the pulse of employees' satisfaction

As Crina Ilie states, during the time the main driver in employee motivation has not changed and that is the search for meaning in the work one's does. "How do you capture this, how do you act as a listening organization and how do you transform employees' inputs in valuable actions, this are things that evolve constantly and that we try to improve. This year we have stepped away from our bi-annually employee satisfaction survey and are in the process of introducing monthly Pulse surveys, that should be able to give us instant responses to actual circumstances that we can act upon. We are evaluating the opportunity of introducing an application where employees could provide feedback on their work environment. We also encourage the employees to be the designers of their experiences at work, to come up with their ideas and to speak up on the initiatives that we launch. We try to be as flexible as possible, adjusting the employee engagement framework based on their feedback," Genpact's manager says.

Coming back to the meaning at work and to the more recent trends in organizational design I would mention that we are piloting now the concept of self-managed teams with positive results from both associates, as well as managers (who now have the capacity to work on transforming their processes and truly leading). As a young company, Genpact is evaluating some programs that should tap also into pools of candidates from different generations and make it gain on diversity. "On the measures itself, we are a company that really likes to experiment. And it is a joint experiment that always involves our business leaders and our employees. Just to give an example, currently we are in the process of redesigning the employee experience in our company. It is one of the top projects sponsored by our COO this year and is called "Co-create your future 2.0". So I would say that the title says it all – it's not HR who is coming with a proposal out of the HR lab or ivory tower, but it's the employees who are actually driving this, giving inputs, participating in design thinking workshops together with us in order to find the best approach for us," Ilie says.

Nurturing talent

For Genpact, as for all companies in the business, it goes without saying that talent is indispensable for and therefore Genpact is investing in programs that are designed to assess the competencies that are essential for the organization and to support talented employees in finding their way to succeed within the company. "Speaking about mobility, one of our flagship leadership programs is a global rotation program that rigorously selects the top talents within the company, providing them with a customized learning curriculum, visibility through the company as they have the chance to interact with senior leaders, as well as interesting job rotations across functions and geographies. On the retention piece, I would say that one of the thing that makes our top talent stay with us is the fact that they can see around them and in our leadership team successful examples that curious, agile, perseverant people can grow in a reasonable period of time from the position of an entry level to a Vice-president leading complex operations, business units and functions. Our focus has been always to grow from inside, rather than hiring from outside," Crina Ilie concluded.


In terms of business development and evolution for the outsourcing companies, according to Mihaela Popa, Senior Human Resources Manager Romania at Wipro Limited, "the business results are team effort outcome, a blended strategy between business and support functions. Wipro has gone through some transformations this year, like: Company rebranding, repositioning the new brand in the market, business increase and 30% HC increase. HR strategies have supported business growth." According to Wipro manager, "business is so dynamic, especially in our domains, so improvement became our culture. This means that we continuously are adapting processes to employees' and business needs.".

Aligning businesses

The company focuses on business alignment, People processes and engagement, Careers and Capabilities Building, Automation and Simplification, as few directions where Wipro HR is heading to. "In the digital era we need to move fast and decrease 'muda'(waste). We used the principles of our services offerings to build our internal shared service center through which services are delivered to our employees. Recently we have open EU HRSS in Romania from where we deliver HR and finance services for our Europe locations. This way we are giving the opportunity to our functions to focus on their core activities and support the employees, the management and business at best in class service level. On the other hand, Wipro is an IT company and Automatization is our philosophy. As we work on SAP platform, HR modules were customized and implemented to track, monitor, report and to ensure we are on the course with the business metrics. An important change done this year targeting talent retention was to move from a fix benefits plan to an online flexible model. This way we offer more relevant benefits to our employees and same time they have the opportunity to optimize their budget by choosing benefits without taxation," Mihaela Popa, Wipro states. At the company, the most wanted skills are the technical ones (advanced programming, CCNA & ITIL) and for services the language skill are highly recognized, especially for C1 & above knowledge level (Nordics, German, Polish, French, etc). Languages and soft skills are the common requirements for both types of businesses.

Mihaela Popa, Senior Human Resources Manager Romania at Wipro Limited: "The business results are team effort outcome, a blended strategy between business and support functions."

Preparing for the next generations

There are multiple discussions and forums on the Millennials, the generation to come and their expectations, according to Mihaela Popa, Wipro, explaining: "Everybody would know by now what they want and how much they can be accessed. The differentiator will be on how do we prepare for this generation so that we keep the balance between the business needs and their expectations. Freelancing will be one of the collaboration ways with the Millennials and for that strong Project Management would be needed to put all puzzle pieces together. Another discussed factor is the work flexibility, to offer work from home option. While all these debates, there are companies who already experimented work from home and want to go back to the old model, office model. Differentiator will be to find the thin line on the best option. Wipro had expand its capacity and moved in a new office building where the 'work from home' conditions are created, hence we thought to find that thin line and keep employee motivation."

As the Wipro manager states, the company ramped up so fast in the last two years and they had to to review the HR policies and programs to address employee needs. "Average tenure is around 30 years which does not give us a wide range between generations hence we could adapt quite easy by being flexible and open to employee feedback. In Wipro employees are the main differentiator for value and the core business, hence investing in our employees, we invest in our business. For niche skills or exotic languages we do consider relocation domestic and international, which makes us and employer with employees of 21 nationalities. While we do invest in attracting and retaining talent we see talent management in terms of investment, not cost," Mihaela Popa, Wipro concludes.

Focusing on trainings and results

For Selir, an outsourcing company with over 400 employees in Romania and a 6.3 million Euro turnover in 2017's financial year, 2017 has become a milestone in the company's technological evolution as they embraced the RPA (Robotic Process Automation) path, which has tremendous potential for drastically improving the quality and quantity of the services. The company is a well-known authority in the financial and banking sector, where it encompasses many integrated support services that combine technology with deep sector expertise, such as Software Solutions, Applications Management, RPA Solutions, Payment System Operations, Financial Instruments Operations, Electronic Banking Payment Method Assistance, Credit Analysis, Default Loans Activities and many other. "This of course wouldn't have been possible without the HR support as their training and development program helped prepare our employees for this big change. This change is going to alter the current distribution of employees of our business areas and therefore we are going to need a strong and well-implemented career change program," says Rozalia Nistor, Administrator of Selir. For 2017, according to the presentative, the expectations are set around the training program supporting the career change program through the company's existing "Selir Learning Lab" - project that already received two awards from ABSL and Outsourcing Today. "This program should help us tackle another rising problem, the turnover. As the economy improves and the job market grows, employees have more option, making employee retention even more challenging. When asked why they are looking for jobs at new companies, employees are most likely to explain that they want better pay and benefits, are unhappy with their career prospects with their current company, or want more challenges. Career change/development programs can address these concerns to reduce turnover," Rozalia Nistor says. "In addition, I think that another important change would be in the rewards program that right now I believe needs improvement in order to be more flexible and in line with the meritocratic approach," the manager added.

Given the company's diversification in terms of provided services, the set of professional skills is quite varied at Selir, as Rozalia Nistor explains. "Nowadays the communication skills set is actually an umbrella of a wider set of capabilities, also called soft skills, which includes influencing skills, telephone etiquette, telesales, emotional intelligence, information skills and so on. If we talk about administrative services then candidates would need to have good foreign language skills used in developing their day-to-day activities, unless an internal training program on this topic can cover this need, and strong computer skills. Both can be proven through testing or certification. On top of that, for most administrative services profiles we also request a degree in economics or another related field," Selir's administrator adds.

Group cohesion and work environment to be considered

As Selir's manager explains, it is a common occurrence to hear that a particular employee is not motivated and hence his or her performance has taken a backseat. Inevitably, after a long while of doing the same work day after day, an employee will probably stop liking their linear or repetitive job, which mostly characterizes the BPO activities. This is even more common for the new generation that is prone to bore easily. Moreover, since changing activities has its limits it is a good approach to find alternative solutions. "To do that you need to take into account two aspects, group cohesion and work environment. The first is strongly related to the manager's ability to create teams and is the most important, thus the high amount of training dedicated in the last few years to our managers. Regarding the second one, companies are starting to realize that one of the biggest risks to their employees health is stress at work, which is why many are striving to create a more pleasant environment. Wellness programs for employees are becoming more common and many companies are using them to attract new talent, reduce number of employee absences and improve productivity," Rozalia Nistor adds. And continues: "Another approach is talking to your employees, get to know and understand their area of interests and focus, try to encompass it in their day to day work and in that way make them engage more. Once you understand that, you can design your policies around their expectations. Annual or other regular performance evaluation talks can be the norm, and employees may be afraid to bring up the topic of career development with their managers. However, such talks can be healthy. We are encouraging them by training managers on how to handle these conversations in positive ways so that employees feel valued and empowered."

Rozalia Nistor, Administrator of Selir company: "To do that you need to take into account two aspects, group cohesion and work environment."

Addressing multigenerational groups

As Selir's manager states, another trend, an interesting one, is that with younger generations now entering the workforce, there is a definite trend towards a more casual workplace environment. It's a fact that the employees dress less formal than they did 5 years ago, and with about a third of them preferring to work at a company with a casual dress code. "We believe this trend will continue in the following years. Companies are becoming increasingly aware of the influence that the millennials are having, and will continue to have, on the way business is conducted. They grew up with technology and their dependence on it opens all manner of doors for business development trends. So indeed, in companies of medium-large size, having multigenerational work groups is a very common occurrence. The first step to better managing these groups is to stop pointing out all the generations differences, because by doing that you divide them in generation subgroups and this is going to break the group cohesion," Rozalia Nistor adds. The manager also explains that another approach is encouraging them to embrace what they share, not only in terms of work but also on a personal level through hobbies. Multigenerational groups are complete groups because every generation has something to learn from the next. "For example, baby boomers can learn PC skills from generation Z and in return teach them the importance of career planning and the importance of learning through mistakes. There isn't an exact recipe on how to manage these groups but rather try and find common ground between them," according to Selir's manager.

Talent will always rise on top

As there is a major trend in global outsourcing related to talent, Outsourcing Today asked Selir's manager to explain the company's strategy in this respect. As Rozalia Nistor says, "talent is what fuels your company's growth. It is very important to have internal tools that points towards talent, finds it. We always look for new ways of improving the internal evaluation system in the idea of making it as objective and meritocratic as possible because talent will always rise on top and a meritocratic system is one that rewards them.

Whenever we have a new project that involves the creation of new teams, we always use talent as the cornerstone for that. As a result, that motivates your talent and gives the team a strong reference point,"Selir's manager says and concluded: "Retaining talent is not an easy task but as to all employees, in order to do that, you need to understand what motivates them. The moment an he feels it no longer has the space or possibility to grow professionally inside your company, you lost him. To avoid that you need to try and keep them challenged and engaged. A talent will have no difficulty finding another better paid job if you do not properly financially reward them. That will of course result in an increase in your salary costs. Even so, it is a lot less than you will spend in your endeavor to substitute that talent."

Selir is one of the first companies operating outsourcing services in Romania with more than 20 years of experience and 400 employees. The company operates three offices in the city of Galati (headquarter and 2 secondary offices).

---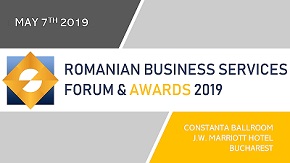 » ROMANIAN OUTSOURCING AWARDS FOR EXCELL...
» Meet the winners of ROMANIAN BUSINESS ...
» Genpact's COO: Staying ahead of the cu...
» Pavel Campan appointed as the new Vice...
» Exclusive OT print issue: Genpact may ...
» CBRE: Office deliveries expected to br...
» N-iX, EPAM, Luxoft, Ciklum, Intetics, ...
» Molson Coors started to grow its busin...
» Leoni to open new SSC in Cluj, cut job...
» TELUS International Europe: How fast-g...

Workplace of the Future conference to take place on November 20th at Bucharest

The Diplomat-Bucharest together with Outsourcing Today organize the 3rd Edition of WORKPLACE OF THE FUTURE, on 20th of November 2019, in Bucharest, at Capital Plaza Hotel.
Read Full article »
Strategic Talent Acquisition at People Empowering Business Forum on October 30 in Bucharest

Latest trends like demographic upheaval, globalization, digital technology, and changing social values and worker expectations, are disrupting business models and radically changing the workplace. These are req
Read Full article »
Informal IT School and UiPath launch an educational program for RPA development to start in October

Informal IT School announced a partnership with UiPath to launch an RPA development educational program of five months, 100 hours of courses, five days a week. The program will run in Cluj-Napoca.
Read Full article »
Impact Hub Bucharest joins 3house to manage three coworking spaces in the city

Impact Hub Bucharest, a coworking spaces manager and developer of accelerator programs and events merged with 3house, a new concept of workplace launched in 2018. By this, Impact Hub reaches 3 locations and 6.7
Read Full article »
JLL: Total office space in Bucharest to reach 3 million sqm

The second quarter of 2019 reconfirmed the increased interest for the office market in Romania. Over 115,000 square meters of office space were leased over this period at the national level, a value similar wit
Read Full article »