Shifting the workplace perspective towards high-end added value

This month, OUTSOURCING TODAY organized The Workplace of the future in IT and Outsourcing at Caro Hotel Bucharest, a new concept event meant to connect fast-growing corporate tenants from IT and outsourcing industries with forward-thinking offices landlords and developers. Find below the top hot aspects discussed by the key managers in the industry.

The event has been organized with the engagement of Gold Partners Unirii View Bucharest, Partners: Griffes, Wipro, Office Nova Concept and the support of ABSL, ANIS, ROFMA, Pin Magazine, EXtind and Birouri Vii.

It featured the very changes in the workplace disrupted by new technology and demographics and how companies need to keep up with them in an effort to improve ROI, employee retention, and employees' wellness. To drive innovation and attract and retain top talent, companies are seeking creative, "cool" workplace solutions that offer a variety of amenities and the latest technology.

IT and technological infrastructure is now leading the conversation and office tenants favor more sophisticated and technologically advanced work spaces and buildings to meet the rising expectations employees have. Gyms, roof decks, terraces, concierge services, smart security, and many other services are rapidly emerging to separate top buildings from their competitors.

One of the hop topics of the event addressed the intersection of Technology and Design first within a conference setup and, as the day developed, the event marked the launch of the latest issue of Outsourcing Today magazine in a colloquial atmosphere. Main feature of this issue: Workplace of the future in IT and outsourcing industries.

The event has been moderated by Colin Lovering, Chairman of British Romanian Chamber of Commerce, Senior Lecturer at UoB and with ISM and along the event, Colin summarized the main aspects regarding the workplace's playing role in the company's organization and employees' production KPIs: The workplace is meant to deliver the engagement of people, to have them involved. On the other hand, it seems that technology will bring a certain split of priorities within companies. What is the real work life priority in bringing together the human touch and the technology and emerging of AI in the corporate landscape? Do we face a bubble and this bubble is going to burst? It is more important to focus on labor (as volume) than talent? How the universities are meeting really the expectations of the current market realities in terms of offer and demand, are they at the point of changing the old curricula or the private companies can make a step ahead and involve much more in training the necessary skills?

Colin Lovering has been living and working in Romania since 2009 when he arrived to offer consultancy and advice to organisations looking for growth and profitability and founded Achieve International. He recently joined Avison Young Romania as their Senior Vice-President as well as being Chairman of the British Romanian Chamber of Commerce who are at the leading edge of supporting international investors to Romania as well as assistance to organisations, big and small, looking to conduct bilateral trade between the UK and Romania.

He previously worked and lived in the USA and France where he trained and coached literally hundreds of sales professionals and Managers across Europe, North America, The Far east and South Africa.
Colin is also heavily involved and committed to supporting disability and homelessness in Romania and actively speaks and helps in both areas. His other activities include being Senior Tutor with the Institute of Sales Management and an associate lecturer at the University of Bucharest.

The panel discussions addressing these hot topics have been opened by the CEO of Capgemini Romania, one of the leading providers of consulting, technology and outsourcing services that made a move this year and expanded its business in Romania, by opening a new office in Suceava, after Bucharest and Iasi. At Suceava, the company created this year 160 workplaces for specialists in IT, infrastructure management, Help Desk support and project management. So far, in Romania, Capgemini has 600 employees, with 240 located in the Bucharest office and 360 in Iasi.

Philippe Beucher, CEO, Capgemini Romania: We moved in two locations this year in Bucharest and Suceava. In my opinion, after the experience of this year, to move a big company can be sometimes difficult, with a lot of challenges on the way, coming from the need to balance the company's demands and how the partner can meet these demands. Also, adjusting to changes can be even more challenging on the internal front. A lot of procedures have to be met and it can be very challenging for the people. There are many steps to be checked, from choosing the right furniture to coordinating all the teams in the right place. Capgemini is a company people-centric and we focus on spaces that enable the collaboration of different types of teams and projects. We needed common and recreational spaces that trigger creativity in our employees. Along the way- however now it is premature – we try to measure the satisfaction and the productivity boost in our employee due to this new space organization. At the end of the day, it is all about the collaboration of teams and people in the company.

Philippe's role in Capgemini involves managing Romanian operations and business development on the local market, but also providing services in other European countries with Romanian expertise. He is in charge of the strategy and the coordination of the local management team in order to bring Consulting Services, Technology Services and other services provided by the Group to clients. Philippe managed 3 different IT & consulting companies in Romania in the last 13 years."


Maria Florea, Head of Office Agency, Office Department, JLL Romania: Everything is paramount when it is about the workplace environment but at the end of the day, it is all about costs. Financially, for companies and CFOs, it is very important to predict the costs and the ROIs over investing in a certain workspace but, in my opinion, the reality says that everyone is willing to pay more for a proper office space in order to bring people into a collaborative spirit and enable their retention into the company. The equation is more complex when people are involved and the calculation gets more difficult than simply making the math for price per sqm. The flexibility of clients is determinant in this equation. I was surprised to find out that, even at this time, in Romania, there are a lot of people that still work in closed offices, staying at their own work desk. Around 88 per cent of people working in Romania make this reality. We are still far away from embracing the modern office trends but happily, there are openers willing to share their abroad experiences and implement them into their companies. The flexibility and adjustment enablement comes with generations and of course, it much easier to adopt these changes to generations of 20's and 30's compared to 40 plus. When thinking about a new office and workplace structure, we are not only addressing the management but also the employees by conducting surveys in order to find out about their expectations regarding how the workplace should look like. The idea is to engage everyone.

Maria Florea is currently in charge with leading the Office Agency team, offering office leasing consultancy services for occupiers and landlords and providing mentorship and training to young consultants.Maria Florea has an outstanding track record in brokerage and management, coordinating over 60 transactions and leasing of more than 300,000 sq m in her career. In her previous position Ms. Florea was aappointed as Account Manager for all Vodafone Real Estate transactions. The manager helped to successfully relocate companies like: Prima Med with 27,300 sq m in North Point Building-largest office leasing transaction on the Romanian office market, Huawei with 8,300 sq m leased in 3 buildings, Coca-Cola 5,000 sq m, Capgemini 3,000 sq m in 2 buildings. Other significant names she had ended transactions ABN AMRO, Pepsi, Signal Iduna, ENI Romania, Xerox, Microsoft.

Mihaela Popa, HR Head Romania, Wipro Limited Romania: The common goal is to bring individuals to teams. Up till now, we focused into individual performance but we shifted the perspective and now, we are more focus on team performance. A we reached a milestone celebrating our ten years' anniversary in Romania and looking back, the beginning of Wipro locally started in Sema Park. Now, when thinking about it, it brings clearly the evolution of the company here also from this point of view. We moved to Floreasca Park afterwords and ever since, a lot of business came and asked for the expansion of the company and space. For the third development phase, we expand with a new location – across the street to say so- which has futuristic features in place. I can see the evolution and how things are turning. The overall goal is to change the perspective over the workplaces but this also comes as a need trigger by the type of activities and needs of companies.

Mihaela leads the HR function in Wipro Romania over the past 6 years encompassing more than 20 years of experience, mainly in HR Management. She has a strong HR expertise in outsourcing BPS/IT, production, automotive and FMCG industries, bringing the highest value to the business through networking and keeping a close focus on the needs of the customer (internal and external). Mihaela has graduated Polytechnic University - Electrotechnic Faculty and continued her education in Strategic HR Management at West University in Timisoara. She is ANC certified Coach.

Andreea Paun, Managing Partner, Griffes: Business is all about co-working and collaborating people. The trend now is to transfer the focus towards people, communities and how to proper integrate them into the new digital world. The design of next job descriptions will change. The buildings of the future will accommodate the strangest and the most unusual features. It may seem that the trend of the future might look neutral, with natural materials, neutral colors. The point is to bring the feel-like home spirit to the office and to get more flexible when it is about working from home. This is on the verge of being regulated also in Romania so it is a reality that needs companies and stakeholders to just adjust to it. The trend is to look at the performance and results and not counting the hours spent into the office by an employee.

Andreea is an experienced Real Estate Professional with more than 9 years track record in the local market. After a solid background in property marketing and office leasing developed within the Colliers International network, she founded the consultancy company Griffes, in early 2016. She brought a fresh vision, offering thoughtful, customized services to landlords and tenants, highly focused on the office segment, respectively IT and outsourcing occupiers. As part of the landlord representation services covered by Griffes, Andreea is coordinating the leasing and marketing of Unirii View office building in the heart of Bucharest and Record - Park, a mixed-use urban development in Cluj-Napoca. She believes in creating value, innovation and speed.

David Canta, Managing Director, Avison Young: The aspects that need to be addressed are the sustainability of buildings and places. The trend is about the blue buildings – digitalized buildings. Technology will eventually push us forward also in terms of structuring a workplace infrastructure and design, by enabling the integration of people into this new environment. In the future, the companies will not relate only to a single Hq, when the mobility of wokforce will become a reality, more than a trend right now. The co-working space will basically be space-free and enabling the sharing among the teams and individuals. In the future, there will be small Hqs and big co-working.

David Canta is Managing Director and shareholder at Avison Young, the world's fastest-growing commercial real estate services firm. He specialises in brokerage and consulting assignments within the office and industrial sectors. During his career, Canta has helped facilitate transactions in excess of EUR100 million on behalf of leading FMCG companies as well as IT, advertising, finance, outsourcing and logistics firms. In addition to serving corporations and institutional landlords, Canta is a pioneer on Bucharest's co-working landscape in his capacity as cofounder of Commons. He's passionate about all facets of property business,entrepreneurship and investments, art, Christian education, basketball and golf, guitar and psychology. The manager studied in Romania, US, and UK and holds a bachelor degree in BA from Griffiths School of Management.

---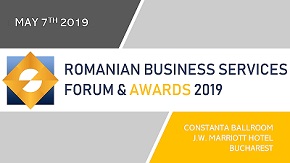 » ROMANIAN OUTSOURCING AWARDS FOR EXCELL...
» Meet the winners of ROMANIAN BUSINESS ...
» Pavel Campan appointed as the new Vice...
» CBRE: Office deliveries expected to br...
» Genpact's COO: Staying ahead of the cu...
» N-iX, EPAM, Luxoft, Ciklum, Intetics, ...
» Molson Coors started to grow its busin...
» The Outsourcing industry announces its...
» Exclusive OT print issue: Genpact may ...
» Capgemini to open new office at Suceav...

Workplace of the Future conference to take place on November 20th at Bucharest

The Diplomat-Bucharest together with Outsourcing Today organize the 3rd Edition of WORKPLACE OF THE FUTURE, on 20th of November 2019, in Bucharest, at Capital Plaza Hotel.
Read Full article »
Strategic Talent Acquisition at People Empowering Business Forum on October 30 in Bucharest

Latest trends like demographic upheaval, globalization, digital technology, and changing social values and worker expectations, are disrupting business models and radically changing the workplace. These are req
Read Full article »
Informal IT School and UiPath launch an educational program for RPA development to start in October

Informal IT School announced a partnership with UiPath to launch an RPA development educational program of five months, 100 hours of courses, five days a week. The program will run in Cluj-Napoca.
Read Full article »
Impact Hub Bucharest joins 3house to manage three coworking spaces in the city

Impact Hub Bucharest, a coworking spaces manager and developer of accelerator programs and events merged with 3house, a new concept of workplace launched in 2018. By this, Impact Hub reaches 3 locations and 6.7
Read Full article »
JLL: Total office space in Bucharest to reach 3 million sqm

The second quarter of 2019 reconfirmed the increased interest for the office market in Romania. Over 115,000 square meters of office space were leased over this period at the national level, a value similar wit
Read Full article »