Andrei Romanescu, Managing Director of Veeam Romania: Outsourcing sector, a decade evolution

Since the early 2000s, this sector has grown at a significant rate (about 20-30% per year). The industry has evolved from focusing on cost and labour arbitrage to adding value – therefore the growth is not solely quantitative, but it is also a growth in terms of the benefit provided to the customers.

When it comes to adding value, the opportunity lies in the area of process optimization. As such, I would say that people working in this industry can support companies to optimize their processes. There is potential for growth here, especially because new technologies are emerging (automation, artificial intelligence, robotics), and the Romanian talent working in this industry can support companies to improve their efficiency and effectiveness.

Company's input in the industry

Veeam's products and services have a significant and meaningful impact on people's day to day life. Our core business is to help companies deliver uninterrupted digital experiences. By this, we mean that users can have seamless access to applications and data, at any time, from anywhere. We call this Availability.

In practice, we help companies and organizations function 24/7. Information loss in an airport or a hospital, for instance, would cause turmoil and would affect decisions with life and death consequences. Anything less than total Availability is unacceptable.

Our center in Romania is an extension of the international company. Founded in 2006, Veeam has 49,000+ ProPartners and 255,000+ customers, with the highest customer satisfaction scores in the industry. Headquartered in Baar, Switzerland, Veeam has offices in more than 30 countries. The company's annual growth rate has been approx. 30% since the beginning.

The focus on competencies

This is a competitive market, therefore finding the right people is not necessarily an easy task. However, I believe that if one finds the secret balance between what people want and what the company has to offer, then everyone will find the place that is right for them, and the company will find the right human resources to meet its needs.

Professionally, what people seek in terms of employment is development opportunities. Our company has five functions in Bucharest, and we offer our employees the opportunity to migrate among them, which gives them a great chance to learn and develop.

On a more personal level, people are looking for what companies offer in terms of wellbeing. Our company provides an attractive and modern workspace, as well as an environment where our employees can relax (they can get massages, relaxation areas are available - where people can play a game or simply unwind). To encourage a healthy lifestyle we also provide free fruits on a daily basis to our colleagues.

When it comes to what makes an ideal candidate for us, we are looking for dynamic, result-driven people, who prefer to take their fate in their own hands and be responsible for their actions and their future – both on professional, as well as on personal level. Our brand motto is ACT NOW. Veeam is the right place for resourceful people who love to do things timely and efficiently.

Team members find their place with us if they like working in a truly multicultural environment (there are 17 different nationalities working in our Bucharest office) and make the most of what they can learn from it. I experienced this in Canada, where I worked with people from many cultures, and I was thrilled to learn to do things in so many different ways. Working for us is far more rewarding than looking for diversity abroad. I strongly believe in taking your fate in your own hands, in being proactive and driven by results. I have great trust in collaboration, as I think we are each other's source of inspiration.

Reaching to technology savvy

We provide availability solutions that are tailored to our customers' needs. We have developed a whole process to collect and insert our customer's requests into our product development process. We are very happy that 91% of our current customers recommend Veeam further. Our customer satisfaction score is 2.5 times higher than the industry average (we have reached 73% in 2017, compared to an average score of 32), and these figures show that we are indeed meeting our customers' requests.

At the same time, we get our people ready to keep up with new products and technologies by participating in training programs and conferences organized in the field – either by us or other organizations. Our employees meet with our clients directly, face-to-face, to discuss and better understand their needs and be ready to meet them.

Keywords defining the outsourcing industry

Regarding the business shared services on the local market, constant growth is the first thing that comes to mind.

Another key aspect is the complexity of the services provided. If 14 years ago the services provided were mostly transactional, nowadays they are far more complex.

Strategy is another key factor. The companies that are part of and make up this industry should be much more involved and contribute to in educating the workforce that they aim to employ. Educational programs should be developed and support should be provided, to help people join the industry. There has been some movement in this direction, but we can do more. We need to develop programs both as part of the official curriculum (to be taught in universities), as well as at corporate level to teach the young.

Also, a significant differentiator in this industry is the foreign languages spoken by the specialists in this industry. I believe we should educate parents to instil in their children the interest to study foreign languages from a very early age. Otherwise, in ten years' time, we will experience a more severe shortage of German speakers in this line of work, for instance.





---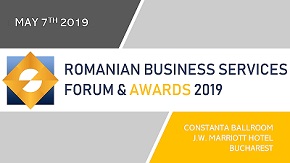 » US: IT outsourcing for healthcare sect...
» Meet the winners of ROMANIAN BUSINESS ...
» CBRE: Office deliveries expected to br...
» Workplace of the Future conference to ...
» Bombardier: from Bucharest subway to t...
» Genpact's COO: Staying ahead of the cu...
» From a Romanian business venture to a ...
» Omnichannel: 4 pillars of a purposeful...
» Elena Calin, CEO UP! Your Service Roma...
» TELUS International: How customer serv...

Workplace of the Future conference to take place on November 20th at Bucharest

The Diplomat-Bucharest together with Outsourcing Today organize the 3rd Edition of WORKPLACE OF THE FUTURE, on 20th of November 2019, in Bucharest, at Capital Plaza Hotel.
Read Full article »
Strategic Talent Acquisition at People Empowering Business Forum on October 30 in Bucharest

Latest trends like demographic upheaval, globalization, digital technology, and changing social values and worker expectations, are disrupting business models and radically changing the workplace. These are req
Read Full article »
Informal IT School and UiPath launch an educational program for RPA development to start in October

Informal IT School announced a partnership with UiPath to launch an RPA development educational program of five months, 100 hours of courses, five days a week. The program will run in Cluj-Napoca.
Read Full article »
Impact Hub Bucharest joins 3house to manage three coworking spaces in the city

Impact Hub Bucharest, a coworking spaces manager and developer of accelerator programs and events merged with 3house, a new concept of workplace launched in 2018. By this, Impact Hub reaches 3 locations and 6.7
Read Full article »
JLL: Total office space in Bucharest to reach 3 million sqm

The second quarter of 2019 reconfirmed the increased interest for the office market in Romania. Over 115,000 square meters of office space were leased over this period at the national level, a value similar wit
Read Full article »