TELUS International Europe: The convergence of customer service and digital marketing/NewGen technologies: What does it mean for businesses?
Technology shapes the way we educate, communicate, conduct business and advance science, all while maintaining significant influence on the global economy. But the way we engage with technology is changing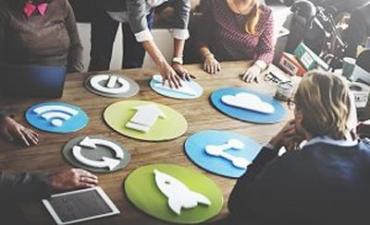 Grégoire Vigroux
Vice-President Marketing of TELUS International Europe



Inside this issue, you'll discover:
According to Gartner, IDC and McKinsey, in 2014, companies spent 90% of their budget for global technology and business services on traditional technologies and 10% on NewGen (or digital) technologies, including digital automation, analytics, social media, mobile, big data and the cloud.
Analysts estimate that by 2025 companies will spend over USD $4 trillion on technology and business services, with 60% driven by NewGen technologies.
This means that the majority of every dollar spent will be allocated to digital technology; not computers, not network equipment, but digital tech.
What does this mean for companies and their relationship with customers?
The modern Millennial consumer expects an omnichannel level of service with the ability to interact with your brand via any support channel on any device, while receiving a personalized, effortless and consistent experience. They rely heavily on connected devices, especially smartphones, to make informed decisions while demanding top service.
As a result, customer experience is now the number one performance measure in boardrooms, according to Dimension Data's 2015 Global Contact Center Benchmarking Report which analyzed 3,000 companies worldwide.
That doesn't mean, of course, that boards suddenly care less about maximizing profits or minimizing costs, but they've realized customer experience is the key that unlocks both.
To respond to the evolving consumer expectations and omnichannel requirements, enterprises must reshape themselves internally and externally to account for digital technology and human capital requirements.
Digital technologies:
To implement an omnichannel customer service offering, you must have the right tools in place to best serve your customers across their journey. NewGen technology can help, but to be properly managed you need the right people and a good strategy around it.
Human capital:
These new roles have been added in the hopes of delivering a better customer experience.
Companies looking to integrate digital technologies need to reconsider roles and add new skills in order to achieve the highest ROI. Online content strategist, search engine optimization lead, community manager, UX architect and machine learning specialist, are only a few examples of the recruitment posts seen online today that did not exist a few years ago— all of which aim to improve the customer experience.
All departments – from marketing to finance – must also be reskilled, and brands may need to reorganize and reshape their recruitment processes and learning and development programs to better align with the NewGen technologies.
But should marketing or customer service take the lead?
As a leading BPO provider to some of the world's top brands, we see customer experience a continuum, not a single event. The customer journey is constantly evolving as they interact with a company; before the sale, at the point of sale, with post-sale service and beyond. With so many touchpoints, neither marketing nor customer service can own it – it needs to be a joint effort.
The convergence of customer service, marketing and digital technologies is a proven strategy to deliver an amazing customer experience.
We have noticed that our customers see several benefits when choosing to go in this direction:
– Greater insights on customer behavior
– Improved online customer support 
– New products promotion
– Transformation, innovation and well driven investments.
There are several possibilities when it comes to its implementation. You can always consider building capabilities in-house, or buying a company to gain the missing skills. But for many, identifying an outsourcing partner is often the most efficient approach.
To conclude, an outstanding customer experience is the differentiator in today's market. Companies must redesign their internal organization to welcome NewGen technologies as a part of their growth strategy. While there is no one-size-fits-all approach, a strong outsourcing partner can help your organization transform their service offering.
Keep up-to-date with the latest thinking about BPO, ITO and Contact Center solutions. Each month, TELUS International, a global provider of contact center outsourcing and BPO solutions, shares insights on the latest customer service trends.
Related articles:
www.telusinternational-europe.com
/
www.telusinternational.com