Preparing for the new future

Business shared services in Romania is by nature a flexible, mobile and diverse community and in this context, local markets develop their own particularities to address the global changes, to adjust to new demands and beat various challenges.

In an exclusive interview, Outsourcing Today talked to Nagendra Bandaru, Senior Vice President & Global Head at Wipro, one of the leading global companies in business shared services, in order to find out insights on the industry, taking the pulse of main actors, employers, employees and customers and learn about what the future may hold for us. Right now, the growing sector of business shared services is a demanding industry from all the perspectives you may think of: business transformation, customer services delivery, talent growth and retention.

In this context, Nagendra Bandaru outlined the main tendencies that defines the global and local landscape of outsourcing businesses: "As you can see all around the globe, there are multinational large companies that are looking to the best next thing in outsourcing, as they developed new regional centers worldwide. In Romania, as well in the European region, the market has to think in terms of what can be effectively done locally for transforming the mindset of the businesses towards better services in outsourcing. As you see, large companies and businesses are moving from a location to another, changing parameters and suppliers, moving eve their operational centers from a region to another. There is why, in terms of local markets and business shared services actors, we have to address several critical aspects, and to begin with, one of the delivery. The core of everything in delivery is execution."

Execution, execution, execution

From manager's outlined perspective, there are two main issues that ay at the very basics of the industry in this region, including Romania. First, the execution, the delivery. Nagendra Bandaru said: "This metric is paramount. The outsourcing services companies have to make sure they are compliant with the demands and most important, the needs of their clients. In fewer worlds, the need to focus on client-service is very important. Closely linked to this, I can add the need to address the customers through bet prepared people. Right now, people are just moving within the industry, switching from a company too another. The market – the companies, employers- have to fix this, as a basic hygiene of the entire business shared services industry, the foundation of delivery - retaining and investing in talents."

The quest for talents

Outsourcing is an industry that grooms top line talents but in the same time, it is an industry that has to think globally in terms of capitalizing and scouting for the very best of talents. In Wipro's manager opinion, for instance, one purpose would be to offer equal opportunities for employees in Romania and local talents to work beyond their geographical boundaries a reach international locations, to work in Philippines, or US, or any other country. Nagendra Bandaru stated: "Changing the way we are going to see the talents, means to look globally and scout for talents outside borders. Giving equal opportunities for Romania or any other locations in the world. The way to go in order to develop talents is offering flexibility. Right now, the competitive advantage of employers in order to attract the best talents resides only at the level of payment. Who pays more, this is the ultimate question in which both actors, employer and employee are eager to enroll. But this is a tactic that only offers short-term benefits. In outsourcing industry, there is also the issue of boredom. People get bored if they work for the same project over and over again, especially the representatives of the young generations. The new comers in the professional world need to be challenged, interested, retained and groomed. The environment is very important, but everyone is offering the environment now- a nice office, interconnected work-life spaces. Also, money is a very important aspect, but one again, everyone who is in this business has deep pockets, that competitive this industry is. At the end of the day, when all the players come with the same cards on the table, what will really matter on a long term will be the ability to grow the right talent and retain them in your company – build them a career."

One other aspect which is tremendously important in this business according to Wipro's manager, is the multiple qualification of employees and this can be the key to grow, retain and succeed in building a very competitive workforce. In my opinion, knowing how to grow your talents is fundamental. "For instance, it is not anymore enough to have the best procurement specialists, the best logistics, or the best financing professionals in your company. In order to stay competitive as employee and as company in the same time, you both have to offer a wider range of skills and abilities. That is why, our company, as culture, tries to rotate the employees on multiple roles during their projects, so that they can face and benefit from as much as exposure they can get from a work environment. Because, we you know, in the existing business scene, with everything related and interconnected, a financing professional has to know about accountancy, or even aspects related to supply-chain, just as an example. This is a very simple tactic that we are constantly acknowledge in everyone's existence: once someone is exposed to different situations in life/ work, their abilities to adjust to and analyze different contexts is growing. This way we are thinking in terms of growing leaders, by confronting them and enrolling them in different various aspects along their careers," Nagendra Bandaru said and added:

"Everywhere in the world right now, not only in Romania, to find the right talents is a tough job for employers. That is why, at this point, with an increasing inflation of talents on the global scene, the companies are recruiting right from universities. The educational system is not at all disconnected from the industries and the talk of governments and educational institution is to invest and grow the necessary skilled workforce to integrate them sooner than later in the industries. Right now, what happens all around the globe and in Romania is that governments are reducing their investments in education, especially the modern education that would prepare the right professionals needed in modern industries. The more governments reduce their costs they would put in education, the higher the costs for industry players to grow and retain the needed workforce and talents. The educational policies are not great at this point. This is why we are investing a lot in education because we will need good talents."

Transforming the existing operations

Outsourcing, all over the world, not only in Romania, is a very flexible overall business, the business is moving from one hand to another hand. Wipro's manager explained: "There are businesses which are consolidated following these movements of operations. The interest of companies is to identify the best practices in using the smart technologies in their most efficient use, the business analytics or robotics. Broadly, this trend is transmitted. In terms of local market and its competitive advantages, from my point of view, people in Romania are highly rational, science-oriented, leaning towards technology, analytical. I see good areas in banking, financing, accounting, funds, analytics, anything that has core in ability to think. As company, we keep ourselves close to these areas and as you know, Wipro runs local and global projects in education, as well as CSR projects and we are continuously growing to invest to groom talents for the future."

Solving the disruption

"Today, they are giant global companies that are generating enough revenues to develop themselves the entire operational chain they need, such as Google, Napster or Amazon, for instance. But in the other corner, there is a massive share of companies that do not produce enough money to build themselves wide and deed infrastructures like this and they outsource. There is a huge disruption in our end customers. Now, with the AI and the digital technology taking over, the customers will want to earn ten times at least their investments from outsourcing. If in the past, outsourcing was about cost savings, right now, these services started to be demanded for their greater benefits, such as huge automation, deep analytics. You need strong talents to deliver such services," Nagendra Bandaru stated and added: "The global economies right now are passing through a transformation process that it is happening under our very eyes. As just an example, look at Uber, as company, generating billion-worth revenues all around the globe, with no manufacturing line, no cars owned, no insurance policies. There are Uber offices in the word that are generating million-worth revenues with only ten employees. It is a scalable and cascade effect of emerging digital technologies and automation in the human existence and global economies."

"In a predictable future, we will witness complete transformation of business processes, with the online businesses going stronger faster and replacing the traditional businesses. This trend is now only applicable in IT or digitally-driven industries, but also in the most traditional ones, such as retail education, medicine. In US, people are not going anymore as they used to do at universities, staying in academic school for 4-5 years. Now, the education is on demand, as students enroll in online course, more specific for their and industry's needs. Right now, the medicine is going online from a perspective, with medicine coming at the doorsteps, at a click-away distance. Fundamentally the businesses are changing. In the future, the natural life traditional businesses will not be measured in 30, 40 or hundreds of years. The companies will start up fast, grow stronger, consolidate and transform, as another company will take its place with another competitive groundbreaking advantage. Yes, this bring a tremendous potential for growth for many companies in different fields but it is also a very scary perspective," Wipro's manager concluded.

Potentially, in five years, the future will be very different from what we know right now.



---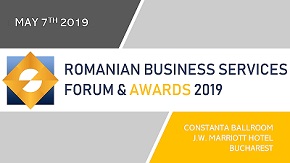 » US: IT outsourcing for healthcare sect...
» Meet the winners of ROMANIAN BUSINESS ...
» CBRE: Office deliveries expected to br...
» Workplace of the Future conference to ...
» Bombardier: from Bucharest subway to t...
» Genpact's COO: Staying ahead of the cu...
» From a Romanian business venture to a ...
» Omnichannel: 4 pillars of a purposeful...
» Elena Calin, CEO UP! Your Service Roma...
» TELUS International: How customer serv...

Workplace of the Future conference to take place on November 20th at Bucharest

The Diplomat-Bucharest together with Outsourcing Today organize the 3rd Edition of WORKPLACE OF THE FUTURE, on 20th of November 2019, in Bucharest, at Capital Plaza Hotel.
Read Full article »
Strategic Talent Acquisition at People Empowering Business Forum on October 30 in Bucharest

Latest trends like demographic upheaval, globalization, digital technology, and changing social values and worker expectations, are disrupting business models and radically changing the workplace. These are req
Read Full article »
Informal IT School and UiPath launch an educational program for RPA development to start in October

Informal IT School announced a partnership with UiPath to launch an RPA development educational program of five months, 100 hours of courses, five days a week. The program will run in Cluj-Napoca.
Read Full article »
Impact Hub Bucharest joins 3house to manage three coworking spaces in the city

Impact Hub Bucharest, a coworking spaces manager and developer of accelerator programs and events merged with 3house, a new concept of workplace launched in 2018. By this, Impact Hub reaches 3 locations and 6.7
Read Full article »
JLL: Total office space in Bucharest to reach 3 million sqm

The second quarter of 2019 reconfirmed the increased interest for the office market in Romania. Over 115,000 square meters of office space were leased over this period at the national level, a value similar wit
Read Full article »