Welcome onboard!

By 2020, some 200.000 people are expected to work in business shared services in Romania, doubling the current employment portfolio enrolled in more than 120 companies operating BPO, SSC or ITO services. However, the bet of major or smaller players in local outsourcing industry is not only to reach the added-value result of their employees' work but also to find, retain and grow the necessary talents.

The ultimate outcome of local companies' continuous efforts to find the right person for the highest-valued job will be to gain more people power and remain business-relevant in the sternly competitive regional and global marketplace.

In the light of these numbers, the hiring process and the ability of companies to find and keep the right talent within the companies has become challenging and triggers various new aspects that in the past years, have not been considered a headache for the recruiters and companies' staff. Also, the recruitment has become not only difficult but even more strategic. It's a fact that there is tight competition between companies when it comes to the workforce and that the attrition strategy must evolve from looking into the market to expanding the pool of talents. Educational system holds the keys. Traditional universities as well as alternative schools are now more focused than ever to meet employers' needs, and this is a joint effort of academic society and companies working together.

Technology has transformed the modern workplace, and the remote workforce is an ascending trend. Relocation and reconversion are also new paths to be explored. Onboarding is only the first step, being followed by ways to achieve employee engagement, motivation, recognition and talent management. Being a human resources manager in this industry is not at all a simple job. As also stated within a discussion panel of the Romanian Outsourcing Summit this year, "Outsourcing has never been an employer of choice – this is the biggest challenge in Romania. It is seen as a "sort of job". We need to redefine this industry, not to be called "the call centre industry" anymore for it comprises a wider and more specific number of services, many of them highly technical and consuming high-level abilities. We need to join forces to help professionalize the entire industry. This is a professional career and it is not just working in a call centre," according to Daniel Idzkowski, Associate Director – Global Corporate Relations, CIMA.

Global trends in recruiting

According to Rozalia Nistor, CEO of BPO services provider Selir, "the classic form of recruiting, utilizing the job board's platforms for work announcements or candidate search is still working, but the results are becoming less and less satisfactory. Given this situation and if we take into account the needs and expectations of the new generation of candidates, the so called Millennials, the using of the modern digital tools and platforms is now a must. Nowadays, the young generation applies to jobs using mobile apps, or find about jobs more frequently by browsing the social networks rather than the main recruiting sites. So basically if you want to be acknowledged as a top employer you have to be very active on these channels in broadcasting your strengths and values."

The company uses their internal referral system which offers incentives to their employees for every successful application. Most of the times when employees recommend other people they acknowledge the fact that the newcomers attitude and work ethic might reflect on his/her reputation. Above that, they also understand rather well the requirements for the available jobs and as a result the quality of the referrals tends to be rather high. Referrals are mostly friends and family and, most of the times, working with them makes the job easier and the work environment friendlier.

This is a trend that started to emerge in Romania as in early May, a company announced it plans to pay several thousand Euro incentive for the employees that would recommend another IT specialist to work with the company. That big has become the need in the market. Selir started few years ago "Selir Learning Lab", a program initially orientated at the IT sector, in collaboration with the local universities that offered students the possibility of attending various training courses or sessions sustained by our employees. Not only did this type of collaboration get promising candidates interested about working for us even before they've graduated, but it also helped us pinpoint and even get a head start on training the best candidate early, not to mention the fact that it gave their future team leaders a feel on their compatibility in working together.

The need of private sector cooperating and signing effective partnerships with the educational institution has been voiced many times. Recently, PhD Prof. Dorel Mihai Paraschiv, Vice-rector - Liaison with the social and business environment, cooperation with students, ASE said that"the needed qualifications are different from ten years ago. In this respect, we started partnerships with different companies operating in the business shared services industry to address the current need. Romania has a particular culture, and the need for various competencies may vary from region to region. For instance, there may be a strong need for IT and finance professionals in Bucharest, but in Transylvania we may need different competencies. The country has regions with different needs in terms of qualifications."

Two years ago, Bucharest University of Economic Studies (ASE) and The Chartered Institute of Management Accountants (CIMA) signed a strategic partnership by which students from ASE have the opportunity to acquire the CIMA Certificate in Business Accounting and CIMA Diploma in Management Accounting at the same time with their BA and MA degrees from the university. Under the agreement, students who will obtain a BA degree from the Faculty of Accounting and Management Information Systems will be exempt from four CIMA exams and will be awarded the Certificate in Business Accounting after passing the CIMA exam "Fundamentals of Ethics, Corporate Governance and Law".

"We regard with great respect the partnership with ASE, one of the most prestigious Romanian universities, which is part of our worldwide strategy of cooperation with employers, consultants and academics in order to address the employability needs of businesses and people. The CGMA designation (Chartered Global Management Accountant) opens the door to enhanced career possibilities and we are happy we can provide these opportunities to students from a leading Romanian university," said Krzysztof Kmuk, Emerging Markets Development Manager, CIMA.

New people, new places

In 2016, the office demand in Bucharest in the second quarter of 2016 was mainly generated by IT and BPO / SSC companies, which accounted for over 40% of the total volume registered, followed by banks with approximately 21% and health and pharma companies with 17%, says the most recent JLL report.

This year, the trend is maintained, with the office buildings in expansion in centre-southern area in Bucharest, triggered by IT companies as main drivers for growth. In the first quarter of 2016, deliveries of new and modern office areas in Bucharest reached 32,000 sqm. However, the overall transaction volume with modern office areas in Bucharest was over 110,000 sqm. In the first quarter of the ongoing year, on the rise by 6.8 per cent against the same period of 2016. 50 per cent of the transactioned area represents net demand, new rental and pre-rental contracts or extensions of existing companies.

Besides the Capital city, most modern office areas are found in Cluj Napoca, Timisoara, Iasi and Brasov. Office area developers should deliver this year ten projects with 219,500 sqm at national level, an area 37 per cent smaller than the one commissioned in 2016, according to JLL real estate consulting company.

There are ways to sweeten the appetite of young generations for moving from a place to another. JLL specialists said that, "while millennials are often characterized as lacking loyalty to their employers, recent research reveals that millennials have greater employer loyalty when their career and personal needs are met. A large portion of this study showed that millennials will be more likely to find career satisfaction with facilities management service providers who offer mentoring, job rotations, a blend of knowledge and relationships, and exposure to multiple client accounts." Their advice for employers is to use these resources to learn more about millennial career expectations and how to foster their loyalty in the workplace, in order to better retain young talent at the company's facilities.


We are hiring: pedal to the metal

About a third of employers in Romania anticipate an increase of the number of employees in the second quarter of 2017, while only 7 per cent of company representatives foresee a drop of personnel, according to a study made by human resource group ManpowerGroup, about prospects of employing labour force, published this week.

Labour force demand is higher in Central and North-Western Transylvania, which includes developed and dynamic counties like Cluj, Sibiu or Brasov, while Moldova and Oltenia have the lowest labour force offer. Previously, with employment provision in the first quarter of 2017, only 19 per cent of employers interviewed in Romania foresaw increases of total number of employees while 13 per cent indicated drops.

In the quoted report, the labour force market situation shows improvement. "Net Employment Provision is positive in all eight regions and all 10 sectors of activity in Romania for the first time in the Romanian edition of ManpowerGroup study, launched in quarter 2, 2008, although the employers' confidence degree is different from one region to another and from one sector to another," said Corina Bianca Gonteanu, strategic marketing director of ManpowerGroup. "Bright and stable employment prospects, equaling the most optimistic ones reported since the beginning of crisis, show a more favorable and diversified market, benefiting people looking for jobs, if they have professional and interpersonal abilities required," Gonteanu added. The study was made following field investigations in Romania over January 18-31, on a representative sample of 625 employers. Results have a margin of error of +/-3.9 per cent.

The latest official statistics show that the number of jobless people was 487,904 in January, the lowest level of 1994, while the jobless rate went down to 5.4 per cent, the lowest level since 2008.
Recent findings published on the linkedin platform, unveiled the top skills that are looked by employers this year:

Demand for marketers is slowing: While marketing skills like marketing campaign management, SEO/SEM, and channel marketing were in high demand in 2015, things have changed. This year, SEO/SEM dropped five spots from #4 to #9 and marketing campaign management dropped completely off the list. Demand for marketing skills is slowing because the supply of people with marketing skills has caught up with employers' demand for people with marketing skills.

Data and cloud reign supreme: Cloud and distributed computing has remained in the #1 spot for the past two years and is the Top Skill on almost every list — including France, Germany, India, Ireland, Singapore, the U.S., and Spain. Following closely on its heels is statistical analysis and data mining, which came in #2 last year, and #1 in 2014. These skills are in such high demand because they're at the cutting edge of technology. Employers need employees with cloud and distributed computing, statistical analysis and data mining skills to stay competitive.

Show me, don't tell me: For the first time ever, data presentation, which is visualizing data, makes the list with the #8 spot. With statistical analysis and data mining holding strong again this year at #2, employers need employees who can organize data so it's easy for people to understand.

User interface design is the new black: User interface design (#5), which is designing the part of products that people interact with, is increasingly in-demand among employers. It ranked #14 in 2014, #10 last year, and #5 this year (second largest jump on this year's Global Top Skills of 2016 list). Data has become central to many products, which has created a need for people with user interface design skills who can make those products easy for customers to use.

The new people, committed to life, not places

The new generations, the Millennials, which is the generation born after '80s, comes with their own rules, ways of living, a great appetite for new technology and very adjustable to changes. The latter feature also brings with it a price to be assumed by employers: the lack of loyalty. The new comers are very committed to their professional life- personal life balance, to their principles and various freedoms and the least committed to a certain place.

As Selir's CEO told Outsourcing Today, "the concept of moving to remote working can be frightening for the organizations, especially in Romania which is very fixed and immobile in terms of work forms and is just starting to get a feel of this new trend. Your question is well orientated, in fact cloud is connected to this new form of working being an enabler for mobility. The cloud not only does offer increased flexibility but will also lead to this universally connected state of being for people, transforming the workplace in a concept of less defined work areas.

Security and privacy are in fact the top concerns related with both cloud and mobile working, especially in this era of globalization, both in term of clients and employees, and for that matter we are in the initial phase of implementing it in our day to day activities." Nistor added that the company's strategy is following two main paths in finding talents. "The first one is recruiting the newly graduates: given our tradition in collaborating with the local university, the already mentioned Selir Learning Lab program which by the way received last year the award for Business Leader in Education Initiative from ABSL, we are not encountering major difficulties in attracting new employees. It has to be said thou that we are starting to notice a slight decline in the level of education or skill-set this new graduates have and for that reason we are now holding training courses also internally as another form or retention tool.
Hopefully the current government will address this problem as soon as possible. The second path, and this is where in fact we are facing difficulties, is in recruiting highly skilled personnel, a significant talent-management challenge today. The shifting to technologies in the process of improving efficiency, requires skilled professionals to support those technologies. The actual lack of relevant qualifications and the ever stronger competition for talent makes our job tougher and tougher," Nistor said.

The young generation changes the entire work environment, by bringing new customs, habits and work patterns. For instance, as underlined by Mihaela Dobre, Learning & Development Manager EMEA, Stefanini, the young generation is very keen on work flexibility, a term also implying working from home. "And working for home is a sensitive option, at many levels, including the security matter. This also breaks down for us in increasing our pool of employees and recruiting from remote locations... and keeping them motivated. Our belief is that we have to listen to our employees in order to find out what clicks for them so that we can retain high-skilled professionals and talents."

Skills suite needed, foreign languages not enough anymore

According to Smartree, in 2017, e-learning and trainings are more important than ever. The workforce of a business organization that owns the proper skills, expertise and knowledge is essential to any company which aims at the high levels of performance, according to Smartree, HR solutions provider.
According to the company specialists' findings, "in a business environment increasingly competitive, the need for continuous learning and training have never been more important to differentiate from the crowd. And as the staff is, or should be, the first line of facing the competition, the managers should take into account that in 2017, the formation of employees is more important than ever. They must have the necessary skills, in order to be able to create success for their brand.

As the consultants show, a major problem facing organizations, especially in times of recession, is that budgets are cut in a wrong manner, with trainings being the first on the list when it comes to savings. "Although a solution (apparently good) on a short term, leads to serious consequences in time," the consultants say. Also, the study states that learning facilities and trainings result not only as a tool for growing effective and efficient employees but also it is a very useful manner to address the retention of workforce and talents in the organization. Regarding the millennials, more than half of them are estimated to expect learning opportunities from their employers. By 2020, according to Smartree data, the e-learning market will reach 31 billion dollars globally.
Transformation is the best word. It doesn't come cheap

According to Selir's CEO, the technological progress is greatly impacting SSO's (shared services organization) in terms of new ways of costs cutting, service offerings and efficiency improving. Although we changed allot in our more than 20 years of history, implementing and internalizing various new technologies, the process is becoming more and more demanding (resources and employees). To continue this process of improving via technology Selir is currently developing robots, this new process automation called RPA, which comes with all sorts of benefits but also demands better skills form the developers and the actual activity operators. So today we need personal with better understanding of end to end process experience, better knowledge of technological terminology not only in terms of communicating skills (call center) but also operational. Data analytics is also on the spotlight and the challenge is to develop a broader understanding of data analytics within the teams, focusing on predictive and prescriptive analytics in this rapidly changing environment.

One of the main topics to be addressed when talking about transformation and new technologies, is the IT costs management. According to CGS, "the cost of managing IT is complicated. There are many different aspects to it. For example, the cost of managing security, systems administration, desktop support, planning, strategy, etc. The number one understanding leaders must have is that it is highly unlikely that their internal team has all of the skills and expertise to accomplish all that it is need. IT is just too complex of a field to know it all, and subject expertise matters. Many IT functions need to be scheduled on a weekly and monthly basis, and MSPs have specialty software and engineers who can accomplish those functions far faster, and with greater accuracy than an in-house team. That 5,416 US dollars per month budget can buy a lot of expertise, and you do not have to manage the individual or absorb the cost of hiring or the cost of churn if they leave the company."

Also, a key topic is the outsourced planning operations. According to CGS, "for some companies, outsourcing certain types of work is emotional. There is a common idea that outsourcing is taking away jobs, but the reality is this: the work is simply being shifted to another company. It is very similar to the trend for companies to use accounting firms to handle their taxes. Tax law has much in common with IT." The specialists at CGS also stated that it is not that internal financing and accounting people cannot learn and keep up with tax issues, but it is such an important subject they find that specialists help them avoid mistakes and add long-term value.

---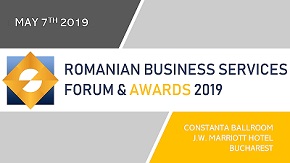 » ROMANIAN OUTSOURCING AWARDS FOR EXCELL...
» Meet the winners of ROMANIAN BUSINESS ...
» Pavel Campan appointed as the new Vice...
» Genpact's COO: Staying ahead of the cu...
» CBRE: Office deliveries expected to br...
» Exclusive OT print issue: Genpact may ...
» N-iX, EPAM, Luxoft, Ciklum, Intetics, ...
» Molson Coors started to grow its busin...
» TELUS International Europe: How fast-g...
» Leoni to open new SSC in Cluj, cut job...

Workplace of the Future conference to take place on November 20th at Bucharest

The Diplomat-Bucharest together with Outsourcing Today organize the 3rd Edition of WORKPLACE OF THE FUTURE, on 20th of November 2019, in Bucharest, at Capital Plaza Hotel.
Read Full article »
Strategic Talent Acquisition at People Empowering Business Forum on October 30 in Bucharest

Latest trends like demographic upheaval, globalization, digital technology, and changing social values and worker expectations, are disrupting business models and radically changing the workplace. These are req
Read Full article »
Informal IT School and UiPath launch an educational program for RPA development to start in October

Informal IT School announced a partnership with UiPath to launch an RPA development educational program of five months, 100 hours of courses, five days a week. The program will run in Cluj-Napoca.
Read Full article »
Impact Hub Bucharest joins 3house to manage three coworking spaces in the city

Impact Hub Bucharest, a coworking spaces manager and developer of accelerator programs and events merged with 3house, a new concept of workplace launched in 2018. By this, Impact Hub reaches 3 locations and 6.7
Read Full article »
JLL: Total office space in Bucharest to reach 3 million sqm

The second quarter of 2019 reconfirmed the increased interest for the office market in Romania. Over 115,000 square meters of office space were leased over this period at the national level, a value similar wit
Read Full article »