The future is now - Review of Romanian Outsourcing Summit, 2017

Romania delivers services in 25 languages with more than 100,000 specialists employed in the outsourcing industry and business services, and based on an estimated growth of 15-20 per cent, it is estimated to reach four to five per cent of the country's GDP by 2020. In short, this means that all community activists, educators, employers, parents, and graduates should already be prepared for this dynamic industry, one which is fully

In this respect, OUTSOURCING TODAY, the integrated communication platform of the business services sector, powered by The Diplomat-Bucharest, organized the Third Edition of the ROMANIAN OUTSOURCING SUMMIT on March 23th 2017 in Bucharest.

This year's edition of the Romanian Outsourcing Summit benefited from the support of diamond partner Wipro, strategic partners ABSL and Outsourcing Advisors, and gold partners CIMA, BCR Pensii, Genpact, Jll, Societe Generale - European Business Services, Stefanini, Vastint, and partner Selir. The organizers also thank all the organizations and companies supporting the event: Think Ahead ACCA, ANIS, ANSSI, ClujIT, and Extind.

The summit brought together industry experts, academic figures, and authorities in order to share ideas regarding the steps to be taken towards an efficient cooperation between authorities and the industry stakeholders, and the trends that will alter the actual business model. This year's edition developed under the auspices of a trendy topic, the impact of internet and interconnectivity and the impact of technology disruption and digitization upon both employees and employers. One of the earliest conclusions emerging from the discussions was that the winning organizations are those which can adapt quickly and drive business transformation on an ongoing basis. Also, talented employees are worth doing everything for, but yet again, how much does "everything" really mean for an employer in terms of costs and labour logistics?

Without rising above the ambition of answering all the questions and identifying all the solutions (for there is no such thing), Colin Lovering, Chairman of British Romanian Chamber of Commerce kindly agreed to moderate the lively panel discussions through all three sessions of the event.

ROMANIAN LOCAL INDUSTRY, A STEPPING STONE

The summit's plenary session opened with several intriguing yet challenging topics that define the structure of a developing industry in Romania, particularly one with the highest growth pace, as Colin Lovering introduced the event: How can the industry shareholders better address the added value in this industry? Language skills always represented the foundation of outsourcing in Romania but the industry and the global environment now ask for higher aptitudes and the creation of new capabilities in the area of technology. Also, which elements can help the business shared industry grow further in Romania – and here, the addressed topics also included the poor availability of infrastructure, and not least, the presence of financial input in helping businesses grow.

PLENARY SESSION – OUTSOURCING LANDSCAPE, OPPORTUNITIES AND CHALLENGES


PANELISTS
o Maria-Manuela Catrina, State Secretary in the Ministry of Communication and Informational Society
o Ciprian Dan, Location Head at Wipro BPS
o Catalin Iorgulescu, Member of Managing Board, ABSL Romania / General Manager, Samsung SSCE
o Shibu Nambiar, SVP & COO, Genpact Europe, LatAm & Africa
o Raluca Andreea Popa, Advisor, Ministry for Business Environment, Commerce and Entrepreneurship InvestRomania

A CALL FOR DIALOGUE

Together with representatives of the government, this session tackled Romania's evolution as a destination for business services. In the context of the industry's maturity and workforce challenges, the industry's players need to figure out the next steps for a better cooperation between the authorities, the academic institutions and the companies acting in the field. In light of this topic, Maria-Manuela Catrina, State Secretary in the Ministry of Communication and Informational Society, stated in the first panel of the summit that the issue of financial input in the industry and of state aid represent the hottest topic of the moment. According to the representative, there are ongoing state programs targeting the boost of investments and partnerships in the industry; however the current focus in addressing the industry's workforce needs is the education and the private-academic partnership.

"Education connected to business is a real need. We engaged in discussions with the Ministry of Education to introduce IT and language skills as learning in early studies. We also talked with local communities about the impact of technologies... bringing broadband to smaller communities and villages. We are aware that we need a more flexible framework for the outsourcing industry and we are developing a governmental program to work for the industries – that means prioritizing and setting effective timelines. We feel that by doing this, we can set the main directions to convey predictability and stability. We need industries that bring higher added values. We also need the industry associations by our side as dialogue partners," Catrina stated.

BRINGING THE EXPERTISE TO TIER 3 CITIES

Representing The Association of Business Service Leaders in Romania (ABSL Romania), Catalin Iorgulescu, Member of Managing Board, stated that the association and its members -- companies and large employers in Romania -- are trying to reach state institutions for a constant dialogue regarding the pressing needs and priorities, as well as the opportunities available in the partnership between the Government and the private sector.

"Outsourcing is producing competition. Hence, we are trying to work with the government. The challenges reside in the need to create premises for more jobs, as 15,000 employees per year are needed to fill in the workplaces created by investments. The outsourcing industry is expanding and besides Bucharest, Timisoara, Iasi, or Cluj, cities such as Constanta and Craiova took the start and are catching up with the Tier 1 and 2 locations. We have to create jobs and for this, we need the fuel -- which is people -- who need to be trained and enrolled in the industry through governmental measures," Iorgulescu said. He added that the market needs to prepare skilled people in order to support the advances in automation and technology.

BUILDING CONFIDENCE THROUGH TRANSPARENCY AND EFFECTIVE POLICIES

Shibu Nambiar, SVP & COO, Genpact Europe, LatAm & Africa acknowledged that the dialogue between private investors in the outsourcing industry and the state government is evolving towards the expected measures and programs.

"We are in Romania for over a decade. There are systems that need to be put in place and then determine how these systems are working. Consistency and effective impact of measures are needed, however, these measures should be paced up a little bit." The manager underlined the need for concrete and consistent measures to support investments and gave the example of Genpact's customers' priorities. "When I talk to my clients and I say I want to take these businesses to Romania, they ask about the local policies set in place for investors. They want to know that is safer to move the businesses from Germany to Romania from all points of view: the government policies, predictability, subsidies for business".

In addition, the Genpact's representative stated that even if the language skills remain a main advantage for the Romanian market, this should not be taken for granted. "I strongly believe that we continue to feel assured that language skills are our main advantage, but in few years companies will leave the country for other destinations. We should look into new directions; the aptitude to learn new things is a key factor when choosing a country destination for future investments," Nambiar stated. He underlined that the focus should be kept on the relevance and long term strategy of development for employees and employers alike, and that aptitude is a strong focus as a base for people to pick up new skills. Science, technology, engineering and mathematics will stay at the foundation of future job creation. For this, the manager said that the partnership of companies with universities is a very strong and welcoming mechanism to support growth, and the company and business organizations should create common platforms and programs to enable employees to create a mechanism to grow and prepare themselves to get trained for what they need to fulfil.

The view of a closer relationship between private companies and educational institutions was also shared by Ciprian Dan, Location Head at Wipro BPS, as "costs are following the growing industries and the added value is something we should focus on. Costs should be the main reason when we are talking about investments."

Raluca Popa, Advisor, Ministry for Business Environment, Commerce and Entrepreneurship, InvestRomania, underpinned that "A skilled workforce needs to learn the goal-oriented perspective. I can give you an opinion and perspective closely related to the workforce. We have a good collaboration with ABSL. At this moment, the attractiveness looks very good; we have a skilled workforce, well qualified, multilingual profile, lower labour costs, strategic geographical crossroads position, technological hubs, a growing pool of talents, and the presence of large companies here that anchor future investments. Romania is pretty much like Poland, which results in a big competition for investors to set in one of these two countries."

She added that, from her perspective, the creativity of such a talented pool of employees should be used in a good sense. "The young people show openness to the new and improved; however they seem not to be very goal-oriented. They should be enrolled in education systems that provide them framework and goal-oriented perspectives. These high-skills are needed." Also, the advisor encouraged companies to look beyond the large, sometimes oversaturated cities, and towards smaller cities -- tier 2 and 3 -- where they can develop successful businesses based on the local workforce.

SESSION I: TECHNOLOGY TRENDS INFLUENCING THE SERVICES INDUSTRY

The second session tackled the technology trends influencing the services industry. Companies are willing to outsource more, as they are challenged by an increasing need for transparency and fast response to market needs; additionally they want more value at lower costs. It's currently the moment for younger and smaller technology companies hoping to disrupt incumbent businesses with better service, more innovative products, lower prices, and the ability to respond flexibly to changing customer habits and preferences.

Also, data security becomes top priority for companies. In light of the most recent technological developments and cybernetic threats, development of new technologies has raised the level of security concerns, while IoT prevalence further intensifies the risks. Thus, 2017 is expected to see the emergence of Security-as-a-Service, offered by specialized security BPO service providers. Enterprises and outsourcing agencies will strive to protect data, irrespective of its size and location.

PANELISTS
o Olivier Hecq, Head of SSC IT, Societe Generale European Business Services
o Daniel Idzkowski, Associate Director – Global Corporate Relations, CIMA
o Liviu Lazarescu, IT Delivery Head for Romania Operations, Wipro Technologies
o Marius Scuta, National Director, Head of Office Department and Tenant Representation at JLL
o Mihaela Apostoleanu, Senior Director, Oracle EMEA Business Operations


Mihaela Apostoleanu, Senior Director, Oracle EMEA Business Operations, considers that technological improvements are not going to directly impact employees tomorrow. "They create space for growth in years. It empowers us to use more tools. Right now, the security challenge is the focus area in software area. The weakness comes from companies. With the volumes of data and people involved at so many levels, the security data is foremost. We need to educate people how to use technologies and social media in what concerns security data, informing and developing protocols for permits to use image of companies and information. Also, all this, adding to the using of security tools in order to identify the breaches and prevent." Also, the manager highlighted the opportunity of cloud-based call centers and automation used at higher levels. "The automated speech translation -- it's a new tool that we see growing in the area," Apostoleanu stated.

ADDRESSING THE NEW CYBER WORLD

With the fast emergence of new technologies and automation, a general feeling among employees is that they fear losing control in this newly-changed work environment. Olivier Hecq, Head of SSC IT, Societe Generale European Business Services stated that "There is no such thing as zero risk in the new cyber-world but the security issues should be in focus all the time." The opinion is shared by Liviu Lazarescu, IT Delivery Head for Romania Operations, Wipro Technologies: "More should be done in the awareness part of security. Each company has its own way of dealing with security, according to its needs. We need to address real-life scenario implementation in the benefit of finding the best security solutions."

Representing CIMA - Chartered Institute of Management Accountants, Daniel Idzkowski, Associate Director – Global Corporate Relations underlined the main direction to focus in light of previous panel talks: "We need to address the cybersecurity, designing and implementing cybersecurity frameworks, cyber-maturity assessments; organisational design for cybersecurity; Cloud security; design and rollout of cybersecurity processes such as Incident Management, Intrusion Detection, and Security Monitoring. Also, concepts such as vulnerability assessment, application and network penetration testing, wireless security, mobile security, and system security testing should be implemented and put on the first page of companies' agendas." Adds Marius Scuta, National Director, Head of Office Department and Tenant Representation at JLL, an international real estate consultancy company managing real estate contracts for a major number of smart office spaces, that "Large companies operating large data centres should keep an eye on data security. Security is practically disrupting our work."



SESSION II: ONBOARDING NEW PEOPLE

Recruitment has become difficult, and strategic. It's a fact that there is tight competition between companies when it comes to the workforce and that the attrition strategy must evolve from looking into the market to expanding the pool of talents. Educational system holds the keys. Traditional universities as well as alternative schools are now more focused than ever to meet employers' needs, and this is a joint effort of academic society and companies working together.

Technology has transformed the modern workplace, and the remote workforce is an ascending trend. Relocation and reconversion are also new paths to be explored. Onboarding is only the first step, being followed by ways to achieve employee engagement, motivation, recognition and talent management. Being a human resources manager in this industry is not at all a simple job.

PANELISTS
o Melania Mirea, Member of Management Board at BCR Pensii
o Daniel Idzkowski, Associate Director – Global Corporate Relations, CIMA
o Antoniu Panait, Managing Director, Vastint Romania
o Mihaela Dobre, Learning & Development Manager EMEA, Stefanini
o PhD Prof. Dorel Mihai Paraschiv, Vice-rector - Liaison with the social and business environment, cooperation with students, ASE
o Jymmy Soare, Vice President, Genpact

BUILDING MOTIVATION AND RETENTION

The current most challenging mission of a company these days is to motivate and retain millennials and to build the right context for growing talents. According to Melania Mirea, Member of Management Board at BCR Pensii, "the past year in Romania has been full of political and social transformation, both at macro-economic and social levels, and also in regard to technology. Romanian society is not the same anymore. In this dynamic context, our young generation is very demanding. Can you really go through life without financial education? Actually the financial status is influencing us. The way we grow our children is a major issue to address through all channels, education and society." According to the bank's representative, society as whole should create a better framework for sharing and implementing good practices and knowledge in financial education, in order to prevent financial catastrophes. "Financial education really helps us to understand and improve our income. Practically, it addresses the simple things in our life. Its impacting the way we behave as a community. It is important to understand the young generation and the information they are receiving from us and the entire society. We count on them, rely on them. When it comes to financial education, there are still things to be done. Actually, they don't give too much credit to financial matters, but they realize that financial security is actually one thing they need to achieve. Millennials are much more focused on life experiences and professional experiences than the job itself. "

Regarding the sensitive balance of supply and demand on the local workforce market, Jymmy Soare, Vice-President, GENPACT stated that the means of addressing this matter differ from company to company. "We are coping in various ways. The supply is really diminishing. Being native doesn't help. Immigration and social dynamics are also putting a solid weight into this equation. We need to refine this business from its very definition." Also, the Genpact representative conveyed his message to young generations regarding the importance of learning new skills, staying as technical as can be and learning foreign languages. According to him, international communication is significantly important in the present economy context.

According to Daniel Idzkowski, Associate Director – Global Corporate Relations, CIMA, "Outsourcing has never been an employer of choice – this is the biggest challenge in Romania. It is seen as a "sort of job". We need to redefine this industry, not to be called "the call centre industry" anymore for it comprises a wider and more specific number of services, many of them highly technical and consuming high-level abilities. We need to join forces to help professionalize the entire industry. This is a professional career and it is not just working in a call centre," the manager added. Continuing the idea, PhD Prof. Dorel Mihai Paraschiv, Vice-rector - Liaison with the social and business environment, cooperation with students, ASE added that "the needed qualifications are different from ten years ago. In this respect, we started partnerships with different companies operating in the business shared services industry to address the current need. Romania has a particular culture, and the need for various competencies may vary from region to region. For instance, there may be a strong need for IT and finance professionals in Bucharest, but in Transylvania we may need different competencies. The country has regions with different needs in terms of qualifications."

Two years ago, Bucharest University of Economic Studies (ASE) and The Chartered Institute of Management Accountants (CIMA) signed a strategic partnership by which students from ASE have the opportunity to acquire the CIMA Certificate in Business Accounting and CIMA Diploma in Management Accounting at the same time with their BA and MA degrees from the university. Under the agreement, students who will obtain a BA degree from the Faculty of Accounting and Management Information Systems will be exempt from four CIMA exams and will be awarded the Certificate in Business Accounting after passing the CIMA exam "Fundamentals of Ethics, Corporate Governance and Law".
"We regard with great respect the partnership with ASE, one of the most prestigious Romanian universities, which is part of our worldwide strategy of cooperation with employers, consultants and academics in order to address the employability needs of businesses and people. The CGMA designation (Chartered Global Management Accountant) opens the door to enhanced career possibilities and we are happy we can provide these opportunities to students from a leading Romanian university," said Krzysztof Kmuk, Emerging Markets Development Manager, CIMA.

The young generation changes the entire work environment, by bringing new customs, habits and work patterns. For instance, as underlined by Mihaela Dobre, Learning & Development Manager EMEA, Stefanini, the young generation is very keen on work flexibility, a term also implying working from home. "And working for home is a sensitive option, at many levels, including the security matter. This also breaks down for us in increasing our pool of employees and recruiting from remote locations... and keeping them motivated. Our belief is that we have to listen to our employees in order to find out what clicks for them so that we can retain high-skilled professionals and talents."

Representing Vasting Romania, Antoniu Panait, Managing Director, the concluding idea of this final session of Romanian Outsourcing Summit 2017 is that companies should support the decision makers. "We support employers in finding the various means of improving the work life for their employees. Our mission is to translate the wishes of new employees into the future. We build for the future. Location, accessibility and also the fact that employees put much value into their work and life balance, are directions that lead us in developing our projects. "

---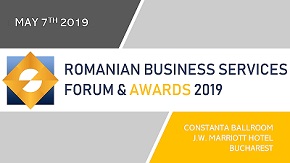 » Submit your nomination for ROMANIAN BU...
» Ciprian Dan, Wipro BPS: The industry n...
» Yonder: The first Dutch company in Clu...
» Exclusive OT: Federal-Mogul to expand ...
» Exclusive OT print issue: Genpact may ...
» Federal-Mogul inaugurates new manufact...
» Bosch continues double-digit expansion...
» GRS has one of the fastest growths and
» TELUS International Europe: Assessing ...
» Next Generation Shared Services Roadsh...

Workplace of the Future conference to take place on November 20th at Bucharest

The Diplomat-Bucharest together with Outsourcing Today organize the 3rd Edition of WORKPLACE OF THE FUTURE, on 20th of November 2019, in Bucharest, at Capital Plaza Hotel.
Read Full article »
Strategic Talent Acquisition at People Empowering Business Forum on October 30 in Bucharest

Latest trends like demographic upheaval, globalization, digital technology, and changing social values and worker expectations, are disrupting business models and radically changing the workplace. These are req
Read Full article »
Informal IT School and UiPath launch an educational program for RPA development to start in October

Informal IT School announced a partnership with UiPath to launch an RPA development educational program of five months, 100 hours of courses, five days a week. The program will run in Cluj-Napoca.
Read Full article »
Impact Hub Bucharest joins 3house to manage three coworking spaces in the city

Impact Hub Bucharest, a coworking spaces manager and developer of accelerator programs and events merged with 3house, a new concept of workplace launched in 2018. By this, Impact Hub reaches 3 locations and 6.7
Read Full article »
JLL: Total office space in Bucharest to reach 3 million sqm

The second quarter of 2019 reconfirmed the increased interest for the office market in Romania. Over 115,000 square meters of office space were leased over this period at the national level, a value similar wit
Read Full article »