How giving back pays dividends for communities and companies

Outsourcing Today recently spoke with Jeffrey Puritt, President and CEO of TELUS International, about why giving back is a key component of their corporate culture, their exponential growth and their remarkable success in Romania and around the world.

TELUS International provides multilingual contact center, business processing outsourcing (BPO) and IT outsourcing solutions for some of the world's top brands. They are also known for their unparalleled commitment to improving the social and economic welfare of citizens in the communities where they operate. The company's efforts are driven by their community giving philosophy, "We give where we live".

The benefits of a corporate social responsibility strategy

A commitment to simultaneously address social inequities and create meaningful social change while growing their company has been a priority for TELUS International since day one. By design, their global corporate social responsibility (CSR) efforts are unparalleled in the BPO industry, stemming from their unique 'people-first' culture that surrounds employees at the company and extends to caring for the communities where they live, work and raise their families. The overall positive energy that is generated from social involvement is contagious, and, as Jeffrey shared, "Our desire to positively impact the quality of life for today's and tomorrow's generations is from the heart, and the results of our efforts are fostering communities with healthier and better educated citizens who are receiving the necessary support to achieve their full potential. We are proactive to ensure the success of these communities because we understand there's a natural symbiotic relationship between their wellbeing and our business success.

"The communities where TELUS International operates are the talent pools from which they recruit and hire their employees. If the communities are suffering, economically or otherwise, the likelihood of sourcing qualified candidates decreases. "If we don't contribute to their well-being and success, sooner or later, our employees and our company will be negatively impacted," continued Jeffrey. The majority of TELUS International's employees are millennials who share a philosophy of wanting to be part of something bigger, referring to themselves as 'we' not 'me'.

As an employer that provides a unique platform, enabling the participation of their employees in community initiatives on so many different levels, TELUS International distinguishes them as an Employer of Choice. "Through our commitment to corporate social responsibility, I believe we're consistently able to attract and retain a higher level of talent as well as individuals who are a cultural fit within our organization," said Jeffrey. "Not only are job-seekers choosing to work for companies that share their values, clients are also evaluating BPO providers on more than the conventional value proposition and are increasingly recognizing the connection between corporate social responsibility and better business performance."

CSR in action: TELUS Days of Giving

In addition to charitable donations and funding, TELUS International also believes in the power of volunteerism as is demonstrated through the company's large-scale volunteer initiative, TELUS Days of Giving.

Once a year, team members set aside their regular activities and devote a full day to a common cause in their community, multiplying their individual efforts by working together on significant projects, such as building schools from the ground up or refurbishing youth centers and orphanages. Since their inception at TELUS International in 2006, more than 40,000 employees, alongside their family members and friends, have volunteered over 340,000 hours to make a difference in the lives of more than 70,000 individuals worldwide. In Romania, the first TELUS Days of Giving took place in 2013, and it has since been held in five different locations across the country, including the Pinocchio and Ciresarii placement centers in Bucharest, public school no. 136 in Ferentari and Plopsor Village (Dolj County), and the first HOSPICES of Hope Social-Medical Center in Adunatii-Copaceni. Over the past four years, the scope of the projects undertaken and employee involvement have consistently grown. To date, more than 1,300 employees have volunteered over 12,000 hours, supporting nearly 2,500 individuals. In 2016, TELUS International Europe partnered with the HOSPICES of Hope Foundation, the leading palliative care charity in South-East Europe.

Inspired by their mission, TELUS International Europe employees came together on a summer day in June to renovate their medical center in AdunatiiCopaceni. With their hearts and hands, they transformed an old building into four clean, safe and beautiful rooms for families with children in need of medical care. They also refurbished the exterior of the center, installed and painted a fence around the property, painted the exterior of the building, planted over 350 trees and built a brand new playground. TELUS International Europe also donated 65,000 euros to the refurbishment efforts carried out by 350 of their employees, clients and stakeholders. The renovated space will help the center support 400 children with rare and life-limiting illnesses, 600 family members in need of comfort and serve as the location for their beloved children's camp attended by more than 500 campers each year. It will also be used for the specialized training of 200 health professionals and the delivery of 2,000 evaluation and therapy sessions annually.

TELUS International Europe will return to the same site again this year on June 10, this time donating 80,000 euros to renovate the HOSPICES of Hope Center. They will be transforming an old building into an educational center and a tech house that will leverage the latest technology, such as virtual reality and artificial intelligence, to provide advanced therapy for children suffering from a life-limiting illness. They will also build a new home for a family in need who live on site.

The impact of CSR on employee engagement

In addition to their passionate community giving efforts, TELUS International's commitment to listening to their employees' feedback, is another way their unique and caring culture comes to life. Through their annual Pulsecheck survey administered by Aon Hewitt, the company measures engagement by determining if their employees 'say' positive things about the company, if they plan to 'stay' with the organization and if they 'strive' to go above and beyond in their roles. "We invite our employees to comment on every aspect of their work experience in order to find out what we're doing well and where we're challenged in order to be constantly improving," said Jeffrey. "This past year, we achieved an 81 per cent engagement score – a global-leading result that also far outpaces Romania's average engagement score of 59 per cent in our industry."

"We understand there's a natural symbiotic relationship between our business success and the well-being of our communities." Jeffrey Puritt, TELUS International


JEFFREY PURITT: PRESIDENT AND CEO, TELUS INTERNATIONAL

Since joining TELUS International in 2005, Jeffrey has delivered remarkable results, earning the company a more than 1 billion US dollars valuation, adding more than 5,000 team members in each of the past two years, and engaging some of the world's most iconic brands as clients. Jeffrey was recently named "Executive of the Year", receiving an esteemed international Stevie Award for his vision and leadership in redefining the global outsourcing industry. He is especially proud of the company and team's global philanthropy and volunteer efforts that are making a meaningful difference in the communities where they operate.

---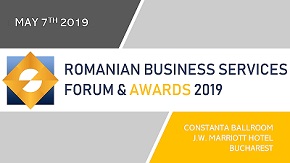 » Bosch continues local service centres ...
» Romania slides 10 positions in A.T. Ke...
» Bosch Service Solutions to grow 20% Ti...
» Genpact's COO: Staying ahead of the cu...
» Exclusive OT print issue: Genpact may ...
» Molson Coors started to grow its busin...
» Embracing limitless learning
» Romanian Outsourcing Awards for Excell...
» Ciprian Dan, Wipro BPS: The industry n...
» Tim Hoffmeister becomes CEO of IT solu...

Workplace of the Future conference to take place on November 20th at Bucharest

The Diplomat-Bucharest together with Outsourcing Today organize the 3rd Edition of WORKPLACE OF THE FUTURE, on 20th of November 2019, in Bucharest, at Capital Plaza Hotel.
Read Full article »
Strategic Talent Acquisition at People Empowering Business Forum on October 30 in Bucharest

Latest trends like demographic upheaval, globalization, digital technology, and changing social values and worker expectations, are disrupting business models and radically changing the workplace. These are req
Read Full article »
Informal IT School and UiPath launch an educational program for RPA development to start in October

Informal IT School announced a partnership with UiPath to launch an RPA development educational program of five months, 100 hours of courses, five days a week. The program will run in Cluj-Napoca.
Read Full article »
Impact Hub Bucharest joins 3house to manage three coworking spaces in the city

Impact Hub Bucharest, a coworking spaces manager and developer of accelerator programs and events merged with 3house, a new concept of workplace launched in 2018. By this, Impact Hub reaches 3 locations and 6.7
Read Full article »
JLL: Total office space in Bucharest to reach 3 million sqm

The second quarter of 2019 reconfirmed the increased interest for the office market in Romania. Over 115,000 square meters of office space were leased over this period at the national level, a value similar wit
Read Full article »