TELUS International Europe: E-book: How to select the right Key Performance Indicators (KPIs) in the contact center
Modern technology has given us the ability to quantify almost every action, including those taking place in the contact center. By monitoring and measuring business activities, companies have a greater ability to control costs, manage their workforce and ensure an exceptional customer experience in every interaction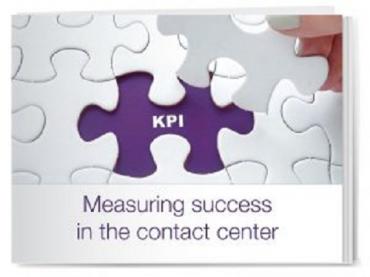 Grégoire Vigroux
Vice-President Marketing of TELUS International Europe



But cutting through the noise to identify what data is actually important can be challenging. Certain Key Performance Indicators (KPIs) are focused on assessing the efficiency and effectiveness of the agent (e.g. Average Handle Time, First Call Resolution), while others measure overall customer perception (e.g. Net Promoter Score, Customer Satisfaction). And some serve to measure the health of the internal corporate culture, or of the organization itself, such as employee engagement scores and attrition rates.
KPIs can also overlap and impact each other. At TELUS International, a BPO with a measured engagement level of 81 percent, we've found that the more a company's stated values align with its culture, the higher it drives measured team member engagement and the lower it pushes attrition. When this equation exists, sustained top-line growth follows. It's what we call the "
Culture Value Chain
," and we've seen it proven again and again.
For example, the fierce competition faced by one of our clients in the wireless communications industry demanded that they lower costs while increasing their Likelihood to Recommend (L2R) score. In response, we implemented mechanisms for agents to provide direct customer experience feedback to the client's retail store operations. Then, we eliminated the Average Handle Time (AHT) metric so agents felt empowered to do whatever it took to meet customer needs and directly contribute to the L2R score. The client's engagement level increased by 12 percent, and lower attrition drove down costs while increasing customer retention.
As the above example illustrates, monitoring and measuring the right KPIs can have a significant impact on the business, including your top line. But there is no one-size-fits-all approach to running a world-class customer support operation; the "right" KPIs vary from organization to organization. Still, the following recommendations and expert analysis offer tips, tricks and best practices to help you choose – then improve – the most critical KPIs in the contact center, all in an effort to drive an even greater customer experience.
Keep up-to-date with the latest thinking about BPO, ITO and Contact Center solutions. Each month, TELUS International, a global provider of contact center outsourcing and BPO solutions, shares insights on the latest customer service trends.
Related articles:
www.telusinternational-europe.com
/
www.telusinternational.com