N-iX, EPAM, Luxoft, Ciklum, Intetics, TEAM International Services included among top global providers – A view from Ukrainian market

Every year International Association of Outsourcing Professional announces a list of top global outsourcing providers and according to N-iX company, specifically, these are international IT companies which have development centres in Ukraine and also Ukraine-based IT businesses. 2016 ranking included 10 companies with offices in Ukraine while this year the country is represented by 13 providers.

Recently announced 2017 list includes four international companies with R&D centers in Ukraine, namely EPAM, Luxoft, Ciklum, Intetics, TEAM International Services, Softjourn, and 5 Ukraine-based IT service providers: N-iX, SoftServe, Eleks, Miratech, Softengi, Sigma Software, and Program-Ace.

The Global Outsourcing 100 serves as a reliable reference for organizations that seek qualified providers of outsourcing services. The ranking is based on four criteria, namely size and growth, customer references, awards and certifications, programs for innovation, and corporate social responsibility. Thus providers have to go through a scrupulous selection procedure and meet a number of stringent requirements. The IAOP accounts over 120,000 members and affiliates worldwide. It advocates outsourcing, offshoring and shared services as the driving forces of the modern global economy.

• Technology, the main driving force behind globalization

It also has dramatically changed the way we work and the way we do business. The physical space poses no barrier anymore, the connectivity we have now has created an environment where geographical distance and boundaries have less relevance than ever. Therefore, organizations approach nearshoring and offshoring from a new angle. As stated in the Deloitte research, outsourcing is now emerging as an innovation center by solving capacity issues, creating global scalability, and providing access to intellectual capital, the N-iX company data states.

Many claim that outsourcing is the ultimate empowering force both for global businesses and labour force, others envisage the end of the outsourcing era. Indeed, automation, AI and robotics have already wiped out many manufacturing jobs so companies have started to rethink the merits of this practice since they can keep smaller amount of necessary resources in-house. However, services outsourcing and especially IT outsourcing are going uphill.

According to Computer Economics research, the percentage of the typical IT budget going toward outsourcing has been rising modestly in 2016, ending the downward trend of the previous four years when many IT organizations began hiring to augment internal operations. Outsourcing this year accounts for 10.6% of the IT budget on average, which is slightly up from 2015. Additionally, recent findings by Gartner, Inc. indicate that driven by growth in software and IT services revenue, worldwide IT spending is expected to reach 3.5 trillion dollars in 2017, up 2.9 percent from 2016 estimated spending of 3.4 trillion dollars," the analysis say.

The Global Outsourcing 100 list features such established businesses as Accenture, Colliers International, Tata Communications Transformation Services (TCTS), IBA Group and more. Thus the growing number of Ukrainian IT companies and vendors with R&D centres in the country that have been recognized by IAOP is a really good sign for the industry and the country's economy overall. Andrew Pavliv, the founder and CEO of N-iX, a Ukrainian company that has experienced significant growth this year and has been listed in GO100, envisions further development for the Ukrainian IT sector. "For us, recognition by IAOP means that we've reached an important milestone and it inspires and motivates us to deliver even more value to our clients, - notes A. Pavliv. - The fact that the number of Ukrainian companies on the list grows every year only reinforces my contention that Ukrainian IT industry is on the right track. It is already the third industry in the country by the number of export. There are plenty of vendors that operate in a wide range of industries and perform at global standards. More importantly, our IT professionals have won the reputation of skilled and experienced specialists so the clients are ready to trust us with the most complicated tasks from data analytics to full digital transformation of their businesses".

Since cost saving remains the major reason for outsourcing, the first and apparently the most obvious reason behind the development of Ukrainian IT outsourcing is the state of the economy. Ukraine is a developing country advantageously located in Eastern Europe while the standard of living in the state is not as high as in Europe and the IT labour market is not that intense.

On the other hand, those who think this is the main reason are deeply mistaken. The biggest value companies are looking for in Ukraine is the human capital, an impressive number of qualified IT professionals. The modern global economy leaves no chance for laggards, timing matters more than ever. Therefore, companies outsource to Ukraine to scale their software and their business fast. In Ukraine, they can find plenty of providers that can set up a highly qualified team in less than 3 months. In addition, they may easily find the specialist with the necessary domain knowledge due to the large variety of projects outsourced to Ukrainian providers.

One may argue that you may find the same in India for the lower price but it's not totally true. There's a great cultural gap between the Western clients and Indian providers and though it might seem insignificant, it diminishes the quality of communication and influences the delivery of the project. Since in modern business, communication and relationships are key elements of success, this aspect can't be overlooked. And those who have previously had the negative experience of outsourcing understand this very well.

• What awaits the Ukrainian IT Industry?

Although 2016 didn't demonstrate any major rise in the global IT outsourcing, in Ukrainian IT we have witnessed some positive growth dynamics. An extensive research by PwC has shown that in 2016 the amount of human capital has increased almost by 20%, and since 2011 the industry has doubled in size. The advance of IT sector is strongly felt in the country. More and more people enter the industry that offers competitive salaries and other perks. Both universities and the biggest IT companies open new courses to train professionals, many conferences are organized by the community.

The biggest IT event in the country, Lviv IT Arena, gathered over 2,500 professionals in 2016. Commenting on this year's GO 100 list, CEO of Lviv IT Cluster Stepan Veselovskyi points out: "The fact that 13 companies that have development offices in Ukraine got into the Global Outsourcing 100 list, means that Ukrainian IT is moving in the right direction. The number of Ukrainian companies in this list is growing annually. This, first of all, is the evidence that our IT marker is developing, companies and services they provide are of better quality and bigger in scale. Secondly, this means that our success does not remain unnoticed in global IT market, our country has gained the reputation of a reliable supplier of technical services".

Over 100,000 people work in the industry now and every workplace in IT creates 3.5 jobs in the adjacent spheres. The value of IT outsourcing export in 2016 reached 2,8 bn dollarsand it has become the third industry in by the amount of export after agriculture and metallurgy. Consequently, Ukrainian government has taken a number of initiatives to support the development of this sector. For instance, they have eliminated a lot of the red tape behind the export of services making it possible to sign contracts in the electronic form. Additionally, the state has simplified the cooperation between freelancers and their customers enabling their transparent and legal operation.

Making distant forecasts is not very feasible in the modern economy but we may expect the Ukrainian IT sector to grow by 10% this year as well. As for the projected number of IT professionals in the country, it is likely to surpass 120,000. With this pace of development, the Ukrainian IT export is likely to go over 3 billion dollars.

• Conclusions

Needless to say that outsourcing has a compelling business logic. It helps to increase productivity and competitiveness while reducing costs and putting no pressure on the company's core business. However, the uncertain economy has forced companies to outsource more carefully and more strategically. Businesses scrutinize the providers very thoroughly and the annual IAOP list helps them make an informed choice among the industry leaders.

Nowadays, outsourcing is a strategic tool that has transformed the global business, made it more agile and targeted. The Ukrainian IT professionals have caught this tide at the right time and do everything possible to keep it flowing. Can the outsourcing boom go on indefinitely? Probably not. Yet multiple surveys and researches indicate that we may expect the growth of the Ukrainian IT industry in the next decade. As for the companies that look for the qualified vendors, Ukraine definitely deserves their attention.

Find all the data on N-iX on their official website: N-iX

---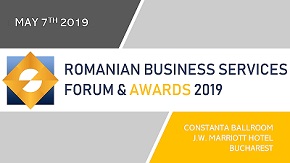 » ROMANIAN OUTSOURCING AWARDS FOR EXCELL...
» Meet the winners of ROMANIAN BUSINESS ...
» Pavel Campan appointed as the new Vice...
» CBRE: Office deliveries expected to br...
» Genpact's COO: Staying ahead of the cu...
» N-iX, EPAM, Luxoft, Ciklum, Intetics, ...
» Molson Coors started to grow its busin...
» The Outsourcing industry announces its...
» Exclusive OT print issue: Genpact may ...
» Capgemini to open new office at Suceav...

Workplace of the Future conference to take place on November 20th at Bucharest

The Diplomat-Bucharest together with Outsourcing Today organize the 3rd Edition of WORKPLACE OF THE FUTURE, on 20th of November 2019, in Bucharest, at Capital Plaza Hotel.
Read Full article »
Strategic Talent Acquisition at People Empowering Business Forum on October 30 in Bucharest

Latest trends like demographic upheaval, globalization, digital technology, and changing social values and worker expectations, are disrupting business models and radically changing the workplace. These are req
Read Full article »
Informal IT School and UiPath launch an educational program for RPA development to start in October

Informal IT School announced a partnership with UiPath to launch an RPA development educational program of five months, 100 hours of courses, five days a week. The program will run in Cluj-Napoca.
Read Full article »
Impact Hub Bucharest joins 3house to manage three coworking spaces in the city

Impact Hub Bucharest, a coworking spaces manager and developer of accelerator programs and events merged with 3house, a new concept of workplace launched in 2018. By this, Impact Hub reaches 3 locations and 6.7
Read Full article »
JLL: Total office space in Bucharest to reach 3 million sqm

The second quarter of 2019 reconfirmed the increased interest for the office market in Romania. Over 115,000 square meters of office space were leased over this period at the national level, a value similar wit
Read Full article »