Societe Generale-European Business Services, a short history

Societe Generale European Business Services (SG EBS) has registered a fulminant growth since its establishment in Bucharest and plans to keep growing by diversifying its activities and strategies. Innovation, commitment and people are the main growth drivers Text courtesy of Philippe Garcet, CEO, SG EBS.

The journey of Societe Generale European Business Services began with the need for a strategic location to sustain and transform the European operations of the Group. The purpose was, from the early days, to deliver high-added-value services in various fields of activity for worldwide entities of the Group. Here, in Romania, there were multiple factors that contributed to our development, from the local talent pool to strong infrastructure. Thanks to the first successes, our development plan went faster than initially thought and now we are proud to say that we have extended our services to cover all needs of our clients.

"We are clearly seen as the European in-house service centre on the SG Group map. Our activity has grown substantially over the past five years; from only one SSC specialized in Finance in 2011, we developed into a comprehensive company providing a wide range of activity: Finance, HR, IT and our new line centred on operation and other corporate functions. In 2012, SSC HR was launched to complete the SG EBS services portfolio in Human Resources. In 2015, the launch of SSC IT helped SG
Group to extend its IT operations in Eastern Europe. Not only has it increased our role in SG Group's activity around the world, but it helped to complete the portfolio of services we deliver. Now, we are a shared service centre for many entities of the Group, serving all the major business lines of SG Group in over 20 countries. Considering the ascendant trend within SG EBS and also the strategic advantages we found here in Romania, our successes have confirmed our commitment to stay in Romania and continue to develop our businesses here. Business news COP: Societe Generale is leveraging more and more on its shared service centres, as part of the Group's transformation strategy worldwide. New activities, besides the traditional Finance, HR, or IT, are now considered as candidates for mutualisation within SSCs. Leveraging on this strategy and trend, Societe Generale EBS has made the decision to open a fourth new line of activities, Corporate and Operations, in order to deliver services for the head office in Paris and other European entities also.

The development approach is opportunistic, the ambition being to respond to a wide range of Group needs. The service offer is concentrated on two major types of activities: corporate functions (such as audit, contract and data management, internal consultancy, legal support,) and operations (Middle- and back-office, client on boarding support and data management). The objective is to benefit from the Romanian talent pool, by focusing on complex tasks with a high added value for the customers. Based on preliminary forecasts the growth expectation for this new line of activities should develop fast in the next three to four years. Innovation Why is it important to innovate? Innovation is one of the Four Values of Societe Generale group. We are convinced Innovation will disrupt our market and we want to leverage on that dimension to transform our value proposition and our operating model. The importance of innovation can be found in both the external and internal context. Growth nowadays is exceptionally difficult and "doing what you usually do a little bit better" is no longer sufficient to maintain it long term. The environment has been transformed as the internet, social media, and digitalization changed not only how customers buy services and what they expect from them but also the behaviour of the employees. Technology goes beyond creating new products, but it currently focuses on better understanding what customers and employees want and which is the best way to deliver it. It's important to introduce innovation into everyone's job responsibility and create opportunities for collaboration that go beyond the traditional organizational structure. As a key part in our activity, innovation led us to create a series of actions to enhance its presence in SG EBS. We have established an internal "Hack-a-thon" at the end of November, with the intention to encourage collaboration between various functional teams in order to improve SG EBS employees' day-to-day activities. Another action planned in the near future is a monthly event where our employees will have the opportunity to interact with the start-up/ entrepreneurial environment by working outside SG EBS premises, in a specialised start-up Hub. Also, an Internal Accelerator program will be organized in 2017 having as its aim to increase SG EBS innovation capabilities by partnering with local entrepreneurs/start-ups.

Best asset of SG EBS: PEOPLE - what we do for our employees We have more than 800 employees, serving customers in more than 20 European countries and this is only possible with the right people – the right team, sharing a common team spirit. Team spirit, our first value, goes beyond how we work together. It's about forming durable relationships, based on respect and trust. Building team spirit together is about the excitement and satisfaction that come from learning and supporting one another, because the most important relationship is the one we build with our employees. As well as team spirit, we look for innovation, responsibility and commitment. In all of our businesses, these values - shared by all colleagues - foster an environment which combines in-depth expertise and the constant desire to anticipate our customers' needs and changes to the market. When joining Societe Generale European Business Services, you will find very diverse people driven by excellence and whose widely recognized expertise is always dedicated to better serve our clients. We work hard to attract and retain a diverse mix of talented people from a wide range of backgrounds. Then we help them integrate smoothly and successfully into the company. Because relationships are at the heart of how we operate, Societe Generale is committed to strengthening bonds with colleagues, communities and the world in which we live. Engagement of our people is crucial to better satisfy our clients and shape the future of the Societe Generale group. We are working and also growing together with the business lines (Finance & Accounting, IT, Human Resources, Corporate Operations) in the spirit of continuous improvement in order to make SG EBS the best place to work. Growing people and even more, growing together, is a core of our vision for the company's future. Several development programs have already been launched supporting both technical and personal development and most of them are sponsored by senior and top managers in a joint venture with the HR Corporate and L&D teams. This is just one of the main confirmations that the top management of the company cares about the future and is ready to invest in SG EBS' people's satisfaction and development. One of the programs that today involve more than 120 managers is the "Management Academy".

The program started in 2015 and it covers the full range of management tools on different levels and with different learning support from workshops to co-development, coaching sessions or exposure to different interventions that give a better business understanding. The program addresses both the employees who are not yet managers, yet with very good potential to become so in the near future, up to the most senior ones. Another large program being designed today is a "school" for each business line, ensuring the best technical and soft skills kit for each competency level. This brings to the same table senior expert matters, top management, HRBP, Learning and Development seniors and project managers in order to find the key of excellence in each activity line. "ACCA" is one of our main training programs - more than 100 employees - being actively engaged in different levels of the programs and being supported by the company during the entire learning cycle.

Foreign languages is also one of the main pillars of our employees' development and more than 250 of the employees are enrolled in a foreign language training program, mostly in French and English, but also German, Italian or Spanish. Having in mind our need to develop and support performance we have also created an internal pool of coaches who are prepared to work with their colleagues in order to improve their competencies, to better understand roles and responsibilities and sometimes even support them in personal development. CSR Ambassadors People are engaged if they are involved, so we try to create a structure and governance that make this possible. For example this year we have created our CSR Ambassadors program as a response to our employee's willingness to participate in corporate social responsibility (CSR) projects. But we consider that the best way of making them take part in projects is to choose together the type of initiatives that we all believe in and to participate from the very beginning in each initiative. Now we have 15 proud CSR Ambassadors that collect and propose ideas, work in their implementation, promote the projects and tell the story of each project to their colleagues so they could also help."

---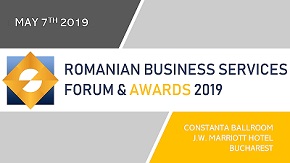 » Submit your nomination for ROMANIAN BU...
» Ciprian Dan, Wipro BPS: The industry n...
» Exclusive OT print issue: Genpact may ...
» Yonder: The first Dutch company in Clu...
» Next Generation Shared Services Roadsh...
» Bosch continues double-digit expansion...
» Exclusive OT: Federal-Mogul to expand ...
» Federal-Mogul inaugurates new manufact...
» GRS has one of the fastest growths and
» Luxoft expands Asia Pacific presence w...

Workplace of the Future conference to take place on November 20th at Bucharest

The Diplomat-Bucharest together with Outsourcing Today organize the 3rd Edition of WORKPLACE OF THE FUTURE, on 20th of November 2019, in Bucharest, at Capital Plaza Hotel.
Read Full article »
Strategic Talent Acquisition at People Empowering Business Forum on October 30 in Bucharest

Latest trends like demographic upheaval, globalization, digital technology, and changing social values and worker expectations, are disrupting business models and radically changing the workplace. These are req
Read Full article »
Informal IT School and UiPath launch an educational program for RPA development to start in October

Informal IT School announced a partnership with UiPath to launch an RPA development educational program of five months, 100 hours of courses, five days a week. The program will run in Cluj-Napoca.
Read Full article »
Impact Hub Bucharest joins 3house to manage three coworking spaces in the city

Impact Hub Bucharest, a coworking spaces manager and developer of accelerator programs and events merged with 3house, a new concept of workplace launched in 2018. By this, Impact Hub reaches 3 locations and 6.7
Read Full article »
JLL: Total office space in Bucharest to reach 3 million sqm

The second quarter of 2019 reconfirmed the increased interest for the office market in Romania. Over 115,000 square meters of office space were leased over this period at the national level, a value similar wit
Read Full article »