The importance of balancing digital and traditional customer service
This article is from Issue 2 of Customers First magazine – sharing global insights on customer strategy and innovation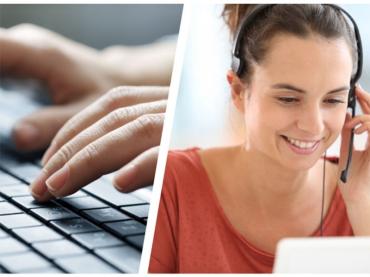 In the modern era, communicating with consumers requires technology. Digital customer service channels like web, chat, social media, email, and forums offer a convenient, cost-efficient manner to communicate with customers, particularly Millennials. According to Forbes, this attractive group of consumers is predicted to spend $200 billion annually in the U.S. by 2017. They are also notoriously averse to using the phone to contact customer service.
Many brands, however, have a tendency to over-rely on digital capabilities in their customer service strategies. They overlook the importance of human interaction at their peril. Direct person-to-person communication enables us to understand the customer's emotion and offer a sympathetic response, something that automated digital channels, like chatbots, simply can't do.
Thus, the significance of digitalization in customer care is not just about the adoption of new technologies; it's also about adapting to changing customer expectations and demands. Convenient, easily accessible, personalized, seamless, omnichannel, instant and self-help availability are just some of the expectations consumers have today.
While technology can help check off a lot of these boxes, customers can sometimes balk at overreliance on digital channels. Want proof? A recent study by Accenture found that 83% of U.S. consumers prefer dealing with human beings over digital channels when it comes to solving customer service issues.
This doesn't mean that investing in social media, self-help or community management is a mistake. On the contrary, digitalization of customer service provides even more options for customers to interact with brands. What is vital, however, is ensuring that the human element, which customers still expect, remains a core component, regardless of their changing channel preferences.
Here are some considerations to ensure the human touch remains present in your company's digital customer service strategy:

1. Omnichannel customer care
With customers shifting between devices, implementing an
omnichannel customer service
strategy can help ensure positive interactions across all touch points. The most successful strategy, however, doesn't rely solely on availability across mediums but also on incorporating the human connection where and when a customer needs it.
For example, Amazon has introduced the 'Mayday' support button on their Kindle Fire, putting a live agent at their customers' fingertips whenever they need help. This instantaneous connection to live support offers a great example of how to combine technology and the human touch in a logical and seamless manner.
2. Text analytics
With social listening tools, brands can combine artificial and human intelligence to proactively solve customer issues, fostering a more positive customer experience. By using
text analytics
to identify keywords, themes, sentiment and language on various social media platforms, companies can determine the most important issues and respond accordingly. Agents can interject in the conversation to proactively address questions, solicit ideas and solve customer problems.
3. Integrated CRM technology
Humanizing the customer relationship requires knowing who is at the other end of the exchange. Agents should have access to comprehensive customer information in real-time, from a single source, in order to better connect with the customer. Utilizing integrated Customer Relationship Management (CRM) technology allows agents to provide a better level of personalized service, regardless of the channel.
Technology today dictates how people shop, communicate and engage with brands. While the different channels of interaction may seem endless, it's important to remember – how you make the customer feel is what will have a lasting impact.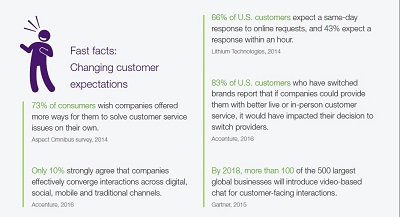 Customer service quick facts.
www.telusinternational-europe.com
/
www.telusinternational.com