The benefits of working

As of last year, the market signaled several reforms in terms of performance management processes, transforming the way companies are measuring the performance of their employees. Accenture took the start and soon, other companies followed and embraced different types of performance management, according to each company's culture, profile and needs.

Because concepts such as motivation of employees, wages, bonus system, benefits and so on are directly connected and result from performance management and how accurately it is put to work at each level of an organization. According to HR Trend Institute, the trend setters are looking for ways to measure real performance, in order to be able to detect hyper performers. "When performance can be measured and connected to individuals, top performers seem to perform five to ten times better than average. Performance measurement is an enormous opportunity for HR. If HR can find ways to measure real performance, and can improve the detection of potential top performers, the business impact can be big," stated one of the studies conducted by HR Trend Institute.

However, regarding the benefits, especially during 2015, the institute researched and found out that, from the executive compensation front, the market received "some weak signals". According to their studies, "external benchmarking seems to become less popular. Responsible companies with strong Boards dare to look more at internal differences.

Does it make sense for the CEO to earn five, ten, or even twenty times more than people in the organization two layers down, even if it is justified by the external benchmark? Is the top team really so money driven that they will leave if the Board decides not to follow the market? 2016 will not show major shifts, but it is worthwhile to follow the executive compensation developments.
Outsourcing Today talked to top managers in banking and insurance to find out how 2016 answered these questions. Melania Mirea, member of Management Board at BCR Pensii said that Romania begins to align to global trends, as local employees recently started to request additional benefits besides their wages. The most common incentives are health insurance and sports subscriptions, travel vouchers and gift cards, professional training, but also private pensions and insurance. HR departments have a crucial role in informing the employees and explaining these multiple short and long term benefits, as they usually are unknown and unassessed. "And it's a pity not to benefit from such low-cost but high-impact opportunities such as a private pension, which has the great advantage of fiscal deductibility for both the employers and the employees," Mirea stated.

According to the manager, in other countries employees not only negotiate their wages and annual bonuses, but also the whole set of immediate or long-term benefits. And long-term benefits with high impact on a person's future, such as retirement savings and different types of insurance, are much appreciated and have a strong influence over the employment decision. "The local perception is that short-term benefits are preferred and used by employees, but recently Romanian companies stated to follow the global trend and are more and more concerned about the long-term benefits and their impact on the employees' future. Also, health problems and financial issues are well-known factors of low work productivity and have a negative influence on the company results, so educating and helping employees in this area could only have an overall positive result for all parties," Mirea added. Also, as often underlined in the specialized conferences and roundtables on topics regarding HR trends, the work environment becomes more and more important, especially for the young generation.

As Catalina Musat, HR manager at Metropolitan Life stated, creating a pleasant and motivating environment for employees ranks among first places in the top priorities. "Employees' needs are often changing; in this light, customized salary packages are no longer enough to fully motivate employees nor assure they devote themselves to the company," Musat said. The manager cites a Gallup study that states only 13 per cent of employees are dedicated to their job worldwide due to the low level of motivation, and Romania is also a part of this trend.

According to studies conducted by Gallup in previous years, a key element that employees seek is their well-being and work-life balance within the organization. "Locally within Metropolitan Life but also globally within MetLife - the group we are a part of - the employees' well-being is part of our strategy and culture. Specifically, it's about loving what you do in the first place, then you need to have a good relationship with the others, to manage well your economic life and resources, energy and good health, and last but not least to feel that you are part of a team. By reducing the pressure, perhaps felt by some employees, we make sure that we are not affecting their performance. Well-being is also an important retention indicator today when the competition for talents is getting fiercer. This is the reason why employees decide to come into a company or why they choose to stay," Musat added.

In 2016, corporations and SMEs represented a segment with real opportunities for growth from the perspective of Metropolitan Life, according to their data. The growing segment of native enterprises and developing SMEs also brought a certain competition among companies in their chase for spotting and retaining talented employees. "Here is the point where our collaboration with these companies becomes relevant, as employee benefits are part of every organization's retention strategy these days.
To attract valuable resources to your team and to keep them is a must to provide employees with consistent and flexible benefits. In this regard, we have already extended the life insurances group offer, adding new medical benefits customized to employees' needs. New medical benefits protect the health and the life of employees and include: medical refund for prescription drugs, up to a certain limit agreed in the contract, medical investigations, refund for the costs for eyeglasses, ambulance transport, the purchase of means of support for people with disabilities, but also the possibility to introduce, as part of the life insurance offered by the group, daily benefits for medical leave," Musat said. As the manager stated, the market signals a growing trend with regard to the interest shown by organizations for employee benefits. Hence, the portfolio of Metropolitan Life includes customers that opt for complex packages, such as packages that may cover insured amounts of over one million Euro, for a group insurance provided by an employer.

For complex packages, the companies on the market offering solutions in this respect need to partner. As Musat said, Metropolitan Life develops collaborations with different partners, both banks and financial institutions, including Banca Transilvania, GarantiBank, TBI, RCI Leasing, Credit Agricole, Raiffeisen Bank, UniCredit, UCFIN, BRD Finance, Piraeus, and CEB. "This year, Metropolitan Life has signed a strategic partnership agreement with Banca Transilvania, through which the bank's customers can benefit from life insurance packages attached to consumer loans. We intend to continue these partnerships next year, at the same time, we aim to improve the efficiency of distribution channels so that every segment of the market will receive the products in a simple and accessible way," detailed Musat.

Modern employees, up-to-date benefits In these modern days employees have various and complex needs, trying very hard to balance their career with their personal life and family, being preoccupied about their health and wellbeing but also about personal development programmes and leisure time, according to the BCR manager. Thus employers' incentive programmes have become more flexible and even tailored to their employees specific needs. "For instance, a famous global IT company offers a holistic all-inclusive incentive programme, covering every important aspect of their employees life: complete health programmes (including innovative components such as fertility and autism), personal and professional growth (training, coaching, continuous learning programmes), family (various facilities for babies, including adoption benefits and surrogate pregnancy), financial support (retirement plans, survival benefits), convenience (free food and snacks, transportation and laundry benefits)," Mirea stated.

"The benefits lists are nowadays more comprehensive and flexible, so the employee could choose the right combination for himself. But all the company efforts are useless if the personnel is not aware of these benefits and opportunities, so I can't stress enough how important it is for the HR departments to spread the info about the benefits packages to all the employees. And especially when a new person comes on board, perhaps it would be a good idea to spend just a few more minutes than usual to explain to him or her the whole benefit list, to highlight the company's advantages compared to other employers and even to briefly educate them regarding the long-term benefits such as saving into a pension fund for a carefree retirement," Mirea added.

However, as underlined by the HR manager of Metropolitan Life, the entire benefits package should be able to attract and retain valuable wanted employees, even if the salary and premiums remain the decisive factor in employees' motivation.

According to Catalina Musat, both locally and in other countries such as Poland, Slovakia, Czech Republic, Ukraine, and Hungary, companies have started to pay an increasing importance to extra-salary benefit packages. "For example, in USA there is the socalled 'Cafeteria' plan, which is a flexible form of benefits offered by employers. This system is, in fact, a benefits menu among which employees can choose within the limit of an annual budget. Moreover, employees can opt for a holiday card that may include accommodation, meals and other amenities. Another benefit underutilized by us is 'Workplace Childcare Solutions'. In this case, employees have the opportunity to bring their children to kindergartens or day care centres arranged at their workplace. Thus, they are more motivated and it creates a balance between their career and private life," Musat detailed.

According to Metropolitan Life data, Romania starts to align with regional and international trends in terms of widening the benefits package. "In multinationals, beside the classes, workshops, or weekends with colleagues, a significant success comes from the advantages concerning employees' personal interests and passions. In the future, it will tilt the balance towards those benefits regarding the balance between personal and professional life. For example, increasingly popular are the advantages related to people's personal protection and their family's protection, concerns, or hobbies, such as reading - Bookster – or other interests, such as design, parenting, baby care," Musat concluded.

From BCR's perspective, the most common employee benefits on the local market refer to health, sports and well-being areas, travel and other leisure activities, gift cards and retailer discounts, but also professional training, insurance and private pensions. "Romania started to follow the global trend and if 15-20 years ago all we knew and negotiated was the monthly wage and the annual bonus, in present days we talk about variable payment correlated to employee's individual performance, various and flexible benefits packages, including longterm incentives. The Romanian labour market is more dynamic than ever, with sophisticated and well informed employees seeking customized and efficient incentives," Mirea said. The manager added that she strongly recommends all employers to value and to retain their best employees by offering them long-term benefits such as supporting them to save up for a dignified income in their retirement years. "We are optimistic about the future, as large companies acting as leaders in their field started to include the private pension in their employee benefits package and other companies seem to follow their example. Especially that private pension contributions are a very cost-effective benefit for the company, due to their fiscal deductibility," Mirea concluded.

Counting the money in 2016, the consultancy company PwC surveyed companies from main economy sectors and the findings showed that wages in the private sector have increased by 3.7 per cent on average in 2016, a slightly lower increase than that initially planned by companies (3.9 per cent). The "PayWell Romania 2016" salary and benefits survey comprises compensation data provided by 133 companies across five industry sectors (banking, FMCG, retail, pharmaceuticals and industrial products). A number of customized analyses and reports, based on the geographical location, headcount and revenue of the participating companies can also be derived from the PayWell study.

The qualitative part of the report comprises information on specific compensation policies (e.g. salary increases, fixed and variable bonuses) and analysis of more than twenty benefits available on the market, from company cars to meal tickets.

According to the research findings, the highest average salary increases were registered in the retail (4.3 per cent) and FMCG (5.8 per cent) sectors, while below average increases were registered in the banking industry (2.6 per cent). "This year, sectors directly related to consumption (retail and FMCG) reported the highest wage increases, influenced by the raise of the minimum salary at the national level, but also by the positive economic results and increased consumption due to reduced VAT. However, sectors less related to internal consumption, such as banking, have maintained a cautious wage policy, similar to previous years," stated Mihaela Mitroi, Tax and Legal Services Leader, PwC Romania and SEE.
For 2017, companies are cautious regarding budgeted salary increases, planning a wage increase level similar to 2016 (3.8 per cent average increase at market level), with a stronger dynamic in the retail (4.9 per cent) and industrial sector (4.4 per cent) and a more moderate increase in the banking sector (three per cent). Also, according to Horatiu Cocheci, senior manager, Human Resource Consulting Services leader, PwC Romania, "the private sector is staying cautious regarding wage increases, a sign that the crisis lessons have been learned, and companies wish to keep the rhythm of salary increases in line with productivity gains and also with a long-term vision, without being influenced by elements that stimulate short-term growth."

The highest entry-level wages for employees with higher education are offered by pharma companies (3,700 RON gross), while banks remunerate entry-level employees with less than half that amount (1,800 RON gross). Entry level wages for employees with secondary education range between 1,400 and 1,600 RON, depending on the sector. 29 per cent of the respondents award wage increases to entry level employees after the trial period is over. Regarding performance-based bonuses, these are awarded mostly at top and middle management level, but also to sales employees, such as for the sales staff in the FMCG companies (two-thirds of the respondents offer performance based bonuses to this personnel category).

Performance bonuses range between nine per cent of the annual wage for blue-collar employees and 40 per cent of the annual pay for top management employees. For sales employees, performance bonuses equal a third of the annual wage. The criteria for awarding the performance bonus is tightly related to individual results of the sales employees (70 per cent of companies) and for the operational personnel (63 per cent), although they depend to a greater extent on the company's overall results for middle and top management (more than a quarter of the respondents take into consideration this indicator exclusively when deciding to grant performance bonuses).

Regarding extra-salary benefits, PayWell shows that the most frequent benefits offered by local companies are, as usual, "security related": such as meal tickets (74 per cent) and subscriptions to private healthcare clinics (55 per cent). 23 per cent of the companies taking part in the 2016 PayWell survey offer the possibility of a flexible schedule (a growing trend compared to previous years), 13 per cent allow their employees to work from home, and eight per cent have short Fridays – also on the rise compared to previous years. "As the labour market becomes more dynamic and competitive, the number of employers offering these types of benefits will increase, especially since Millennials appreciate very much the flexibility in deciding when and from where to work. In order to encourage flexible working arrangements, some legislative clarifications are needed, so that the employers will feel comfortable awarding these facilities to their employees," concluded Nicoleta Dumitru, manager, Human Resource Consulting Services, PwC Romania.


---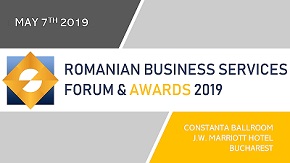 » ROMANIAN OUTSOURCING AWARDS FOR EXCELL...
» Meet the winners of ROMANIAN BUSINESS ...
» Pavel Campan appointed as the new Vice...
» Genpact's COO: Staying ahead of the cu...
» CBRE: Office deliveries expected to br...
» Exclusive OT print issue: Genpact may ...
» N-iX, EPAM, Luxoft, Ciklum, Intetics, ...
» Molson Coors started to grow its busin...
» TELUS International Europe: How fast-g...
» Leoni to open new SSC in Cluj, cut job...

Workplace of the Future conference to take place on November 20th at Bucharest

The Diplomat-Bucharest together with Outsourcing Today organize the 3rd Edition of WORKPLACE OF THE FUTURE, on 20th of November 2019, in Bucharest, at Capital Plaza Hotel.
Read Full article »
Strategic Talent Acquisition at People Empowering Business Forum on October 30 in Bucharest

Latest trends like demographic upheaval, globalization, digital technology, and changing social values and worker expectations, are disrupting business models and radically changing the workplace. These are req
Read Full article »
Informal IT School and UiPath launch an educational program for RPA development to start in October

Informal IT School announced a partnership with UiPath to launch an RPA development educational program of five months, 100 hours of courses, five days a week. The program will run in Cluj-Napoca.
Read Full article »
Impact Hub Bucharest joins 3house to manage three coworking spaces in the city

Impact Hub Bucharest, a coworking spaces manager and developer of accelerator programs and events merged with 3house, a new concept of workplace launched in 2018. By this, Impact Hub reaches 3 locations and 6.7
Read Full article »
JLL: Total office space in Bucharest to reach 3 million sqm

The second quarter of 2019 reconfirmed the increased interest for the office market in Romania. Over 115,000 square meters of office space were leased over this period at the national level, a value similar wit
Read Full article »