ASE: Getting ready for the new Outsourcing Masters programme - from OT print issue
A classroom of 80 seats fully refurbished by Genpact. Traditional partnerships with Microsoft, Oracle and SAP University Alliances Program as Full Membership. And a Business Services master evaluated and accredited by ARACIS in 2015 summer that will start this year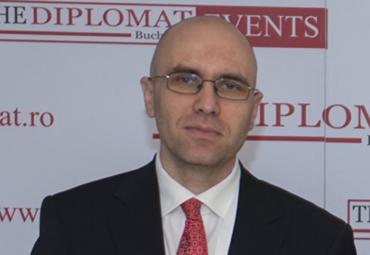 They are all parts of the private-public partnerships that the Academy of Economic Studies (ASE) has sealed, says in an exclusive interview, Ionut Anica-Popa, director with the Economic-Social environment relation Direction, the Academy of Economic Studies.


Which are the partnerships that the Academy of Economic Studies have with the companies, in educating students for the IT or outsourcing industry?
For The Bucharest University of Economic Studies is very important to have partnership with companies in order to increase the employability for our students. From our point of view, employability is not simply to get a job in a reasonable period of time… it is much more. Professor Mantz Yorke states that the employability represents "a set of achievements – skills, understandings and personal attributes – that make graduates more likely to gain employment and be successful in their chosen occupations, which benefits themselves, the workforce, the community and the economy" ('Employability in Higher Education: what it is- what it is not', Higher Education Academy/ESECT, 2004). Therefore, in order to fulfil our objective to increase students' employability, it is a must to have an excellent collaboration between university and companies.
Now, regarding your question about the students' education in IT or outsourcing, I think we have two perspectives: a wider perspective related to outsourcing and another perspective related to the "outsourced domain" which can be IT, accounting, human resources etc. As it is known, our university is formed by 12 faculties: 11 faculties that have bachelor, master and doctoral programs: Business Administration (in Foreign Languages); Administration and Public Management; Business and Tourism; Economic Cybernetics, Statistics and Informatics, Accounting and Management Information Systems; Theoretical and Applied Economics; Agrifood and Environmental Economics; Finance, Insurance, Banking and Stock Exchange; Management; Marketing and International Business and Economics and one faculty, Bucharest Business School (BBS), that provides our MBA programs: Romanian-Canadian MBA, Romanian-French MBA and Romanian-German MBA.
As you can see, if we want to discuss about students that are "suitable" to work in IT industry, our flagship is represented by the Faculty of Economic Cybernetics, Statistics and Informatics, but we have also a representative curriculum for IT in the Faculty of Accounting and Management Information Systems. For the IT domain, we have traditional partnerships with Microsoft, Oracle and starting with academic year 2016-2017 we will join SAP University Alliances Program as Full Membership. In the same time, we are developing new partnerships, related to the IT domain, with companies from Big4, banking, oil & gas, local software companies and ITOs.
Of course, we can discuss about most of the "outsourced domain" that exist in Romania and we can say that we have partnership with the most representative companies. For example, if we talk about finance & accounting, we have partnerships with leading tax, accounting and audit companies: Deloitte, EY, KPMG, PwC, Grant Thornton, Mazars, TPA Horwath, with BPOs or SSCs: Ariston, British American Shared Service Europe, Genpact, DB Schenker, Hewlett Packard Enterprise, Process Solutions etc.; if we discuss about payroll we have a partnership with Automatic Data Processing.
If we talk about the business service industry, we have a partnership, similar with a framework, signed with the Association of Business Service Leaders in Romania (ABSL) and specific partnerships with most of the ABSL's members.
What are the main accomplishments, up to now?
The cooperation between our university and companies from business services industry has various aspects: guest speakers from companies to lectures or seminars, workshop for students organized by companies, company presentations, Open Doors events (for students or professors), workshops for professors, Job & Internship Fair, designing specific academic programs. In the same time, companies are sponsoring events organized by our university like yearly scientifically session for students or helps us to refurbish classrooms (the latest example is a classroom of 80 seats fully refurbished by Genpact).
I would like to focus on the cooperation between ABSL and the Bucharest University of Economic Studies, which had two main objectives: designing a master program tailored according to the requirements of the business services industry and increasing the visibility of business services industry in the university.
The Business Services master program was evaluated and accredited by ARACIS in 2015 summer and will start this year. The program is structured on four semesters and the curricula was designed by the common efforts of ABSL experts and ASE professors. During the two years' program, students will have a job in the companies from business services industry and will be under the permanent guidance of a tutor and each company will receive a progress report for each student which is sponsored by it. In the same time, at courses and seminars will be invited many specialists from the industry that will presents real case studies.
The increasing visibility of business services industry in the university was sustained by organizing, starting with 2014, visits of students in companies from industry (were organized more than 50 visits and workshops and more than 1500 students participated at the events); more than 10 top managers/executives from companies were invited for speeches at the opening of the academic year in 2015; in this spring, it was organized a conference in Aula Magna of the Bucharest University of Economic Studies where were invited top executive from industry. In the same time, a significant part of the ABSL members is supporting students for mandatory internship.
Taking into consideration the dynamic, the trends and other factors related to business services, the opportunities but also the latest challenges from this industry, our university together with the companies are discussing and analysing new ideas or projects that can be useful for students, companies and university.
How should the curricula be changed, to include more practical training?
This is an excellent question, but unfortunately there are a lot of external factors which influencing, directly or indirectly, these aspects. If we discuss about the mandatory internship, for the bachelor program we have 90 hours, but starting with the next cohorts of students, according with the new regulation of Romanian Agency for Quality Assurance in Higher Education (ARACIS) will be 84 hours. Most probably, if we will ask companies about this, they will say that the 90 hours allocated for the mandatory internship are not enough. Maybe it will be a good idea to conduct a survey to see the opinion of companies, fresh graduates and students about the length of the mandatory internship.
Now, regarding the increasing the number of career activities, first of all, I want to emphasize that during March and April 2016 we organized more than 50 career activities. Unfortunately, we are facing with a great inertia of the students in being involved in those activities, but with the support of the companies and NGOs we try to change this mentality. In the same time, maybe if the student should be involved in career activities, volunteering etc. starting from the high school or even gymnasium, probably they will have another perspective related to career activities, which could thus be more efficient.
How and what should we steal from other countries, in order to become more performant?
I am sure that issue can generate a lot of debates and most probably we will never obtain a conclusion that can be "approved" by everybody.
In my opinion, firstly we must define what represent a performance education system. So, what is a performance education system: a system that can generate students with exceptional performances at international Olympics? If it is this, then we have a performance education system, because yearly we gain international medals on mathematics, informatics, etc. Another option could be: a system that can generate students that can study abroad at the world top universities? If it is this, then we have a performance education system, because we have thousands of students studying abroad. Other option could be: a system that can generate graduates than can have an exceptional career at top companies? If so, then we have a performance education system, because we have hundreds of graduates working abroad or in Romania in multinational companies and they have all chances to have amazing careers.
But all approaches above are focusing only on top students, even if talking about student from high schools even if we talk about students from universities. If we will focus on the average students, we must take into consideration other perspective: what are their knowledge, competences etc. that can help to became an entrepreneur by starting a business, to get a job in accordance with their qualifications or to study to a university (if we talk only about students from high school) or what are their knowledge, competences comparing with similar students from education systems from other countries (Germany, France, UK, Finland etc.).
The focus on top or average students are only two partial perspectives and, of course that can be identified many other perspectives for defining a performance education system, therefore I consider that this topic is extremely complex and we don't have enough time and space to approach it.
Also, if you allow me, I would like to provide to you the following case study:
Scenario: The business environment requires a lot of young graduates, let's assume with IT and/or foreign languages skills. The students can hire to work from the last year from bachelor program and the salaries offered to them are much higher than the salaries that can have it as professors in high schools/universities. In approximately 2-2.5 years they will finish their master program and after this period of time, they already will have a job well paid in companies, usually 2-3 till 7-8 times better than the salary in education system.
What is the future of education systems, who will teach the students in high schools in order to go to study in universities and who will prepare them in order to be ready to occupy roles in companies according to business expectations?
I think that could represent an interesting case study, to be debated in a workshop/conference together with business, academic and governmental representatives.