Stefanini: tens of students in internships, thousands of Euro invested -from OT print issue
Over the past three years, around 30 students were involved in our internship programs, with tens of thousands of Euro invested in such programs, if we consider the training costs and the salaries paid, says Andreea Stanescu, vice president Stefanini, EMEA Delivery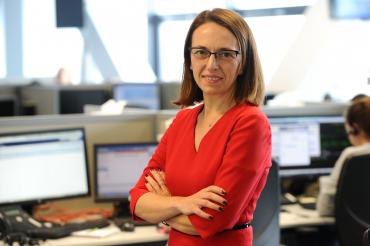 Stefanini supports young people interested in achieving great results and building a career in the IT industry. This is why the company focuses its attention on students and graduates of universities with a technical profile.
"They are after all, the new generation that will help develop and expand the industry in the following years…We offer internship opportunities and support them in their need to acquire the necessary skills for a successful career," says Stanescu.
Stefanini has a number of entry-level jobs available for them in Bucharest, Sibiu and Târgu Mureș, offering mentorship and the chance to grow in an international work environment.
"Moreover, we recognize the talent deficit and the need for qualified workforce in this very competitive industry. Thus, we try to bring our contribution to the development of the IT industry, specifically to the outsourcing sector, by involving employees in key positions in an unique initiative in Romania – launching the first Master's Program dedicated to preparing students for a career in this field."
The Master's Program is developed in collaboration with the University of Economic Studies and will be available for interested students starting this year.
An important internship
Over the past three years, around 30 students were involved in company's internship programs. Last summer, for example, Stefanini organized an internship program dedicated to students or graduates that had only basic knowledge of technologies like Mobile, .Net, Java and QA, and wanted to learn more. They were mainly students from technical universities in Bucharest that worked part-time for six months with company specialists on various projects.
"It's important to mention that our internships are not only dedicated to young people interested in software and applications development. We also organized internship programs over previous years, each lasting three months, in our HR department. We targeted students specialized in Psychology for this specific internship, but we also welcomed students that were passionate and interested about HR.
"There are tens of thousands of Euro invested in such programs, if we consider the training costs, the salaries paid - these internships are being paid."
She explains that each year has its training budget, but generally speaking, one can consider they cover between 5 and 10 per cent from our overall training expenses.

Solving the talent scarcity
While companies try their best in training students, the government has to do its bit, too.
"The government should work with the private sector to encourage young people to follow a career in the IT industry. We have around 7,000 IT graduates every year, but it's still not enough. This is a dynamic and competitive industry where unemployment is non-existent. The companies have the capacity to absorb new IT specialists every year."
There is great potential to this the market.
"As companies see many young people that want a career in the IT industry, the universities must also work with the private sector to update the curriculum because students don't always get to learn the most demanded technologies on the market, like .Net, Java or PHP."
Training the personnel
Stefanini offers a number of personal development opportunities for employees, regardless of the position they hold in the company.
"We help them get important certifications by working with professional trainers, organizing training sessions several times a year. This is why our specialists have a significant number of certifications in technologies like Microsoft, Oracle, IBM, PHP, Alfresco, ServiceNow, SAP, Adobe, Project Management, Scrum Master, Testing, Cisco and Business Intelligence," says Stanescu.
Each employee benefits from internal learning solutions (online learning platforms, instructor-led training, on the job, etc.) in order to be able to perform their current roles better and to move forward in their careers.
"We also organize a significant number of external courses and certifications, that are complementary to the internal ones: Scrum Master, Project Management (PMP or PRINCE2), ISTQB courses and Certification for our software testers, any relevant Microsoft, Oracle, IBM, SAP certifications, ServiceNow courses and certifications. We apply the blended learning principles, and we believe that we are a learning organization already; our employees are very eager to learn, to share with others, to become champions of continuous learning and development," she concludes.