Optima sees major expansion in Iasi - Exclusive OT print issue

Optima Call's journey started in October 2010 with an enthusiastic and experienced team. Now the Bucharest-based company expanded to Iasi and plans to grow exponentially the personnel figure at their new office, tells Outsourcing Today the general manager of Optima.

A provider for large multinational companies in various industries like telecom, financial services and utilities, Optima currently employs more than 230 employees in the offices in Bucharest and from February 2016 in Iasi.

"For this year we will focus our growth efforts in Iasi where we plan to reach 100 employees in one year from the site opening.

The market continues to grow through both SSC and outsourcing companies expansion and we are happy to be in line with this growth," says Mereuta.

For Optima, 2015 meant a 35 per cent business increase.

"For the future we see Iasi as our main vector for development and growth but we will add new business in Bucharest as well in order to maintain our rhythm. We do not aim large expansion, we want to keep our medium-size, as we see it as an important advantage due to our increased flexibility and efficiency."

Main clients served have changed, too. From Romanian customers and partners, multinational companies with large operations in Romania, the company started expanding to on-line retail business. "This basically opens the whole world, not only to the regional market...I think we've come a long way and in the past years, many efforts were done both locally but also at CEE level to increase awareness on the region and Romania."

While the Polish model is very succesfull and need to be followed to some extent, an example in this respect is the development of 2nd and 3rd tier cities.

"We need also to intensify and accelerate the collaboration between the industry, local authorities and education institutions and some steps were done in this direction as well.
Besides in implementing what it has been working in Poland or other CEE countries I think that we still need to find our major claim, our "success factor" let's say," Mereuta says.

Romania needs to concentrate more on developing the succes sectors.
"Is it IT? We have been spoken for years that we have a claim here, but if that's it, then we defintely need to focus much more on this, as part of the country strategy, not only as a focus for the industry. We cannot just replicate Poland model because there are differences, we need to find our strongest point, work hard and became the best in it."

Threat of saturation

While human resources are harder to find, the saturation trend becomes a real issue.

"That is definetely an issue, the questions is how big is it? In my opinion the expansion capabilities of Bucharest are extremly limited," says he.

The other large cities like Cluj, Timisoara, Iasi might still have some room but things needs to be done quicly in order to preserve this opportunity, and the burden hangs over the local authorities.

"Besides jobs people need access to good residential posibilities, education and infrastructure. Of course opportunities exists also in small-medium cities (third tier) as well but I think there are limited at this point."

Meanwhile, the current attrition rate is driven more by external factors and less by internal ones.

"Looking at packages and benefits lists, everybody is doing something and mostly the same things. I would say that in the future the culture and the organization environment will be the main differentiator."

But the competition for resources in the large cities will continue to increase for the years to come.

"This is a challenge that we must live with and try to adapt. Europe population is getting older and older on average and this will impact our industry an well. In the next 5-10 years the average age in a BPO/SSC will increase and we need to look at the middle age segment as well. In Romania, besides investing in education, I would look on some strategy for people above 40-45, even 50 years old," Mereuta said.

However, tertiary cities will prevail in the next expansion wave.
"If Bucharest will continue to attract the biggest stake of the next expansion I think it will not be good. Not for Bucharest and not for the industry overall. We need and we must to develop smaller/medium cities as well."

There are at least five-seven cities with potential, but it all depends also on authorities, not only on the investors.
"Maybe some company will take the challenge of attracting people if they will have some tax facilities or maybe office developers will start investing in office buildings in smaller cities if they will have already some commitments and so on, it is an ecosystem. Local authorities need to pay more attention to this industry and work on it, you put somebody in charge, put together a list of possible players, connect potential real estate investors, universities etc and I am sure it will work," Mereuta concludes.

---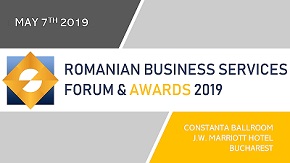 » Ericsson and Skanska trial IoT for Sma...
» CBRE: Office deliveries expected to br...
» DTZ: Office demand outside Bucharest t...
» ROMANIAN OUTSOURCING AWARDS FOR EXCELL...
» Meet the winners of ROMANIAN BUSINESS ...
» Why AFI Tech Park is the best value fo...
» Capgemini to open new office at Suceav...
» Genpact's COO: Staying ahead of the cu...
» Kaspersky's top 4 dangerous file attac...
» Exclusive OT print issue: Genpact may ...

Workplace of the Future conference to take place on November 20th at Bucharest

The Diplomat-Bucharest together with Outsourcing Today organize the 3rd Edition of WORKPLACE OF THE FUTURE, on 20th of November 2019, in Bucharest, at Capital Plaza Hotel.
Read Full article »
Strategic Talent Acquisition at People Empowering Business Forum on October 30 in Bucharest

Latest trends like demographic upheaval, globalization, digital technology, and changing social values and worker expectations, are disrupting business models and radically changing the workplace. These are req
Read Full article »
Informal IT School and UiPath launch an educational program for RPA development to start in October

Informal IT School announced a partnership with UiPath to launch an RPA development educational program of five months, 100 hours of courses, five days a week. The program will run in Cluj-Napoca.
Read Full article »
Impact Hub Bucharest joins 3house to manage three coworking spaces in the city

Impact Hub Bucharest, a coworking spaces manager and developer of accelerator programs and events merged with 3house, a new concept of workplace launched in 2018. By this, Impact Hub reaches 3 locations and 6.7
Read Full article »
JLL: Total office space in Bucharest to reach 3 million sqm

The second quarter of 2019 reconfirmed the increased interest for the office market in Romania. Over 115,000 square meters of office space were leased over this period at the national level, a value similar wit
Read Full article »