Bosch continues local service centres expansion – Exclusive OT print issue

While Bosch sells equipment and electronics, it also developed a BPO center in Timisoara, an R&D center in Cluj and production units in Cluj and Blaj.

Last year's investments reached about 40 million Euro, about 50% larger than 2014's levels. And the Timisoara center is set to grow further more, in line with the general double-digit expansion of the company's local bussineses, Raluca Romanu, the general manager of Bosch Service Solutions, tells Outsoucing Today.

When did Bosch enter Romanian BPO operations? How big was the investment so far?

It all started in November 2007 after the acquisition of Business Relations SRL by the Bosch Group. We were a team of approximately 150 people which developed over the years. Our associates focus on strengthening our position on the market, and on the continuous development of our location in Timisoara. In 2016, we plan to significantly increase the number of employees. Our investments have been mainly made in equipment, IT infrastructure and professional development for our associates. Further investments depend on business growth.

What new expansion and investment are you planning for 2016 and over the mid-term?

We relocated part of the operations into a new business service center in Timisoara to accommodate the continuous growth and expansion plans. The new office space allows additional shared service relating to finance and accounting for the Bosch Group as part of the newly established corporate finance sector. The range of services includes general accounting and financial reporting, accounts payables and receivable management, travel and expense management as well as general ledger and fixed assets.

With the new office space the total operational surface has increased from about 4,200 to more than 6,700 square meters. The new facility is equipped to high standards and corresponds to current and future demands providing customers with excellent services and associates with very good working conditions.

How did your market evolve during the past period and what future evolution do you foresee?

The ups and downs of the last year have challenged again one of the most important features of captive and outsourced business services – its agility. Beyond economies of scale, process standardization and transparency, companies seek flexibility with their shared service operations. Being able to react speedily to market changes or acquisitions and mergers can offer a company significant competitive advantages.

One of the trends that was visible in 2015 and will be even more prominent in 2016 is the multi-tower approach, where several functions are brought together to form a shared services model. Shared Service Organizations (SSO) have bundled already two or even three functions, the most popular being finance and accounting, procurement, human resources and IT.

Customer Experience is gaining more and more importance, and in 2016 the race from good to great experience will speed up.

What are your company's future plans for Romania?

Bosch Service Solutions here in Romania continues to focus on international customer projects, either in the business support environment or focusing on technical support. This enables the location in Romania to create a competitive advantage and benefit more from its associates' skills in creating new partnerships with our customers.

It is an approach aimed to establish a solid and profitable business basis of the location in Timisoara, with a long-term view.

What geographies are companies regions are you serving? What language skills are predominant?

We provide services in 19 languages mostly for B2B european customers. We employ higly qualified associates fluent - in speaking and writing - in the language required by our customers.
Associates who additionally have other skills, like technical and IT skills are essential for sustainable and balanced business growth.

Is there a threat of labor saturation in the market, especially in larger cities in Romania? Or it is still possible to expand?

Romania has enormous potential in the business services sector. Different studies place it among the top European destination for all types of global services activities due to the sound knowledge of foreign languages and IT skills, adaptability to other cultures, and proximity to Western Europe.
In spite of the positive trend, the local market still faces its own challenges such as: Customized educational system, for e.g. increase in the level of language proficiency, SAP knowhow, European legislation, internships; increased local competition in the cities where shared service organizations (SSO) have been set up; salary increase due to competition for talent with other local companies. This also applies at regional level as an increasing number of graduates are seeking employment in other countries.

Clients are more demanding about the quality of services they receive from their providers, raising expectations with emphasis on innovation, process re-engineering, demand for industry specific solutions, better customer service, inovative strength, and flexibility.

Innovation remains – nevertheless – at the core of the development and sustainability of any business.

How well are employers in Romania ready to cut the attrition rate, as competition for human resources and talent intensifies?

Attrition in the Western part of Romania is much more influenced by the working culture of the company and by the relationship that can be established. The principles and social values of our company founder – Robert Bosch – continue to shape the corporate culture of the Bosch Group. 130 years later, many of his values, attitudes, and principles – such as credibility, reliability, and legality – continue to form the basis of our company's entrepreneurial and social responsibility. Innovations, high quality standards, an international presence, responsibility for associates' welfare, and support for charitable causes and civic initiatives offer a foundation for sustained business success.

A growing challenge for all companies is the shift brought by the Y generation, who seeks another set of benefits, more in the area of collaboration and personal growth as time for hobbies, voluntary activities, and a very fast career path. Finding the way to facing this challenge will be the key to retain talents in the future.

What are the latest trends in employee motivation? What are the main perks and benefits offered these days to employees and how much do they appreciate them?

First we have to understand motivation for what it is, namely the intention and/or desire to act. We also must know that it is often a personal issue as every associate is motivated by different things.
If we want associates to perform we have to find the perfect mix of motivational triggers.
Some motivating factors that's worth mentioning would be: Provide challenging assignments, assignments that encourage creativity and innovation; Offer interesting work or space for creative freedom in a large company; Value what the associates do and show appreciation; Provide regular training, flexible working hours, work-life balance.

Position, promotion opportunities and financial benefits remain however on most "personal motivational lists".

Are Bucharest and Cluj, Timisoara and Constanta going to dominate the next expansion of BPS services or are there also smaller towns raising interest from expansion point of view?

Bucharest and Cluj, Timisoara and Iasi are four of the main cities in Romania with the proper environment for the expansion and development of the BPO business. Let's take for instance Timisoara. The city offers opportunities to learn foreign languages at a very good level starting from the primary school up to the local universities. It's also worth mentioning that local technical universities take language proficient students and turn them into highly skilled IT professionals. The local infrastructure in terms of IT architecture, broadband internet, availability of A class office space, and of course connecting flights to major airline hubs play a major role.

The business expansion potential in smaller cities such as Craiova, Sibiu, Brasov, Oradea is real as long as the favorable conditions for growth and development are ensured.

What was the biggest problem encountered so far in leading Romanian operations? How about smaller issues?

Bosch Service Solutions in Romania has developed very well in recent years, with current and new services as well as to the collaboration with new customers. We are excited about the growth we are experiencing and this move represents a commitment to continue to build on the positive trend.
One local issue that all companies face is linked to finding and retaining the right talents. With an unemployment rate of below 2 per cent, Timisoara offers a lot of opportunities to young talented people, which is of course a solid basis for the future development of the city.

What would you change about Romania?

One thing that could really boost country develoment would be to bring all regions to a certain level. With strong gaps between its historical regions, Romania still has a lot of catching up to do in infrastructure as well as job opportunities.

A coherent country strategy focusing on the established growth areas (IT services, SSC and BPO, R&D centers as well as sustainable production facilities) would enable a long term growth.
On what education is concerned, current efforts of aligning with market demands should continue and bring more focus on foreign languages, digital competences, technical education and innovation.

---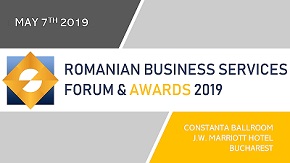 » ROMANIAN OUTSOURCING AWARDS FOR EXCELL...
» Meet the winners of ROMANIAN BUSINESS ...
» Pavel Campan appointed as the new Vice...
» Genpact's COO: Staying ahead of the cu...
» CBRE: Office deliveries expected to br...
» Exclusive OT print issue: Genpact may ...
» N-iX, EPAM, Luxoft, Ciklum, Intetics, ...
» Molson Coors started to grow its busin...
» TELUS International Europe: How fast-g...
» Leoni to open new SSC in Cluj, cut job...

Workplace of the Future conference to take place on November 20th at Bucharest

The Diplomat-Bucharest together with Outsourcing Today organize the 3rd Edition of WORKPLACE OF THE FUTURE, on 20th of November 2019, in Bucharest, at Capital Plaza Hotel.
Read Full article »
Strategic Talent Acquisition at People Empowering Business Forum on October 30 in Bucharest

Latest trends like demographic upheaval, globalization, digital technology, and changing social values and worker expectations, are disrupting business models and radically changing the workplace. These are req
Read Full article »
Informal IT School and UiPath launch an educational program for RPA development to start in October

Informal IT School announced a partnership with UiPath to launch an RPA development educational program of five months, 100 hours of courses, five days a week. The program will run in Cluj-Napoca.
Read Full article »
Impact Hub Bucharest joins 3house to manage three coworking spaces in the city

Impact Hub Bucharest, a coworking spaces manager and developer of accelerator programs and events merged with 3house, a new concept of workplace launched in 2018. By this, Impact Hub reaches 3 locations and 6.7
Read Full article »
JLL: Total office space in Bucharest to reach 3 million sqm

The second quarter of 2019 reconfirmed the increased interest for the office market in Romania. Over 115,000 square meters of office space were leased over this period at the national level, a value similar wit
Read Full article »