Adrian Curaj: Last interview as Minister of Education

One week after Adrian Curaj offered us this interview, he was changed by Mircea Dumitru, rector of the University of Bucharest. The prime-minister Dacian Ciolos says that the four newly changed ministers "worked well in many projects, however, some can be done quicker."

Curaj finished a new document that may change radically the education of Romania, re-introducing technical and professional schools, he tells OT. In addition, he was ready to talk more with private companies and arrange new training and sponsorship packages, including in the outsourcing field - one of the most-affected by the lack of human resources. "Let's walk the talk," he told our Outsourcing Today Forum this May, urging private companies to do more in this regard.

Public- Private partnerships (PPPs) are very important for the future development of the human resources. We suffer from talent scarcity. How did this field evolve, lately?

First type of PPP is the "Adopt a school" program. I discussed about it with the Romanian Business Leaders, and there are several firms doing it. Firms need a qualified personnel, and this is how the "dual" education environment appeared. And we had good experiences in Brasov, Cluj, Timisoara…and the dual mechanism leads to a very high recruitment rate. Some 90-95 per cent of the students get hired.

In addition, the government gives 200 lei per undergraduate student.

We have had a lot of professional and technical schools, now gone, what happened to them?

Of course, during time there were some uninspired decisions…and due to these decisions the system is not doing so well…The undergraduate primary and secondary school student has the option, at the end of the eighth grade, to join a theoretical, technological, vocational (arts, medicine, teaching) and use to have the possibility to go for professional training. For those choosing the latter, students benefit from a 200 lei scholarship monthly.

Public and private schools are financed also, with 3,700 Ron per primary and high school student annually. Colleges get for each students a smaller financing of 2,400 Ron, annually.
There are 3.2 million primary, secondary and high school students in Romania, and only 5-600,000 students, including the private universities.
Companies implications vary, there are companies that add up to the 200 Ron other 700 Ron monthly and ensure full accommodation including meals, as they would benefit from the student's labour after graduation.

In the professional schools area – and companies were complaining about this fairly – the system stopped with the 11th grade. Meaning at the unskilled worker level. But Romania also needs skilled workers and technicians.

And is there any plan to change that?

Yes, this is how we came up to this new legal proposal, up in public debate, to create a new series of schools that would train high-school undergraduates to the fifth level of technical expertise. Meaning up to the superior technician's level, which companies are in need for right now.

Maybe high-school is not for everyone. But one that chooses to go to the professional school can go back to the theoretical high school if he wants, according to this new proposal.
This extends a lot the public-private partnership, as many companies need it…

What are the market's needs?

Mainly we received demands form the automotive area, from the IT, but also from other areas – in Brasov there's a need for mechanics, machine-tools users – and here you need someone who understand mathematics, technical drawing, knows IT and how to operate tools…Now we talk more and more because there's a need for specialized people- and in autumn we will see how this project will be finalized – as we need a lot of training. Agriculture is another need- think that a tractor operator drives a tool worth one million Euro…

We also need people that are trained to make their own businesses. They don't have to finish high-school to do that. There is, therefore, a need for professional schools. We need this need to be truly proven and more children to consider it not a secondary or tertiary option for them. We have a huge problem – at the seventh and eighth grade, children lack counselling.

Parents lack counselling too. This we put accent on a lot, career and psychological counselling – and we will use structural funds – so we will fathom what the students want, and guide them into life.
We must tell them: 'you must walk the path that is suited for you. And once you mature and age, if you want to go on a path or another, to have this link made.

It is very useful for them. And once they are tested, they are encouraged to follow a path, and if they want to change it, to be possible to reverse the process and go back to high-school or vice-versa…

Do you expect a pressure on this area of technological high-school?

I do expect a lot of pressure. Unfortunately, the rate of those that finish technological high schools do not graduate – of some 45 per cent. Unfortunately, there were zero investments made into this infrastructure, and we prepare the Educational Infrastructure Strategy, which will be used by the Operation Regional Program to fund this programme…

You see, that's why I'm Eurosceptic…

(Laughing)…I tried to offer a broader spectrum…I think this discussion is useful, though I can withstand any question from your side…

How about at the Master's level?

We have a PPP especially in the automotive area, but also in the IT area – we call them industrial masters. We have a very good experience, The Polytechnics in Bucharest works well with Renault, at the Pitesti University there's also a very good Master's program with a French automotive company. In the multinationals area there are companies involved with universities, especially for master's programmes. But here there is a debate: how much does the master include the international certifications needed to be very mobile in the labour market?...

In Germany, sophomore students already started practice at the firms that will hire them…How about Romania?

I am not worried about the IT field. They work starting with the second year of collage…They have well-paid jobs and especially the IT outsourcing companies…

Yes, but there's a severe lack of personnel…

That's true…There are fields – and my mandate is not very long, but I want to have this debate – and I want to see what fields did we finance up to now? Where did we inject the public money? What positions did we finance? Let's see: do they respond to Romania's development needs? To the economic and social development needs, health? Did we offer a development to the natural capital, in areas such as agriculture or the bio-economy area - a more complex one...? Do we have enough resources for the energy area, which now moves faster?

We'll see.
But in my opinion we have a much more fluid space in between universities and companies, than between schools and companies. But companies have labs in most universities, and I don't want to refer just to the IT area, let's see the mechanical area- where assisted design and simulation are done with the help of computers…We should once more study what domains should we focus on.

Do we invest enough into the IT education?

Next week we'll have a strategic option for Romania presentation – and it is important to allot public resources – and for sure we need to allocate them in the major interest areas - of development and competitiveness.

In the National Research Programme – National Plan 3, we have a very good mechanism that speaks about the link between the university environment and the industry.

Please detail…

This kind of programme, that we call a 'bridge' grant, starts from the idea that the company has technology, but doesn't have the resources needed all the time…So what we want is that, if the company identifies its issue, we can offer the company the possibility to have students under its roof, if the company has a dialogue with the Universities and the master's program members, and we (the state) will finance the students, if the company will sign their payroll. As a voucher. It is not a state aid for the company, the programme is called university-industry relationship - it has been launched this year, and we have had a lot of demand for it…

How many companies did show interest for this programme?

A few hundreds…for sure we will not be able to finance so many, but it is important that we'll create this instrument, the parts will work together and we'll offer extra-resources to make it more efficient…

How should be the curriculum change to include more practical activities to prepare students for the real sector of the economy?

In this area I have a clear message: If we do not develop at the school level, high school and university, a curricula starting from the competences that we expect from the graduate, everything gets complicated…And in Romania, the curricula haven't been developed in this regard…
There are also some delicate situations: many companies say that they send for a year and a half, new proposals to the Ministry to include students in their programmes and they did not receive yet any response…

They did not get responses because the National Qualifications Authority is not yet fully functional, and there is a delay given to the legal frame that does not offer the company to be really a dynamic one – and we opened this box, too. We want to see what actions should we undertake so that we will get the curricula freer so that when the school and the firm get together and identify a need. We have a 10 grades compulsory education, and we must add the professional part…And here we have to discuss- and it is not simple to be done – about the theoretical and practical mix. And opening this window larger towards the companies, the issues will be solved.

And we also learn from companies. In Brasov we had a good dual learning partnership. In Timisoara, the Continental dual learning program, they told us that we need a broader experience in adopting new qualifications. We want to prepare the system to be more responsive. Timisoara, Bucharest, Sibiu and Oradea companies told us that the type of legal contract is not clear. It is neither a pure training contract, not a simple labour contract. We will come to solutions for this.

What are the projects you have prepared? Should we reallot resources?

The education budget is not the one we want for Romania. The law says 6% of GDP, this year we have 3,6-3.7% of GDP, but we would like to have more. We also have EU funds. We have under approval a very important component on dual and entrepreneurial training, so that we'll have resources for professional training, infrastructure, programmes creation. and programmes refining.
We would like the firms not the pay VAT for an educational equipment donated to schools, to make them deductible…We will discuss this with the Finance ministry, to see how much the fiscal space can allow us…but we need deductibility for companies investing in education.

What country models did you follow?

There are five countries: Germany, Austria, Switzerland, France and Holland. They have an involvement in Romania. The German experience is marked by the Chambers of Commerce and industry powerful involvement…In Austria, the businesses send a director to the professional schools that offers only 25% of his time to the school, and is paid by the industry, and not the school, but ensures all the conditions that the school needs to form personnel for the industry. France is also important – we have here Renault, Eurocopter and all of the automotive industry…all need technicians, not only workers. We do not copy a model of a country, but we take models from each one, so that the professionals market follows the demand, and focuses on what that person can do.

How much do these countries allot for education?

I think, more than 5% of GDP.

And why we don't have the 6% stipulated by law?

I don't know. We need a more powerful decision, and if you ask me - and I work in the finance of education for years- I would like to see a national consensus for a yearly growth of the budget with a certain percentage. For years we could not exceed 4%. We should rather fix a predictable growth, than a target that is not reached. We should associate the budget growth with the reality of quality and the thinking outside the box. We did not invest into teacher's training - I'm referring to the 40,000 teachers that we did not invest into, systematically. And we should use now the EU funds to train the teachers- especially into digital teaching. They cannot offer and understand the digital content. And not make it understandable for the students. And we need to train teachers in many fields, not only in IT.

---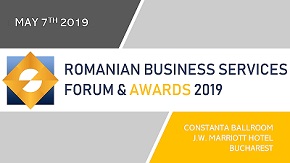 » ROMANIAN OUTSOURCING AWARDS FOR EXCELL...
» Meet the winners of ROMANIAN BUSINESS ...
» Pavel Campan appointed as the new Vice...
» Genpact's COO: Staying ahead of the cu...
» CBRE: Office deliveries expected to br...
» Exclusive OT print issue: Genpact may ...
» N-iX, EPAM, Luxoft, Ciklum, Intetics, ...
» Molson Coors started to grow its busin...
» TELUS International Europe: How fast-g...
» Leoni to open new SSC in Cluj, cut job...

Workplace of the Future conference to take place on November 20th at Bucharest

The Diplomat-Bucharest together with Outsourcing Today organize the 3rd Edition of WORKPLACE OF THE FUTURE, on 20th of November 2019, in Bucharest, at Capital Plaza Hotel.
Read Full article »
Strategic Talent Acquisition at People Empowering Business Forum on October 30 in Bucharest

Latest trends like demographic upheaval, globalization, digital technology, and changing social values and worker expectations, are disrupting business models and radically changing the workplace. These are req
Read Full article »
Informal IT School and UiPath launch an educational program for RPA development to start in October

Informal IT School announced a partnership with UiPath to launch an RPA development educational program of five months, 100 hours of courses, five days a week. The program will run in Cluj-Napoca.
Read Full article »
Impact Hub Bucharest joins 3house to manage three coworking spaces in the city

Impact Hub Bucharest, a coworking spaces manager and developer of accelerator programs and events merged with 3house, a new concept of workplace launched in 2018. By this, Impact Hub reaches 3 locations and 6.7
Read Full article »
JLL: Total office space in Bucharest to reach 3 million sqm

The second quarter of 2019 reconfirmed the increased interest for the office market in Romania. Over 115,000 square meters of office space were leased over this period at the national level, a value similar wit
Read Full article »