Luxoft surged 40 per cent in 2015 – Exclusive OT print issue

If you're a Swiss private bank client, most likely your account is managed through Luxoft's Romanian team of experts' designed applications. UBS, Deutsche Bank and Credit Suisse are just a few of the plethora of clients Luxoft's Bucharest centre serves in Europe and US, tells Outsourcing Today the company's country manager, Bogdan Pelinescu.

Luxoft Romania has ended 2015 with an employee figure of about 1,650 people, 40 per cent up against the previous year, says Pelinescu and is one of the few local outsourced IT services providers that offers only highest degree of service sophistication, of level three and above it. (Where first level is help desk & call centre, and second and third increase knowledge pool to various degrees of complexity).

Luxoft Romania was born in 2008, when it acquired a local telecom-services oriented company which had 600 employees locally, ITC Networks.

"After a year and a half, after consolidating, the main business lines now present appeared. These are the telecom, finance and automotive," says Pelinescu.

Telecom is the traditional local service business line since the ICT was created in 2000, while finance followed in 2010 and automotive - in 2011. The company has invested up to now tens of millions of euros into Romanian operations.

"The company exceeded 1,650 employees during the current year, a 40 per cent increase. We will continue diversifying the project portfolios and bringing in complex, local and global projects so as to ensure further growth," he says.
The majority of projects are large ones, including two, three or four locations where team presence is needed.

"Telecom is our oldest business line. It gave way to other divisions during time, but it remains our main line."
While telecom covers 45 per cent of the revenue mix, the rest is split evenly between the other two divisions, financial and automotive. And if a decision to move outside Bucharest will be considered feasible, Luxoft will expand to new cities as well.

"The clients served from Europe are mostly automotive and finance clients, while the telecom ones come mostly from US. In Europe, we have large financial institutions such as UBS, Deutsche Bank or Credit Suisse among our customers."

Most projects are application-based, customized for the clients. There are complex projects, each taking one to three years, and in larger teams, ranging from banking applications, network management applications to embedded software.

"A Romanian team – for example- builds the car infotainment system- the communications between a phone and the infotainment in car, syncing the agenda, call making, the communication area, the internet inside the car- and that for the majority of premium brands in the market. We can find on Romanian roads software in cars made by our colleagues," he says.

"So you may find a lot of cars in Romania running Luxoft-developed software cars."

Besides the traditional contracts for external clients, Luxoft has an internal R&D for "prototypes", or "frameworks" for the telecom area. There are two development directions: A telecom automatic testing area, open source, called Twister and a second project Supercloud, an SDN (software defined networks) projects that started from the need to have a more flexible and larger cloud network with an improved management.

Therefore, Luxoft manages three and three plus complexity services, mostly key delivered, with support and maintenance included.

While most of the telecom projects relate to networks, the banking area comprises mostly investment banking, outside Romania.
"In Romania we have very few clients, in a very small ratio."

No threat from robots, but IoT will change the industry

When creating software is involved, there's no threat from automation.
"I don't see any threat in the medium to long run. We talk about a creative activity, and not a repetitive one, and each solution needs individual development, therefore, unique applications are born in the end."
While every company has its own motivational and retention strategy, Luxoft also analyses the market annually and comes back with best retention packages to face competition, while the state aid ended already.
"We are involved in a state aid program initiated in 2014, but now this program has ended and we are in monitoring phase. We created inside this program 250 new jobs during 2014 and 2015."
The company intends also to diversify to new areas. "For example, there is an area in which we'd like to develop more here in Bucharest, the energy and utilities industry. Also we would like to bring in more projects for the travel industry, online and booking applications…We have abroad a dedicated division to energy and utilities, and a Smart grid project is developed now in Ukraine."

Luxoft is present in all important geographies, mostly entering markets via acquisition. The last two acquisitions have seen Luxoft buying Radius of US, a company specialized in Internet of Things (IoT), and an UK-based financial consultancy, Excelian.

"I think that IoT will increase the transparency and efficiency of current operations. We are talking about the possibility of monitoring and analysing an important volume of historical data- either in equipment or applications- and to take decisions to improve or give up certain areas, considering these parameters."

It is a field that will certainly change the industry during the next years, and we'll see more and more connected equipment that will ask us to do more so that their operating mode will become optimum, he explains.

One of the biggest challenge in the way of a neat development in the Romanian market was diversifying. "This was a bit complicated. We were traditionally perceived as a telecom expert company, and it took some time for us to create an image in the other vertical development- financial and automotive, so as to prove that in Romania we can also finish complex projects," he says.
"It was a persuasive effort, with small steps, that in the end lead to the current results."

Luxoft has an average age of 27-28. It is a young team of professionals with a high retention rate, and employees become attached to the company. Some formed families inside the firm. Stability is key, he explains.

"It is more and more complicated to find good people in the market, and on the other hand we have a professional training program for youth. Each year we take in 50-80 young graduates."
Internally, the company develops training and soft skills programs.

"In the soft skills area, we have two to three full time trainers that wither develop communication, leadership or negotiation areas. Our training department in renown, and we started offering training outside the company. We were pleasantly surprised to form alliances with our competitors in the labour market- there are three companies in Bucharest which cannot be named."

Romania, still missing larger clients

While larger clients will keep on coming to Romania, it lacks yet all the needed arguments to attract financial giants.

"Large financial institutions appreciate a lot transparency in governing of a certain region. Unfortunately for us, we are still included in the Cooperation and Verification Mechanism (CVM), and the global impression is that yet corruption represents a black spot…Large financial institutions prefer working in geographies that offer stability and this comfortable degree in transparency- in both fiscal and judicial systems."

While Romania makes efforts, it still has a lot of ground to cover to get into the same league with Poland, at least from the image perspective.
"We must continue doing what we are currently doing, and adding some elements that we are currently missing: for example, periodic surveys and communication campaigns for investors regarding our country's newest indicators, that we don't know how to present."

When looking at international surveys, companies look rather for independent sources, and sometimes they do mistakes: one of the largest research firms surveys outside Romania mentioned only 20,000 IT employees. According to local sources, there are at least 100,000 IT specialists in Romania.

But the future looks bright for Romania.
"Looking at the global software deficit, at the massive demand, there are more projects than personnel…It is an opportunity we should try and grab quickly, the only hindering factor is training and growing personnel, as we lack the sufficient number of graduates needed to develop all the projects…"

While last government measure of incentivizing the market helped the industry, companies also make efforts to requalify personnel from other areas. "We have met Geography and even Theology graduates that became excellent programmers."

Luxoft was established in April 2000 by Dimitry Loschinin in Switzerland. Now it has over 10,500 employees worldwide in 31 offices, over 130 clients and an annual revenue of USD 520.5 million, according to 2015 financial data.




---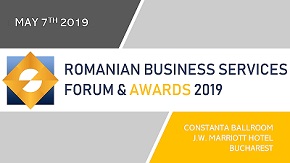 » ROMANIAN OUTSOURCING AWARDS FOR EXCELL...
» Meet the winners of ROMANIAN BUSINESS ...
» Pavel Campan appointed as the new Vice...
» CBRE: Office deliveries expected to br...
» Genpact's COO: Staying ahead of the cu...
» N-iX, EPAM, Luxoft, Ciklum, Intetics, ...
» Molson Coors started to grow its busin...
» The Outsourcing industry announces its...
» Exclusive OT print issue: Genpact may ...
» Capgemini to open new office at Suceav...

Workplace of the Future conference to take place on November 20th at Bucharest

The Diplomat-Bucharest together with Outsourcing Today organize the 3rd Edition of WORKPLACE OF THE FUTURE, on 20th of November 2019, in Bucharest, at Capital Plaza Hotel.
Read Full article »
Strategic Talent Acquisition at People Empowering Business Forum on October 30 in Bucharest

Latest trends like demographic upheaval, globalization, digital technology, and changing social values and worker expectations, are disrupting business models and radically changing the workplace. These are req
Read Full article »
Informal IT School and UiPath launch an educational program for RPA development to start in October

Informal IT School announced a partnership with UiPath to launch an RPA development educational program of five months, 100 hours of courses, five days a week. The program will run in Cluj-Napoca.
Read Full article »
Impact Hub Bucharest joins 3house to manage three coworking spaces in the city

Impact Hub Bucharest, a coworking spaces manager and developer of accelerator programs and events merged with 3house, a new concept of workplace launched in 2018. By this, Impact Hub reaches 3 locations and 6.7
Read Full article »
JLL: Total office space in Bucharest to reach 3 million sqm

The second quarter of 2019 reconfirmed the increased interest for the office market in Romania. Over 115,000 square meters of office space were leased over this period at the national level, a value similar wit
Read Full article »