A fierce competition with a boomerang effect - Exclusive OT


The IT professionals market is undergoing a fierce competition, which in most cases means a salary growth not always backed by performance and productivity increase, a move that can have a boomerang effect on a medium term and a decrease in the interest of doing business in Romania, says Monica Jiman, deputy CEO of Pentalog.

Even if the labour market has experienced a higher pressure and a lack of balance between demand and supply, there is a visible interest in doing business in Romania, the companies seeking to invest here thanks to the competitive advantages this country still has to offer: a good level of skills and costs lower than in the West, she explains.

"But if no concrete actions are immediately taken, there will be fewer and fewer investments compared to other production areas: there are not enough IT engineers and things don't seem to be going in the right direction either. I stumbled into some paradoxical situations as well, when certain universities were forced to give up some IT specializations in the curriculum due to the lack of candidates," Jiman says.

In their turn, companies will be leaving Romania as quickly as it took them to get here, as long as their development strategies cannot be implemented.

"Even if the IT industry will continue to be a career opportunity creator, unfortunately, few young people are attracted to this profession out of passion nowadays. The entry salaries are so high in the market not because of the graduates' impressive knowledge but because of the IT university graduates' low technical levels," she adds.

This is the main reason why companies invest so much in training activities and establish partnerships with different universities via courses on the latest technologies, coordination of graduation projects, workshops, master's degree classes and internship programs.

"Pentalog manages to keep a low attrition rate by maintaining competitive salaries on the IT market, by ensuring an interesting benefit package, and especially via a continuous training, internal policy and extremely interesting projects that cover a wide range of technologies."

From a commercial point of view, Romania must keep its competitive advantages that placed it in the top offshore and nearshore destinations but also develop a strong local market.

"Also, the lack of a critical mass of resources specialized in the latest technologies is a weak point in the evolution of this sector. It's high time employers understood these crucial aspects and adopted the measures necessary for improving this situation," she says.
Pentalog motivates its employees by using a high salary policy including performance bonuses and private medical insurance. Capital is open to employee participation. No less than 20 Romanian employees own about 10 per cent shares in the company.
"Free shares are regularly granted to the most deserving co-workers. Transparency is key as regarding company strategy, stakes and risks…All employees are encouraged to interact and share ideas to boost constant innovation within the company and remain up-to-date with the most innovative tools and practices. This contributes to fast personal development and career evolution. People can thus quickly evolve towards management positions."

A major goal of the company is training the interns for the client start-ups, mostly by using techs and methods (Python, Ruby, React, Scrum and DevOps (operations development), but also for the business itself, business attitude and team play.

"In order to achieve that, we rely on our own ecosystem of 20 start-ups and on the expertise of our 250 customers on every continent. Pentalabbs, Pentalog Institute and La Pep will take the lead on this program internally and I am confident we can afford an objective of 100 trainees in 2016 on those topics."

And Jiman does not agree that IT companies hire only young graduates of under 25.

"It's rather a situation imposed by the circumstances. The Y generation is more pragmatic and less patient but more ambitious and more creative, always looking for new professional development opportunities and not always focused on having a stable career. At this point the companies are challenged to implement loyalty HR strategies aligned with the candidates' flexibility needs and to continuously seek new career opportunities," she says.
"At the same time, this generation is marked by a high level of frustration and discontent, having very high expectations but not matching them with their personal input. The Y generation considers it deserves everything without having to prove anything. Positive or not, there are things we have to take into account when defining the HR policy, organizing production by adapting the recruitment and HR management policy to these new parameters so as to transform them into development advantages."

What Romania should change

At present, the Romanian state finances the salary of every employee enrolled in a contracted plan whatever the job, whatever the diplomas, whatever the level... instead of following the example of countries like Canada, UK, Israel or France, which rather focus on supporting local R&D initiatives, Jiman explains.

"Doing this in a sector characterized by a 10-year full employment is absolutely useless and will finally contribute negatively to the country's competitiveness, at the end of the day."
At the same time, the Romanian universities no longer meet the European standards and former elites "are definitely out now or disconnected with the latest evolutions," Jiman explains.

"Everything has changed, even the business language and phrasing. Romania stays apart and does not go into real business preferring to bet on the 'easy eating' third party subcontracting strategies of the agonizing sectors. This is a dead end since the country shows both a decline of its demographics and a remaining maladaptation of its educational system."
In this context, the "too limited coding force" should be empowered for its innovation prowess, or at least innovators must be "sustained wherever they are".

One of the specific issues is that elite of the IT community is trained outside the country and the majority of specialists never comes back, as opposed to lots of other emerging countries like Argentina, Brazil, Vietnam and Uruguay, Jiman says.
"Romanian coders' model is still abroad and the country goes on losing its substance more like Ukraine, Russia or Tunisia."

So what does Romania need to change fast?

Well, the country should consider the replacement of the current state aid by a true R&D financing program, such as a tax credit system as it already exists in Canada, France, Israel, UK and many other countries.
"It is not by chance that all those countries have issued 'unicorns' (Hotsuite in Canada, Blablacar, Sigfox in France, Anaplan, Shazam and many more in the UK). Thus, any activity providing a consistent elevation above the world wide digital state of the art (technologies) should be eligible for the program, whereas all maintenance and legacies should be rejected (from any state aid)," she says.
Also, the government should encourage the training efforts of all the stakeholders of the Romanian IT community in the direction of the newest techs and methods.
"These encouragements could get financing from the sector itself as a kind of training tax. As a company, if I want to get my money back... I have to aim high."

At the same time, the private contribution to public universities programs should speed up.
"All companies could contribute by allocating an affordable amount of time of their best employees to the university system. In parallel, the best recognized professors would get a grant from companies to help their salaries reach an acceptable level, way above their present ridiculous and shameful level… which actually pushes them out of the education system. That system could be managed by the already existing IT clusters," Jiman says, confirming a plethora of similar opinions expressed at the Outsourcing Summit 2016.

Automation is coming

Pentalog has been providing Business Intelligence and Big Data services to many industries for over 15 years. From healthcare to sports or home automation to smart cities, the Internet of Things (IoT) swarms over our lives. Specialists estimate that 50 billion devices may be connected to the internet by 2020. In this connected world, companies have to be prepared to new data-centric opportunities and imagine new business models.

The IoT boom has been enabled by the association of several technical and business evolutions and innovations: lower power consumption, cheaper and more sophisticated semi-conductors, Wi-Fi and 3/4G internet, standardization of communication protocols.

"Our full-stack expertise allows us to cover the whole scope of the product lifecycle of our clients and meet the main challenges coming with the IoT and the IioT. We are an IT company, and although it's true we have a high level of automation in our processes (when building, deploying and testing IT applications), for the time being we don't see a high level of risk and opportunity in using automated robots instead of people in this particularly creative field."


Adding more to the team

Pentalog is a customer-oriented IT engineering group providing IT outsourcing and consulting services to start-ups, SMEs and multinational companies. The company set up its first nearshore IT engineering facilities in Romania in 2000, in Brasov. Today, Pentalog has four delivery centres in Romania: Brasov, Bucharest, Iasi and Cluj, says Monica Jiman.

"We commit to support our clients in software development and information systems operation and maintenance all along their solution lifecycle, as well as in digital marketing, recruitment and funding all along their growth lifecycle. Finding and recruiting the best talents takes a lot of time and money. This has led us to design, implement and industrialize digital recruitment processes and tools. We recruited more than 150 people each year," says Jiman.

In 2016, the Romanian team will grow by 100 people. With sales offices and delivery centres in North and South America, Western and Eastern Europe and Asia, Pentalog is a global nearshoring partner to companies on all continents.

"We have been serving over 200 clients worldwide for 20 years. With both European (Swedish, UK, French) and American stars, Pentalog is emerging as the preferred supplier of start-ups in Europe totalizing not less than 100 customers from the worldwide scene."

All Pentalog team members speak at least one foreign language besides English: mostly French, German, Russian, Spanish, Italian, Ukrainian, Japanese and Arabic as well. Each Pentalog delivery centre employs one or more full-time foreign language teachers to ensure continuous improvement of oral and written communication skills, which are crucial, especially in an agile project management context.

"In 15 years, we have built up in Romania a talent pool of over 500 people with various technical skills. We believe that a 'never stop learning' approach is the best way to ensure continuous quality improvement," Jiman concludes.




---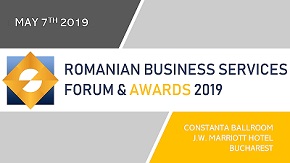 » ROMANIAN OUTSOURCING AWARDS FOR EXCELL...
» Meet the winners of ROMANIAN BUSINESS ...
» Pavel Campan appointed as the new Vice...
» CBRE: Office deliveries expected to br...
» Genpact's COO: Staying ahead of the cu...
» N-iX, EPAM, Luxoft, Ciklum, Intetics, ...
» Molson Coors started to grow its busin...
» The Outsourcing industry announces its...
» Exclusive OT print issue: Genpact may ...
» Capgemini to open new office at Suceav...

Workplace of the Future conference to take place on November 20th at Bucharest

The Diplomat-Bucharest together with Outsourcing Today organize the 3rd Edition of WORKPLACE OF THE FUTURE, on 20th of November 2019, in Bucharest, at Capital Plaza Hotel.
Read Full article »
Strategic Talent Acquisition at People Empowering Business Forum on October 30 in Bucharest

Latest trends like demographic upheaval, globalization, digital technology, and changing social values and worker expectations, are disrupting business models and radically changing the workplace. These are req
Read Full article »
Informal IT School and UiPath launch an educational program for RPA development to start in October

Informal IT School announced a partnership with UiPath to launch an RPA development educational program of five months, 100 hours of courses, five days a week. The program will run in Cluj-Napoca.
Read Full article »
Impact Hub Bucharest joins 3house to manage three coworking spaces in the city

Impact Hub Bucharest, a coworking spaces manager and developer of accelerator programs and events merged with 3house, a new concept of workplace launched in 2018. By this, Impact Hub reaches 3 locations and 6.7
Read Full article »
JLL: Total office space in Bucharest to reach 3 million sqm

The second quarter of 2019 reconfirmed the increased interest for the office market in Romania. Over 115,000 square meters of office space were leased over this period at the national level, a value similar wit
Read Full article »