Stefanini Romania goes to Targu Mures and Chisinau – OT print issue

When Marco Stefanini established his training company in 1987, he would have never imagined that about 20 years later his company will be present in Romania. Stefanini's Romanian operations grew about 25 per cent last year and another 20 per cent upswing is expected for this year, Andreea Stanescu, senior director of Service Delivery EMEA, Stefanini Romania, tells Outsourcing Today.

The company employs about 1,300 people in Bucharest and Sibiu.

Stefanini entered the Romanian market through a buyout in 2010, after taking over Techteam of US, which in turn has been present in Bucharest since 2004.

"Techteam offered IT helpdesk outsourcing services and evolved in time towards a service desk company. They came to Romania to service global companies and they needed European language skills, and this is how the Romanian centre was opened," recalls Andreea Stanescu.

After acquiring Techteam in Romania, Stefanini, a major player in Latin America (LATAM) intending to become a global one, opened up shop in Poland as well.

"The European division grew a lot since then, and 2014 was peak year for Stefanini: we had a 40 per cent growth in revenue and personnel, and in 2015 we grew a further 25 per cent, but even if it seems like a smaller figure, in fact it is applied on a much broader basis," she says.

While in 2016 a further growth of 20 per cent in Europe is estimated, it is expected that Romanian activities will follow the same trend.

"In Romania, we expanded by opening a third centre in Targu Mures starting in March and we are planning to start a new centre in Chisinau as well. The Targu Mures centre was opened to strengthen our German language skills, and in Moldova we plan to approach the Russian market. It's a new trend in the market now, to outsource for Russia; it's the new wave, after the Asian growth of the past years," she says.

While the Sibiu centre offers service desk – infrastructure support of level 1 and 1.5 complexity (there are three levels), it specializes in German language services.

"Now we have in Sibiu about 250 people, while in Targu Mures we plan to employ 60-70 persons by year -end, offering similar types of services. In Bucharest we also have an application development division of 200 people, and an advanced level, infrastructure support division. In Bucharest there are 1,000 overall employees," she adds.

While the global company grew about 25 per cent in 2015, Bucharest, the main delivery centre for Europe, kept up with this rhythm.

"For 2016 year we plan to grow a further 20 per cent. Now we have 1,200-1,300 employees. We have tens of new positions opened. We have new clients confirmed for this year, while a large part of the business comes from already-existing clients. We also offer field support, a differentiating factor from other companies."

But as Stefanini offers field support services in Europe, having about 200 field support technicians that work in client's offices, in Romania there was no demand for it yet.

"We are present in almost all of the European countries, but in Romania the field support is not yet present, as we didn't have any large enough clients. But now we're submitting a tender for such a client. This also offers an interesting career development to our 1-1.5 support level employees who now can grow even further."

In 2014, the last reporting year available, the Romanian revenue reached about 23 million Euro and is set to grow accordingly to the global pace to an undisclosed amount.

"The region profit margins in this industry is about 20 per cent, and due to our dimensions, we succeeded growing up to this margin. Also due to fact that we started offering advanced services - service desk, and not only in Romania - specialized activities grew: incident, problem, change, knowledge and quality management. Clients appreciate this type of model, which is very much aligned with the industry".

The education system lacks training

As the outsourced services industry is booming, relevant education in Romania remains obsolete, at an incipient level, and needs severe changes.

"It is shocking to see people graduating the Academy of Economic Studies or the Polytechnic Institute (of Bucharest) not being able to work with (Microsoft Office) Excel, and this is just an example. Then, we have a lack of balance between the labour demand and supply. But we have potential, and fortunately IT salaries have reached a level that retains professionals within the country," she says.
In fact, salaries have spiralled up to unprecedented levels.

"Even if the salaries have got to a level that allows us to retain our personnel, this is a double cut sword - we can lose competitiveness if we grow it too much. And when talking about professional reconversion, it is not possible to have it after just passing a training course in IT and being ready to perform. Only higher education can solve this problem."

But as the new debate on education spurs out, industry players, mainly grouped within professional organizations such as the Association of Business Services Leaders (ABSL) will lobby the authorities to change the university and maybe the high school curricula as well.

"A few days ago the new national education debate was launched by the presidency, and we'll attend it, either via ABSL or on our own. I'd be glad if the president will leave something behind after his mandate in this regard," she says.

In other countries, the dialogue between the business and educational environment is more intense. "
We have Poland's example, where, also with the ABSL, extraordinary things have been accomplished. We have a Krakow office, and we have seen Poland becoming the largest outsourcing hub in Europe. They have huge local start-ups as well, such as Comarch, one of the largest Polish-owned companies, started from a small entrepreneurial business".

Also Morocco's country program seems better established in comparison to Romania's, and attracts investors in the outsourcing business.

"In Morocco, we have opened a new centre there via a local partner, and I have met people from real estate to administration- there is a country marketing program sponsored by the king himself, and the minister of IT&C is a former corporate manager. Those professionals know exactly who their competitors are…and even if Romania is far higher in their rankings, in Morocco everything is aligned: from state incentives to real estate and educational university programs. This gives us hope, as we have here in Romania a lot of advantages in comparison to others."

Bucharest faces saturation fears

The complexity of the level of services rendered grows in Romania too, and within Stefanini the high-level services have a ratio of 15 per cent. But the lack of specialists is deeply felt by the Romanian market as a whole.

"We tend to grow the complexity ratio, but the problem is the lack of specialists…there are fields where specialists are scarce, such as storage. There are older technologies that die, and newer technologies that just develop. Clients at this level want experts, not juniors. It takes two years to train a junior," she adds.

"But I am optimistic about the changes in education…we need a direction and a medium and long term program that we can hold onto. Romania has a lot of potential. Bucharest is not far from saturation, but this issue can be solved in a few years' time. If we create education programs, they will solve the problem."

While the average attrition rate in the industry is more than 20 per cent, Stefanini, having the advantage of a larger firm, stays below that average. "The attrition rate varies from one company to another. An attrition rate of 20 per cent in the junior level is healthy, while at the seniors' level, if you lose ten to 15 per cent, that is healthy."

As 2015 was a very competitive year from a salary growth point of view, Stefanini has grown salaries by about ten per cent in real terms. "If we refer to the absolute salary, the increase is bigger, but if we adjust the figure to inflation, we had a ten per cent growth, dictated by the retention needs. But our profitability grew. This shows that we had to retain people, grow service quality, a win-win situation."

As the IT outsourcing industry repeats, in a way, the banking boom of the mid-2000s, which copied the earlier telecom boom, the salary spiral sees pressures that may cause a burst at some point.

"But I think that the IT boom has the perspectives to remain up, as it is not so much affected by economic conditions. For Stefanini, the crisis was an opportunity, and our founder grew the Brazil business especially during fiscal crisis. And the company became global during the last crisis," she concludes.


---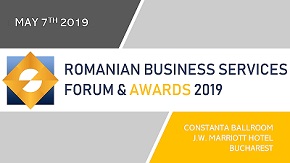 » ROMANIAN OUTSOURCING AWARDS FOR EXCELL...
» Meet the winners of ROMANIAN BUSINESS ...
» Pavel Campan appointed as the new Vice...
» CBRE: Office deliveries expected to br...
» Genpact's COO: Staying ahead of the cu...
» N-iX, EPAM, Luxoft, Ciklum, Intetics, ...
» Molson Coors started to grow its busin...
» The Outsourcing industry announces its...
» Exclusive OT print issue: Genpact may ...
» Capgemini to open new office at Suceav...

Workplace of the Future conference to take place on November 20th at Bucharest

The Diplomat-Bucharest together with Outsourcing Today organize the 3rd Edition of WORKPLACE OF THE FUTURE, on 20th of November 2019, in Bucharest, at Capital Plaza Hotel.
Read Full article »
Strategic Talent Acquisition at People Empowering Business Forum on October 30 in Bucharest

Latest trends like demographic upheaval, globalization, digital technology, and changing social values and worker expectations, are disrupting business models and radically changing the workplace. These are req
Read Full article »
Informal IT School and UiPath launch an educational program for RPA development to start in October

Informal IT School announced a partnership with UiPath to launch an RPA development educational program of five months, 100 hours of courses, five days a week. The program will run in Cluj-Napoca.
Read Full article »
Impact Hub Bucharest joins 3house to manage three coworking spaces in the city

Impact Hub Bucharest, a coworking spaces manager and developer of accelerator programs and events merged with 3house, a new concept of workplace launched in 2018. By this, Impact Hub reaches 3 locations and 6.7
Read Full article »
JLL: Total office space in Bucharest to reach 3 million sqm

The second quarter of 2019 reconfirmed the increased interest for the office market in Romania. Over 115,000 square meters of office space were leased over this period at the national level, a value similar wit
Read Full article »