Atos: Most important is building trust - OT print issue

Atos will expand its Romanian operations and intends to reach about 2,000 employees nationwide by the end of 2016, tells Outsourcing Today the Atos country manager, Catalina Dodu.

"In 2014 we have doubled personnel from 660 to 1,200 employees year on year, and in 2015 we have continued growing to 1,450 people in four locations, including Iasi, also following the Xerox IT division acquisition by Atos," says Catalina Dodu.

"We hope we'll end this year with 2,000 people, and we work on recruiting people in all locations. We have now about 5-600 position opened," she adds.

Atos started Romanian operations in 2011, after it acquired globally Siemens' IT solutions division. Siemens was already present in Timisoara, Brasov and Bucharest, with the Timisoara centre being the largest at the time of the takeover, having 300 employees in 2011. Atos focused even more on Timisoara operations growth and in 2014 it doubled personnel to more than 1,100.

"In 2015 we continued growing and now we are 1,450-strong, in four locations, after opening the Iasi market via the acquisition of Xerox IT, which had Bucharest and Iasi centres." Atos bought internationally the Xerox IT division, and added 30 more people in Bucharest and Iasi, having ambitious plans- to grow the Iasi centre to 100 employees by year-end.

"We hope to end 2016 with 2,000 employees. We started this project last year, and we still have about 5-600 open positions. It is a dynamic area, there are a lot projects we bring in to Romania. We are not the only Atos centre, worldwide there are a lot of other centres, including in Poland." And bringing in clients towards Romania is done with an internal competition.

Placing itself among top five employees in IT complex solution outsourcing in Romania, Atos delivers sophisticated ITO services to clients in various industries, 10 per cent of which have local presence. "We are talking about complex services, of level two to three, all of our people are technical specialists. We started with complex services, we don't have call centres."

Services delivered from Romania are involving complete projects, with deadlines and SLAs (service level agreements) set straight, as opposed to other industry companies selling just part of projects and billing hours. An SLA means that the time schedule and function parameters are assumed and managed in Romania.
"We do not sell hours. We have complete projects, with the delivery responsibility, a clear response, fixed- price terms, and deadlines."

When companies sell billing hours, the content part is managed by an external team, she explains.
"This is a major differentiator in the market. We succeeded bringing almost half of our projects in the high complexity area during the past years."

Investing in people

Atos invested mainly into people's training. Most of the projects' work is done remotely from Romania. Timisoara and Iasi centre will grow largest this year, followed by the Brasov and Bucharest ones.

Largest number of clients come from Europe, but there are also US and other continents served. Among the industries delivered are the manufacturing, banking and utilities segments.
Atos has two divisions in Romania, the Managed Services division dealing with infrastructure related services, and the System Integration division that delivers turn-key projects and includes the Application Management area- that ensures operation and maintenance of the solutions implemented by Atos or owned by the clients.

"When we speak about Managed Services, we speak about large projects, ranging from data bases to business applications operations, or better said operating the systems that sustain the business applications," Dodu says.

An incredible growth

While Atos grew 30-40 per cent last year, the local market sees most of the largest companies here.
"It is clear that Romania is an important location for large players, having quality in people and services. I think we cannot brag for quite some time about the Romanian prices. It is clear that the price in important and accounts in client's balance, but is no longer the most important."
While the IT recruitment became more and more challenging, Atos "re-invented" itself and found solutions to cover for the lack of personnel.

Personnel retention grew in importance, and while salaries went up to 10 per cent last year in the overall market, employees are more and more attracted by new compensations and benefits packages that include remote and flexible hours, medical packages and so on. An important aspect in employee satisfaction is the Atos training program, which provides not only international training programs but also online classes.

"The Atos University delivers all materials needed for employees to learn themselves, we also have international trainers, and we are an important training market consumers. This gives access to any material offered online so that young professionals can learn by themselves." About 10 per cent of trainers come from abroad. "We are one of the biggest training consumers in Romania."

Also, the "Atos Academies" program reached its nine edition this year, with various training sessions, of three to six months of preparing for juniors and seniors alike.

The salary average in Atos reaches about 5,000 RON. That is maybe 10 per cent less than the Polish levels. And it kept up pace with the general market surges.

The last two years have seen the company implementing a new program consisting of flexible benefits package, including a budget for each employee for both health and education. "We have searched to cover people's health, and these packages cover either health or education programs, by choice."

For example, health benefits include special services that are not included into normal health packages, such as dentistry, sport packages, equipment and training sessions.
"We have also another program that is much appreciated by the people in this company- the work from home program- we have 100 people that have a permanent home office."

Also, there are about 300 people in a "temporary home office" mood. "We are a digital company. Those who want to work from home ask for the manager's approval," she adds.

The average company age is of 27. "We don't have an age restriction. We based our recruitment on incoming personnel. Even if attrition rate is growing, it is felt by us as well that the It market is agitated, there are many opportunities in the market and each of us try to bring out the best, but with such a large pool of projects, people choose us. We have an advantage, because we come with interesting technologies and projects."
"We took SAP specialists and trained them. Also if we talk about Citrix or virtualization or other complex projects where there haven't been enough projects to grow the market enough, we had to train people."
In large projects a mix of people is ensured, both seniors and juniors that learned from them.

"We believe a lot in education and we are ready to start a new project with an ONG where we sustain students in the elementary school, in the fifth grade. We have projects with the universities as well, and we went into high schools, and now we came into gymnasium as well." Pupils are learning logic and relations and conditioning between elements, to be ready to understand programming. Also, they are learning about hardware and other infrastructure projects.

And even if, lately, the salaries have spiralled, most surprisingly, the salary is no longer the first thing people ask for, Dodu explains.

"My HR colleagues were surprised, as salaries were not first on people's list, but mostly they were asking what projects will they be involved into, what is the technology, what is the learning potential."
For Bucharest and Timisoara also location and the easy access became very important. In the SAP HUB area there was impossible to find trained people in the market.

State aid, also important

The two-year state aid also contributed to Romanian companies' development. Initially, the programs (most of which ended in 2014) were covering for up to 50 per cent of the salaries for two years in some regions of the country, no matter how big the salary, if the company had more than 200 employees and created new jobs. Now the state covers only the gross average salary level, which is about three times smaller than the IT industry average, but companies with just 10 employees also qualify for state aid.

"The state aid was not important due to the amounts spent by state, but due to the created commitment to the country and the partnership idea."

While the program that ensures the two-year salary coverage in certain ratios for newly employed, the program asks for a five-year period of keeping the position created. Money get back into the state coffers, in time, from taxes paid by the companies locally, and as this years' program changed to a lower-end salary employee pool, companies with a smaller number of employee being included, now a different industry range is incentivized as well.

"We invest into the people, and is important to have a long-term partner. To get into this project, we committed to stay here in the long run. It is a partnership."
And this also helped people relocating.

"We have had people moving from other cities to Timisoara, from Iasi to Brasov, and we must admit that people have refused to come to Bucharest - it is an agitated city, and people prefer cities with more relaxed atmosphere…"

While the labour demand is high in the IT domain, the variety of projects asks for project managers and specialists in all technical areas, while the German speakers are most sought-after. And automation will not lead to a decrease in personnel.

"We are part of the automation, from digitization and creating tools…we are starting from complex tasks, and a lot of the back-end effort is to develop, implement and manage the tools we use. We have proprietary tools, used for our clients, we have monitoring tools…so people are working into automated projects, and we do not think that employment will decrease because of automation, as we take new projects all time…"

Atos produces locally software programs, into various domains such as crisis management, access management and billing solutions. It has a competence centre on SAP basis. "We have a SAP basis core competency centre. We are not only execution, but also competency centre- we have specialists solving worldwide problems. We are glad that we have built trust. And is important to have people's trust," she concludes.




---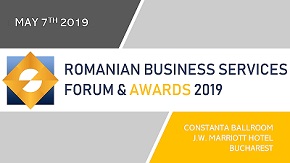 » ROMANIAN OUTSOURCING AWARDS FOR EXCELL...
» Meet the winners of ROMANIAN BUSINESS ...
» Pavel Campan appointed as the new Vice...
» CBRE: Office deliveries expected to br...
» Genpact's COO: Staying ahead of the cu...
» N-iX, EPAM, Luxoft, Ciklum, Intetics, ...
» Molson Coors started to grow its busin...
» The Outsourcing industry announces its...
» Exclusive OT print issue: Genpact may ...
» Capgemini to open new office at Suceav...

Workplace of the Future conference to take place on November 20th at Bucharest

The Diplomat-Bucharest together with Outsourcing Today organize the 3rd Edition of WORKPLACE OF THE FUTURE, on 20th of November 2019, in Bucharest, at Capital Plaza Hotel.
Read Full article »
Strategic Talent Acquisition at People Empowering Business Forum on October 30 in Bucharest

Latest trends like demographic upheaval, globalization, digital technology, and changing social values and worker expectations, are disrupting business models and radically changing the workplace. These are req
Read Full article »
Informal IT School and UiPath launch an educational program for RPA development to start in October

Informal IT School announced a partnership with UiPath to launch an RPA development educational program of five months, 100 hours of courses, five days a week. The program will run in Cluj-Napoca.
Read Full article »
Impact Hub Bucharest joins 3house to manage three coworking spaces in the city

Impact Hub Bucharest, a coworking spaces manager and developer of accelerator programs and events merged with 3house, a new concept of workplace launched in 2018. By this, Impact Hub reaches 3 locations and 6.7
Read Full article »
JLL: Total office space in Bucharest to reach 3 million sqm

The second quarter of 2019 reconfirmed the increased interest for the office market in Romania. Over 115,000 square meters of office space were leased over this period at the national level, a value similar wit
Read Full article »