GRS has one of the fastest growths and expands to Piatra Neamt - OT print issue


Global Remote Services (GRS) will invest into growing its personnel from 400 to 600 people in its business process outsourcing (BPO) and contact centres, says Cosmin Raducu-Efrim, general manager of the company.

"Now we have about 400 employees involved in production, and we will add an extra 200 during 2016. The current overall number of employees of the group is about 460 people. We will continue investing into expansion, empowering our further development towards Italy, France and the UK, which are our main markets," says Raducu-Efrim.

GRS entered Romanian operations in 2004, with two million Euro invested so far into the business at the end of 2015. The company has two centres in Bucharest and a newer one in Piatra Neamt.
"In 2016, to grow almost 50% as an independent contact centre is an ambitious target. There are signals that we can do this and the market will allow it, and we will develop into other towns as well, if necessary."

GRS's 2015 revenue reached about five million Euro, marking a small decrease over 2014, but keeping profit growth to a similar level as last year, says Raducu-Efrim.

GRS entered Romanian operations in 2004, and concentrated initially on the Italian market, but during the past two years it also entered the British and French markets.

"Romania will grow a lot, all surveys indicate this. We are number 41 worldwide according to the Tholons surveys (Top 100 outsourcing destinations) and in Europe, Romania takes sixth place after Poland, Ireland, The UK, The Czech Republic and Hungary".

According to an A.T. Kearney report, Romania also went up a few positions during the past year, climbing from 18th to 13th place - third in Europe - in the top 55 best countries to outsource to (based on metrics in three major criteria: financial attractiveness, people skills and availability, and business environment).

"We see Romanian industry advancing fast. I think that ABSL's estimates that the market will go up to 300,000 people during the next three to five years is correct. We are recruiting all the time, and we're a known school for the market. I think that call centre services have a larger development ratio, but BPOs will also develop fast…"

Companies could save up to 35-50% or more of costs by outsourcing into Romania.

"Clients generally prefer the partner to be nearby, and if technologically this is possible, many times foreign companies want to take the pulse of the partner, to see things that cannot be shown via phone…managers love to see the company from inside. This is how the trust is won."
Many times the clients' visits depend upon local infrastructure development, and cities such as Brasov have lost a lot due to the lack of it.

"Many managers refused to invest in Brasov, although there is an exceptional university centre there, due to fact that it takes four hours to go there from the Bucharest airport…However, Iasi is catching up fast, exactly due to the development of the local airport," he says.

And while Romania follows the Polish example, there are still development efforts. "However, Poland offers a different kind of services and benefits from a different set of skills."

The salary war pushes companies towards smaller towns

Romania's benefit as an outsourcing destination is its closeness to Europe, and while the BPO market grows and becomes more competitive, that is due to large brands. A price war saw major competitors stealing each other's HR resources.

"There is a move in the market that nobody talks about: the large corporations entering it. Yes, they create jobs, but they don't necessarily create new jobs…"

Meanwhile, BPO players redirect their expansion efforts towards the smaller cities.
"The competition for resources within the larger players is fierce in the cities, so many smaller players like ourselves look for smaller, so-called tertiary towns to develop." Besides relocating, GRS looks to come out with new, niche services also, to top the competition.

"The fight is fierce and strong, and this reflects in the prices you offer and therefore in the contracts you get," he says.

Last year's salaries in the Romanian market have grown five to ten per cent, but they largely depended upon big companies entering the market. All of the large players that enter the market throw in hefty salaries which will immediately bring in new employees. "They momentarily unbalance the market and a salary hike takes place but after that all companies react and this cannot go forever. Salary increases are generally covered by clients' contracts."

"It is also interesting to see if the government will grow the minimum wage by 18% starting May 1. Many companies work with the minimum salary. But even if this happens; we've adapted in the past, we will readapt again."

GRS chose Piatra Neamt after looking at the map in 2013, when besides Galati, Iasi and Bacau, in Moldova there were little to no investments in the industry. Piatra Neamt still has infrastructure and potential although from 200,000 inhabitants about half have emigrated.

"We posted announcements in Bacau and Galati, but costs are smaller in Piatra Neamt, and skills are similar to Bucharest."

And while the Italian market offered the biggest business to GRS from the beginning, Piatra Neamt was considered not only for its use of the Italian language, but also people's attitude towards work.
"We also found there people that still want to work…while in Bucharest the attitude towards work is more relaxed, labour offers are higher and people migrate easier to a larger salary."

The BPO market is in continuous movement, attrition never ends, and BPO players need government support.

"This is one of the industries that is still booming… political help will be welcome. We would like the government to offer their support when we enter new markets. First of all, when you open new markets you must talk about Romania and the arguments to invest here. We need the government to support us not just morally, we'd like them to be present and offer real support."

"I think this is a real difference between Romania and Poland. Polish government always talk about their industries abroad. This is not the case with Romania. There are a few private employers' organizations that struggle to promote the industry, but politicians do not help us enough."
GRS had a UK event last year, and it received help from the Romanian Embassy; "We benefitted from 100% opening and support from their part and we are grateful."

Automation with a human touch

Last year's revenue reached five million Euro, a small decrease over 2014.
"Some of our clients' approaches changed, but we have also signed new contracts – such as the one with the customer service, help desk, parking and internal communication with an Italian airport. It is a challenging contract and we effectively managed special emergency situations, managing an impressive number of calls in those days."

GRS developed personalized automated services for this customer, but not only them. "We think that automation must help the human side, not replace it. The human part will always be there; at the end people want to talk to other people to solve their queries."

Automation helps; it can be reflected a lot in the client's feedback, but there will always be a human side.

"From our point of view, robots will not replace the human factor, at least on the medium term we don't see it. We see clients having the need for a tech advantage, but they also want to have that connection with people. We believe that services are done on a human-to-human basis; while adding up business intelligence services helps, interaction with humans is still desired."

He says that among the main KPIs that GRS has is to grow further in its Italy, France and UK markets, is searching for sustainability over the long term. "To grow sustainably is a KPI kept from one year to another. We don't look for clients just for the sake of market share, but to hold onto them over the long term."



---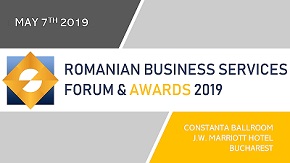 » US: IT outsourcing for healthcare sect...
» Meet the winners of ROMANIAN BUSINESS ...
» CBRE: Office deliveries expected to br...
» Workplace of the Future conference to ...
» Bombardier: from Bucharest subway to t...
» Genpact's COO: Staying ahead of the cu...
» From a Romanian business venture to a ...
» Omnichannel: 4 pillars of a purposeful...
» Elena Calin, CEO UP! Your Service Roma...
» Bosch Service Solutions to grow 20% Ti...

Workplace of the Future conference to take place on November 20th at Bucharest

The Diplomat-Bucharest together with Outsourcing Today organize the 3rd Edition of WORKPLACE OF THE FUTURE, on 20th of November 2019, in Bucharest, at Capital Plaza Hotel.
Read Full article »
Strategic Talent Acquisition at People Empowering Business Forum on October 30 in Bucharest

Latest trends like demographic upheaval, globalization, digital technology, and changing social values and worker expectations, are disrupting business models and radically changing the workplace. These are req
Read Full article »
Informal IT School and UiPath launch an educational program for RPA development to start in October

Informal IT School announced a partnership with UiPath to launch an RPA development educational program of five months, 100 hours of courses, five days a week. The program will run in Cluj-Napoca.
Read Full article »
Impact Hub Bucharest joins 3house to manage three coworking spaces in the city

Impact Hub Bucharest, a coworking spaces manager and developer of accelerator programs and events merged with 3house, a new concept of workplace launched in 2018. By this, Impact Hub reaches 3 locations and 6.7
Read Full article »
JLL: Total office space in Bucharest to reach 3 million sqm

The second quarter of 2019 reconfirmed the increased interest for the office market in Romania. Over 115,000 square meters of office space were leased over this period at the national level, a value similar wit
Read Full article »