Iorgulescu, ABSL: Desperately needing education programs - OT print issue

Expansion and talent scarcity triggers the need for better education programs, says Catalin Iorgulescu, Vice President of the Romanian Associations of Business Services Leaders (ABSL) in charge of education.


Romania has just about any company in the field training their employees as well as young graduates, but there is only one master program sustained by a single university dedicated to outsourced services, and even this one has not started yet. While the industry is booming, there is need for more education, says Iorgulescu.

What was the evolution of the BPS in Romania in 2015? Which segments grew more?

It was a positive evolution spread throughout the year, a lot of new companies setting up in Romania and a lot of already-existing ones expanding, opening SSCs and BPOs, opening a second or third centre. Bucharest remains, of course, the primary target, but then we see a lot of interest in Tier II cities such as Timisoara, Iasi and Cluj. Some smaller cities such as Brasov are also developing, although that example is still lacking office building infrastructure and doesn't have critical mass yet. Even our ABSL member number grew.

How about the 'transhumance' phenomenon of people relocating from more remote areas of the country to developed industrial park cities such as Timisoara?

I cannot see a migration between cities to the extent that it would be noticeable. There has been a significant migration towards the Capital city, but I don't see it being accelerated by our industry. It's within normal limits.

When you decide to expand into certain cities, you need to have a balanced scorecard and a mix of criteria; so if you need for example more Russian speakers, you would go towards Iasi, and if you need German speakers, you'd rather look west. Language mix is an important factor; infrastructure, the availability of higher education within universities, population size, and the number of graduated students are all important factors.

Also, in F&A and call centre services, you may settle for smaller cities like Craiova, but if you need IT, then you should go to the largest cities. Most targeted are Bucharest, Timisoara, Cluj, and Iasi. They have a potential to grow annually about 15 per cent or more in the next five years.

Main areas served: Bucharest is able to serve everything, but other smaller towns do not offer all items of a given skillset.

In terms of industries, we see interest in industries ranging from FMCGs to aircraft. Banks and automotive groups are present, logistic companies, DB Schenker, Michelin, Deutsche Bank, Renault, and many others.

What are the most important changes in the skillset structure as of last year?

There is a growing need for the higher-end skillsets. On the lower-end we cannot compete with companies from India or Philippines. Therefore, the growth for Romania is located at the higher end of skillsets.

I also see a lot of specialization and segmentation, so domains will get broken into sub-processes. The focus is to replace human work with automation. Over the past two years I have seen a lot of movement towards replacement of human labour with robots, in F&A, voice processes, ITO.

Mainly, the languages served are European ones. You cannot serve Latin-based languages in high numbers from other countries such as India.

How about the education programs?

We need one program, if not more, in all major cities. I would see private institutions adopting such programs. I would like to see people adapting the curricula not only in master's degrees, but also in normal classes.

Education is a huge subject for Romania, and I have a special interest in it. Lately, we are witnessing an inflation of diplomas required by hiring demands, degrees required for jobs that one does not need, such as voice processes which can be done with a high school degree.

Such hiring does not necessarily come from companies, but also from our culture. It is customarily believed that if you want to be successful in your career you need to graduate from university, while high school graduates are not allowed by parents to work, not even a part-time job, but only to study. In my opinion, we see culture biased too much towards finishing studies, instead of finding a job that may potentially boost you into a certain career. If you compare Romania with Denmark or The Netherlands, first of all they have a break of one year in between high school and college, and working after finishing high-school is desirable. I see a lot of potential for Romania to change in this respect.

Which are the top-paying skillsets?

Of course, there are differences; employers typically pay more for German than for Italian language. There are differences between ITOs and call centres, F&A is in the middle. I hear there is a lot of competition for IT specialists, and lately I've seen also a growing competition for F&A resources.

How is profit margin affected by growing salaries?

There is a pressure on margins both from the client side as well as from the labour force. But initiatives such as automation and robotics are influencing them. So, there are positive and negative factors influencing it.

How many of your colleagues did you hear speaking about adopting automation and robots?
I am just coming from a session we had showing automation and robotics initiatives. Pretty much all the large players are doing it. Large players are not just contemplating, but implementing it right now.

How large of a savings are API and robots bringing, in terms of employment?

In terms of the bottom line, the impact is significant. Robotics apply to repetitive activities. It does not yet affect also the highest skillset employees, because you'd not often find these employees doing repetitive tasks.

Given your position as ABSL VP for education, what are the main plans for the next period, did you contact the new government to propose new programmes? Do you see a market saturation over the next period, given the lack of qualified personnel?

Everybody has high hopes about the new government. They have a pretty difficult task on their hands, but also the opportunity to excel and do great things for this country. Being a technocrat allows you the liberty which the previous governments did not have, but it is also true that polarizing and influencing the Parliament and rallying support for initiatives is more difficult. So while they have the luxury of free thinking, garnering support for their ideas might be difficult. But I believe that what we have recently seen in Romania is more acute and clearly voiced: the need for change that came from 'the street', the population as mass, which in my opinion, gives it a lot of legitimacy to bring changes. So while they may not have enough support from the Parliament and political parties, they do have the support of the street – which has a very powerful influence.

In terms of education, there are studies that show a clear dependency and a correlation between the quality of the education system and the GDP growth. Countries like China, Finland, Poland, that are front runners on educational aspects and system quality, are also the countries that have enjoyed the biggest GDP growths in the recent past. China and Poland had growth during the fiscal crisis. Poland was the only EU country without a recession, and they are ranking as eighth in OECD education top, for mathematics and native languages. Romania, unfortunately, has a lot of ground to cover in this respect. We're ranking very low in the bottom quarter, and we're struggling in GDP growth - we had recession during crisis. We have the ability to turn that around if we invest in education, with a systemic approach.

In Finland, the teachers have the highest salary in the country. You can only be a teacher if you graduate among the top 10 per cent. By comparison, in Romania the teachers have the lowest salaries. And if we consider who could be a teacher, being someone who accepts the lowest salary, is probably not the best experienced person, and probably not in the first 10 per cent of the graduated students. We need to pay our teachers more. When that will happen, we'll have a higher performance. Now we're still exploiting the heritage that we have: people who loved teaching (before 1989) and that are still good, and who accepted doing that for less money; but most of them will retire during the next ten years. And unless we're doing something systemically right, the new teachers will not be the best... because the best will find better work places. That is key.

How about the master's degree ABSL created together with the Academy of Economic Studies (ASE), how many similar programs can we foresee in the nearby future?

This autumn of 2016 will be the first year we'll hold it. It has a pretty well balanced curriculum, ranging from F&A to ITO and HRO, and will be followed by at least 50 students.

Is the labour market in peril of being saturated?

Of course it is difficult to attract talent and as the industry grows, talent gets more expensive, but we are far from being saturated. The industry has a lot of growth opportunities, and if you're looking at Poland, you can see it can be done. And we are far from reaching a point in which growth can no longer be sustained.

Becoming that efficient and doing profitable business here is a different ballgame, given all the pressure on salaries. But automation and robotics, systemic approaches, implementations, and process engineering are keys to solve that.

What were the main issues and hurdles in 2015?

We experienced growth in main areas... we did not see problems in 2015. A lot of players expanded, and of course that came along with a talent scarcity, but I wouldn't call that a huge issue. The natural consequence of growth and pressure of the talent pool is the cost of the talent pool. By how much- I can't really say as we're lacking statistics.

But is terms of perks and extra benefits granted to employees, what changed during the past year?

We see more and more sophisticated benefits coming up. Of course, if you look at the Maslow pyramid, the "hygiene" factor must be there: have a nice office, sunlight, good access. Training is important now, if you look at the higher end of the pyramid where self-actuation plays a much more important role in the people retention game.

I've not seen too many companies offering private pension funds as extra-benefits. Why is that

In some cases, people go for the extra pension funds, in addition to the compulsory. But the level of taxation is pretty high in Romania, and thanks to this there is not much appetite of putting more money into private optional pensions. Also, there isn't a cultural affinity in Romania for such an instrument, nor a communication to make it popular. It is not a known option to the general public. The government and the companies should do more in this respect; probably there should be more advertising. I don't think is a question of financial education.

Also, the average age is very low; 25-year-olds don't think about pension, especially since they are in the first years of their careers when the culture of saving is not there yet. But once they start advancing in their careers, they start having babies, the saving culture grows stronger. But in companies in BPOs and SSCs industries we don't see much interest for it right now among employees.



---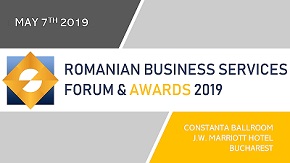 » ROMANIAN OUTSOURCING AWARDS FOR EXCELL...
» Meet the winners of ROMANIAN BUSINESS ...
» Pavel Campan appointed as the new Vice...
» Genpact's COO: Staying ahead of the cu...
» CBRE: Office deliveries expected to br...
» Exclusive OT print issue: Genpact may ...
» N-iX, EPAM, Luxoft, Ciklum, Intetics, ...
» Molson Coors started to grow its busin...
» TELUS International Europe: How fast-g...
» Leoni to open new SSC in Cluj, cut job...

Workplace of the Future conference to take place on November 20th at Bucharest

The Diplomat-Bucharest together with Outsourcing Today organize the 3rd Edition of WORKPLACE OF THE FUTURE, on 20th of November 2019, in Bucharest, at Capital Plaza Hotel.
Read Full article »
Strategic Talent Acquisition at People Empowering Business Forum on October 30 in Bucharest

Latest trends like demographic upheaval, globalization, digital technology, and changing social values and worker expectations, are disrupting business models and radically changing the workplace. These are req
Read Full article »
Informal IT School and UiPath launch an educational program for RPA development to start in October

Informal IT School announced a partnership with UiPath to launch an RPA development educational program of five months, 100 hours of courses, five days a week. The program will run in Cluj-Napoca.
Read Full article »
Impact Hub Bucharest joins 3house to manage three coworking spaces in the city

Impact Hub Bucharest, a coworking spaces manager and developer of accelerator programs and events merged with 3house, a new concept of workplace launched in 2018. By this, Impact Hub reaches 3 locations and 6.7
Read Full article »
JLL: Total office space in Bucharest to reach 3 million sqm

The second quarter of 2019 reconfirmed the increased interest for the office market in Romania. Over 115,000 square meters of office space were leased over this period at the national level, a value similar wit
Read Full article »