Exclusive OT print issue: Ericsson - Predictive, not just proactive

New industry standards change the corporate service mentality from being proactive to being predictive. And growing 15-20 per cent each year may mean expanding local activity to a smaller city as well, Liam Coffey, Ericsson's vice president and head of Global Services Support Center Romania tells Outsourcing Today.

What are the main services offered from the Romanian-based Global Support Center?

We are managing ICT & telecoms networks globally from Romania, but as we go more into the future, we're more involved into more domains, such as transport, broadcast, industry and society - smart metering for example.

We're no longer just focused on standard telecom and ICT, but we're into the "Networked Society".
In the past, all of these service centres have always dressing up into some form of 'fire fighters', but starting with the past five or six years, we like to see ourselves as 'smoke detectors'. This is more about seeing the problem coming and taking action to limit the impact on the end-customers. This is no longer about meeting KPIs, it's about what happens with end-customers, in terms of their experience with the services provided by our people- telco operatives or Industry and Society.

"Smoke detecting" for us means that we have to have a real time view on the network – both from a point of view of what's happening on the lines, and what's happening with the service, the impact that's having on the end users.

At the Mobile World Congress has been a lot of talk about end -users and customer- centric managed services. And that's what our customers are focused now: end-users experience.

Years ago, during the mid-1900s, I worked in Hong Kong. It was a period when mobile portability came in, and Hong Kong was one of the first countries to launch it. As users could have changed operators easily, they started paying more attention to the quality of the services provided, to avoid the churn. For example, a lot of people in the beginning of the mobile era did not change numbers because it was complicated: you had to get a new number, to tell everyone your number…but mobile number portability changed all that.

When did you come to Romania?

Ericsson's centre started in Romania in 2007 and I came to Romania in 2012, and even if I was living in Hong Kong previously, I moved to Delhi, India, for a couple of years to help build up the centre there.

Ericsson Telecommunications Romania has been present locally for over 20 years and as a result of the great business potential and highly skilled workforce we saw in the country, we opened Ericsson Global Services Center (GSC) in Bucharest, in 2007. After almost ten years, the centre is one of the four Ericsson Global Services Centres, the only one located in Europe and a vital component of Ericsson's global services organization.

What are the differences of mentalities of Romania, India and Hong Kong?

When talking about technical expertise, this is similar: any engineer wants to be top of the game, to deliver best expertise. But the advantage that Romania has is in the language skills. Because typically most Romanians speak two foreign languages: Romanian, English and also in the GSC we have people speaking Spanish, Swedish, French and many others. For me that is the main difference. Currently, the GSC serves approximately 40 global customers in more than 20 countries from Europe, Africa and Middle East, managing operations that, together, enable more than 100 million subscribers communicate on daily basis. Since we have such large portfolio of customers from all over the world, our specialists are fluent in many different languages.

The way that Ericsson works, no matter in what part of the world, implies that we have clear standards and policies, so the way we engage and do business is the same. Obviously, what differs is just the culture and the ability to speak languages. The degree of complexity of services is similar. I did not feel a lot of difference, but when I first came here, I was very stroke by the commitment of the people, the knowledge and the ability to learn both languages and technical skills. I find people very friendly, very good and committed. Obviously, India has a larger centre than the local one, but Romania is a key centre for us, is the main one we have in Europe. (Besides India, the other centres being located in Mexico and China.)

What would you change about Romania?

For us I don't see so much that needs to change. We had good support from the government when we first decided to come here, we know there has been some subsidy program, but we did not need them so far, but maybe we'll access it, who knows…in the future?!

In this centre, we have 99 per cent Romanians and our focus is to put back something into the local economy. We worked a lot with universities. Last year we took in about 150 graduates, and we'll continue this program because we think that's a very healthy thing for the organization, to bring in these young, enthusiastic professionals.

How much did Ericsson invest into Romanian centre so far? What are the perspectives?

We have grown substantially over the last three years. We have around 1,900 people today -that's in the centre alone. Ericsson has an overall personnel figure of around 3,000 in Romania. Our focus is very much on building for the local economy, we're a company of 120,000 people, operating in 185 countries, and the career potential for anybody who comes into this organization is huge. Because in time, if they want to develop and go to another part of the business, there're so many opportunities. The personnel growth was close to 20 per cent in 2015. This year the growth can be similar, of 15-20 per cent.

How do you face talent scarcity?

We have always managed it, and that's why we see universities as being key and having a good graduate intake program. But also, two years ago we did some deals with Telekom and Orange, and as part of those programs we actually insourced some people. And with those intakes we had a mix of the industry people that have been in the industry quite some years, with quite mature skills. And then, when we mixed that with our graduate intake, we've got a very strong team.

Are you considering expanding nationwide?
Of course, we are primarily focused on Bucharest, but we are constantly looking at what we do and if we should be moving to another part of Romania - probably into third towns. Because if we were to move to Cluj, it would be as much as here. Wherever we will decide to go, we would look for a location where we have a good talent pool, and there's a good cost of living and people want to work.

Read more in the Outsourcing Today's first print issue, available starting April, 21

---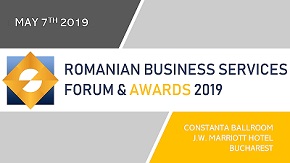 » ROMANIAN OUTSOURCING AWARDS FOR EXCELL...
» Meet the winners of ROMANIAN BUSINESS ...
» Pavel Campan appointed as the new Vice...
» CBRE: Office deliveries expected to br...
» Genpact's COO: Staying ahead of the cu...
» N-iX, EPAM, Luxoft, Ciklum, Intetics, ...
» Molson Coors started to grow its busin...
» Capgemini to open new office at Suceav...
» The Outsourcing industry announces its...
» Exclusive OT print issue: Genpact may ...

Workplace of the Future conference to take place on November 20th at Bucharest

The Diplomat-Bucharest together with Outsourcing Today organize the 3rd Edition of WORKPLACE OF THE FUTURE, on 20th of November 2019, in Bucharest, at Capital Plaza Hotel.
Read Full article »
Strategic Talent Acquisition at People Empowering Business Forum on October 30 in Bucharest

Latest trends like demographic upheaval, globalization, digital technology, and changing social values and worker expectations, are disrupting business models and radically changing the workplace. These are req
Read Full article »
Informal IT School and UiPath launch an educational program for RPA development to start in October

Informal IT School announced a partnership with UiPath to launch an RPA development educational program of five months, 100 hours of courses, five days a week. The program will run in Cluj-Napoca.
Read Full article »
Impact Hub Bucharest joins 3house to manage three coworking spaces in the city

Impact Hub Bucharest, a coworking spaces manager and developer of accelerator programs and events merged with 3house, a new concept of workplace launched in 2018. By this, Impact Hub reaches 3 locations and 6.7
Read Full article »
JLL: Total office space in Bucharest to reach 3 million sqm

The second quarter of 2019 reconfirmed the increased interest for the office market in Romania. Over 115,000 square meters of office space were leased over this period at the national level, a value similar wit
Read Full article »