Romanian Outsourcing Summit 2016: Walking the talk in public-private education

More than 150 industry leaders have witnessed an interesting and lively debate started by the Minister of Education, Adrian Curaj, about creating new privately-supported programs in the public schools for a more pragmatic approach to youth careers, at the Romanian Outsourcing Summit 2016. "Let's walk the talk and have concrete examples in the public-private partnerships in this field," says Curaj.

The second edition of Romanian Outsourcing Summit was organized by Outsourcing Today and The Diplomat-Bucharest on March 30, 2016 at the Hilton Hotel in Bucharest. The event was held with the support of the Ministry of Education, having as Diamond Partner - Wipro, as Platinum Partners - Accenture and Societe Generale, as Gold Partners – CIMA and Genpact, and with the strategic partnership of ABSL and Outsourcing Advisors. Partners included Vastint, ACCA, CBRE, Endava, Noerr, Omifa, SCC, Skanska and Stefanini, with the support of ANIS, ClujIT, Extind and Biroul de Traduceri Champollion.

"Be sure: Coming here, at this conference, I am bringing in a very strong sign of appreciation for your industry, and an invite for collaborating in the future. I would prefer to see a few initiatives and walk the talk, and see a few examples that show the effectiveness of public-private initiatives," Curaj adds.

Vivek Bakshi, general manager of Wipro, and a leading ABSL member, admits there's more to be done, even if "we actually started walking the talk, as ABSL has partnered with ASE, and other high education institutions."

"We are the third largest system integrator in India. I have been partnering the industry for the past 10 years, and the amount of changes seen have brought some incredible dynamics, changing the industry. And we all have been witnessing it. Today we have 80,000 people, and 2% of the Romanian employment. It is a huge growth and it did not happen overnight," Bakshi says.

"We have to see what comes next. Where do we go from here? Arbitrage is temporary and currently language is very important, although temporary. With the technology that advantage will go away. Will the robots really come? What expects us tomorrow? Discussions like this are shaping Romania's future. And as the minister said Romanian has a huge potential," Bakshi adds.

As Romania ranks among the top 10 top destinations for outsourcing in the world, it needs to stay there, says the moderator Andrei Romanescu.

"We would need updated, upgraded curricula, not just in universities, but also from high schools, to satisfy the industry environment, to educate students and prepare them for the labor pool," says Romanescu.
"On top of foreign languages, employability and services quality, there's a buzz word: processes efficiency. And the ministry can help in that respect," says Romanescu.

In its turn, Jakub Bejnarowicz, head of Central and Eastern Europe, CIMA, thinks we must use the solutions offered by the Polish example. "I think I have a déjà vu; in Poland we have had a few years ago similar discussions with the ministry of Education. You can use solutions we used in Poland already, but you must act together, not in competition, and form triangles with the universities."

As Shibu Nambiar, COO for Europe, Latin America and Africa of Genpact says, this industry is fastest growing, and from what we witnessed in the past five to 10 years may repeat during the next similar period, Varujan Pambuccian, member of the Commission for IT&C in the Chamber of Deputies, is less optimistic, offering the Nokia example. "Investors will stay as long as they have incentives," says Pambuccian.

And best incentive is educating a new talent pool.

"We started being less competitive, as salaries grew, but this comes with economic growth. And salaries will continue to grow, as people grow. In the industry today there are 5,000 jobs open. We can grow. This is the reality, and the demand is really high- probably highest ever. From the limit that the Romanian population offers, of just 15,000 graduates a year, we need to plan and we are in talk with the ASE to increate he number of graduates," says Florin Grama, Florin Grama, director, Microsoft Customer Service & Support Division and president of Managing Board, ABSL Romania.

Going into the Tier 2 and 3

While the first session of the conference focused on education, the second brought in leaders' vision regarding expanding into Tier 2 and 3 towns and cities. A defining factor is talent pool, another is infrastructure, but main differentiating factor between the two tiers is their sheer size.
"Why Timisoara? Because it has accomplished all of our demands- it has a talent pool, and universities…for Wipro, there was the advantage of the first come, though we are not alone now," says Ciprian Dan, Location head, Wipro Timisoara.

I think is very imp to make a comparison to other cities as well. Cluj evolved a bit differently as compared to Timisoara, which is closer to the border. Of course the recipe is the same from talent pool perspective. But in Cluj we have seen local companies developing, and they developed more and consolidated after that. We have multinationals in outsourcing in Cluj today, but there's a balanced divide in between local capital and foreign capital firms," says Stelian Brad, president, Cluj IT Cluster.

"I see a change in the market as well…when the outsourcing started in Romania, we sold hours. But when we had the opportunity to ask for more, we did that. It is not easy to raise complexity, but we did that. We wanted more not only in management level, but also in people… so now more than 50% of the local business is based on services. We make our own calculus on what we need, we are no longer a number of people billing a number of hours. This way we can organize better and better organize the talent and regulate the talent challenge. The number of resources is limited, but the result that we have are unlimited. When we show people what competence centers we have, everyone is amazed. We have competence centers delivering services from Romania, worldwide," also says Catalina Dodu, country manager, Atos.

There is an unexpected element that many companies do not consider when expanding into smaller cities, says Amalia Sterescu, CEO, Outsourcing Advisors.

"Most times, in cities like Targu Jiu or Miercurea Ciuc, the graduates don't have the habitual culture of working in multinationals, of working under deadlines, so companies' effort are larger to train them. Also, in countryside the family tradition influences the careers of youth. And therefore is very hard to build such a mentality and build professionals. It is an aspect not many often considered," says she.
Also companies migrating to Tier 2 and 3 have the client-derived expectation to have a solid performance from the moment zero. "The client wants it, no matter the city, and here is where the HR unorthodox policies appear, and there are "quick fix" methods that appear," Sterescu adds.
Also, the demand for certain office standards appears.

"Unfortunately, besides Bucharest, Cluj, Timisoara and probably Brasov, the B plus and A class office infrastructure isn't there. Looking at the countryside potential, clients go more and more where there is talent availability and authorities support, and sometimes university availability, but the real estate component isn't there. It's a pity, as smaller cities could generate the much needed talent," also says Mihai Paduroiu, head of Office department, CBRE Romania.

Authorities have also raised the bar for the BPO industry, by enlarging the state aid pool, says Valentina Craciun, financial advisor, auditor, Noerr Finance & Tax. Now companies benefit from state aid with just 10 employees, even if the subsidies apply the national average gross salary. And changing the system will see more developments into smaller towns, as previous subsidy schemes included just companies with 200 or more employees.

While Martijn Geerling, senior director, Global Business Services Advisory, Services EMEA and Asia, The Hackett Group held a special presentation on "The value of talent management for global business services (GBS) organizations, other speakers were: Bogdan Cojocaru, Service Delivery Operations lead, Accenture Romania Alexandra Olteanu, COO, Societe Generale European Business Services, Razvan Pirvu, head of Strategy & Sales Support, Ericsson Global Services Center Romania, Ionut Anica-Popa, director Dep. Relation with the Socio-Economic Environment, ASE and Philippe Beucher, CEO, Capgemini Romania.



---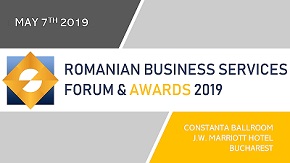 » Submit your nomination for ROMANIAN BU...
» Ciprian Dan, Wipro BPS: The industry n...
» Yonder: The first Dutch company in Clu...
» Exclusive OT: Federal-Mogul to expand ...
» Exclusive OT print issue: Genpact may ...
» Federal-Mogul inaugurates new manufact...
» Bosch continues double-digit expansion...
» GRS has one of the fastest growths and
» TELUS International Europe: Assessing ...
» Next Generation Shared Services Roadsh...

Workplace of the Future conference to take place on November 20th at Bucharest

The Diplomat-Bucharest together with Outsourcing Today organize the 3rd Edition of WORKPLACE OF THE FUTURE, on 20th of November 2019, in Bucharest, at Capital Plaza Hotel.
Read Full article »
Strategic Talent Acquisition at People Empowering Business Forum on October 30 in Bucharest

Latest trends like demographic upheaval, globalization, digital technology, and changing social values and worker expectations, are disrupting business models and radically changing the workplace. These are req
Read Full article »
Informal IT School and UiPath launch an educational program for RPA development to start in October

Informal IT School announced a partnership with UiPath to launch an RPA development educational program of five months, 100 hours of courses, five days a week. The program will run in Cluj-Napoca.
Read Full article »
Impact Hub Bucharest joins 3house to manage three coworking spaces in the city

Impact Hub Bucharest, a coworking spaces manager and developer of accelerator programs and events merged with 3house, a new concept of workplace launched in 2018. By this, Impact Hub reaches 3 locations and 6.7
Read Full article »
JLL: Total office space in Bucharest to reach 3 million sqm

The second quarter of 2019 reconfirmed the increased interest for the office market in Romania. Over 115,000 square meters of office space were leased over this period at the national level, a value similar wit
Read Full article »